MATCH Series: Top 2019 rivalry to determine champion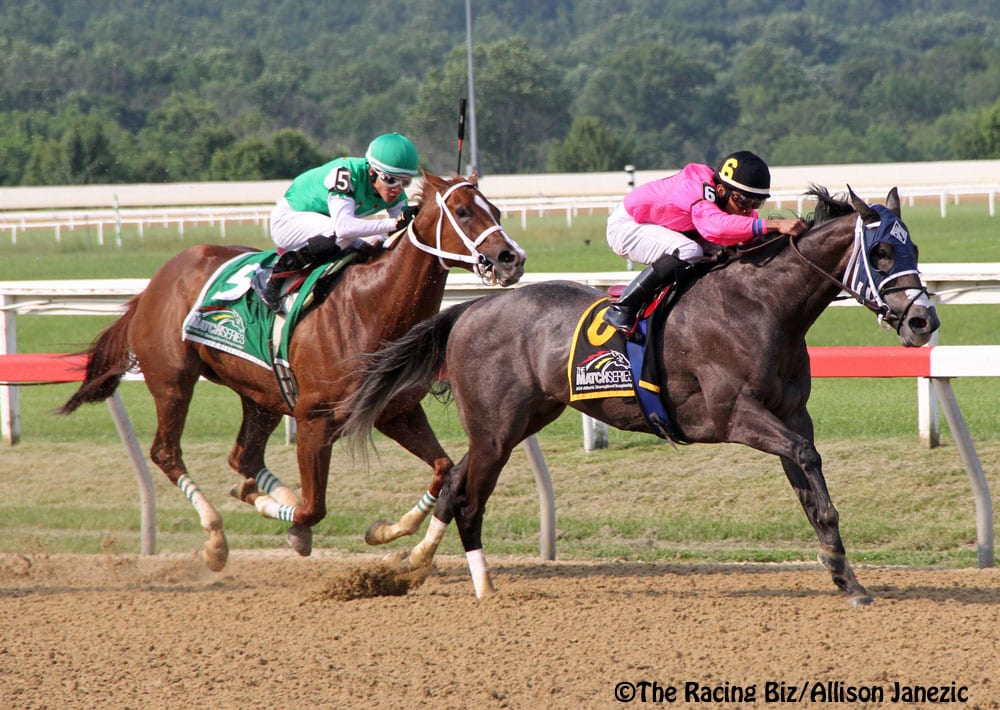 Bronx Beauty won the Penn Ladies Dash. Photo by Allison Janezic.
In 2018 it was the boys' sprint division that generated the best rivalry of the MATCH Series. This year, it's the girls'.
The Laki-Lewifield battles of a year ago have given way to the Bronx Beauty-Ms Locust Point contests of 2019.
In 2018 Laki and Lewisfield squared off in four of the five races, and they ran one-two, respectively, in the division standings.
Though together they won only one of the five races — that being Laki's victory in the Polynesian Stakes at Laurel Park — Laki also had second- and third-place finishes on his resume, and Lewisfield finished second twice and third once in four Series tries.
While the final standings were up in the air until the very last race of the Series — Laki finished second in the Grade 3 Frank J. De Francis Memorial Dash, while Lewisfield was fifth — it was actually the fourth race that proved critical.
In the $100,000 Polynesian Stakes at Laurel Park, Lewisfield, the 3-5 favorite, sped to the early lead and then survived a lengthy duel with Laki — only to be disqualified to second for brushing his rival. That gave Laki the win, and the edge in the Series.
This year it's been the Bronx Beauty-Ms Locust Point show thus far in the MATCH Series. Those two have combined for three wins, two seconds, and a third in the four races thus far.
Ms Locust Point kicked off the Series with a win in the Primonetta in April at Laurel Park, a race that Bronx Beauty did not contest. The John Servis-trained Ms Locust Point returned to be second in the next two legs, the Penn Ladies Dash at Penn National and the Dashing Beauty at Delaware Park, both of which went to Bronx Beauty, trained by Anthony Margotta.
Most recently, Bronx Beauty was third and Ms Locust Point fifth behind the talented Chalon in the Roamin Rachel at Parx Racing.
The pair are scheduled to renew acquaintances in Saturday's Series-deciding Regret Stakes at Monmouth Park.
MATCH Series races at Monmouth Park
Regret Stakes
Conditions: Fillies and mares, 3yo and up, 6 furlongs
At stake: Divisional honors and the Series championship
Major players: Ms Locust Point (trainer John Servis, owned by Cash Is King LLC and Jim Reichenberg) has 31 points. Bronx Beauty (trainer Anthony Margotta, owned by 2W Stables LLC) has 25. The latter is 5-2 on the morning line, the former 3-1. If Ms Locust Point finishes one-two, she will win the division and series. If not, Bronx Beauty can pass her rival if her finish nets her at least four Series points more than her rival.
Mr. Prospector Stakes
Conditions: 3yo and up, 6 furlongs
At stake: Laki (trainer Damon Dilodovico, owned by Hillside Equestrian Meadows) has wrapped up the division and is 3-1 on the morning line. Were he to win here, he would finish with 33 points, which could tie him with Ms Locust Point for top honors, though the latter would still win the Series title because she would have raced in all five contests.
Major players: No other horses in this race are MATCH Series contenders. The 2-1 favorite is Lasting Legacy.
Rainbow Heir Stakes
Conditions: 3yo and up, about 5 1/2 furlongs on the turf
At stake: The division's top three — Abiding Star, Completed Pass, and Paret — all are entered here, so divisional honors are on the line. 
Major players: Completed Pass (trainer Claudio Gonzalez, owned by Robert Bone) is in the best position. Though he has only 15 points — Abiding Star (trained by Ned Allard for Stonehedge LLC) leads the division with 17, while Paret (Chuck Lawrence for Matthew Schera and Jeffrey Pesot) has 12 — he'll get five bonus points for making his fourth Series start. In addition, the 5 1/2-furlong distance is his best, while the others generally prefer a longer trip. Both Abiding Star and Paret will make their third start in the Series here, thus qualifying for bonuses. Completed Pass is 6-1 on the morning line; the other two both are 8-1.
Violet Stakes
Conditions: Fillies and mares 3yo and up, 1 1/16 miles on the turf
At stake: Division honors.
Major players: Dynatail (Mike Dini for Ballybrit Stable LLC) has the division all but sewn up. If she posts, she will qualify for bonus money and will finish with at least 20 points. Her nearest pursuer, Souper Striking (Mike Trombetta for Live Oak Plantation) has just seven points. Souper Striking will receive five bonus points Saturday for making her fourth Series start, and if she were to win the race while Dynatail finished worse than fifth, she would edge her rival for the division title. Dynatail is 10-1 on the morning line, while Souper Striking is 30-1.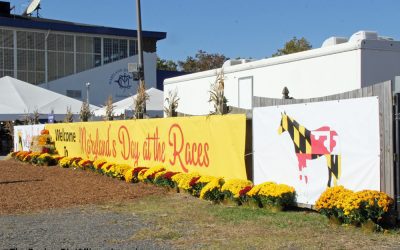 A bevy of defending champions and local stars headline the pre-entries for Jim McKay Maryland Million, which will take place at Laurel Park on Oct. 14.