Peace and Justice: A chance to hit a home run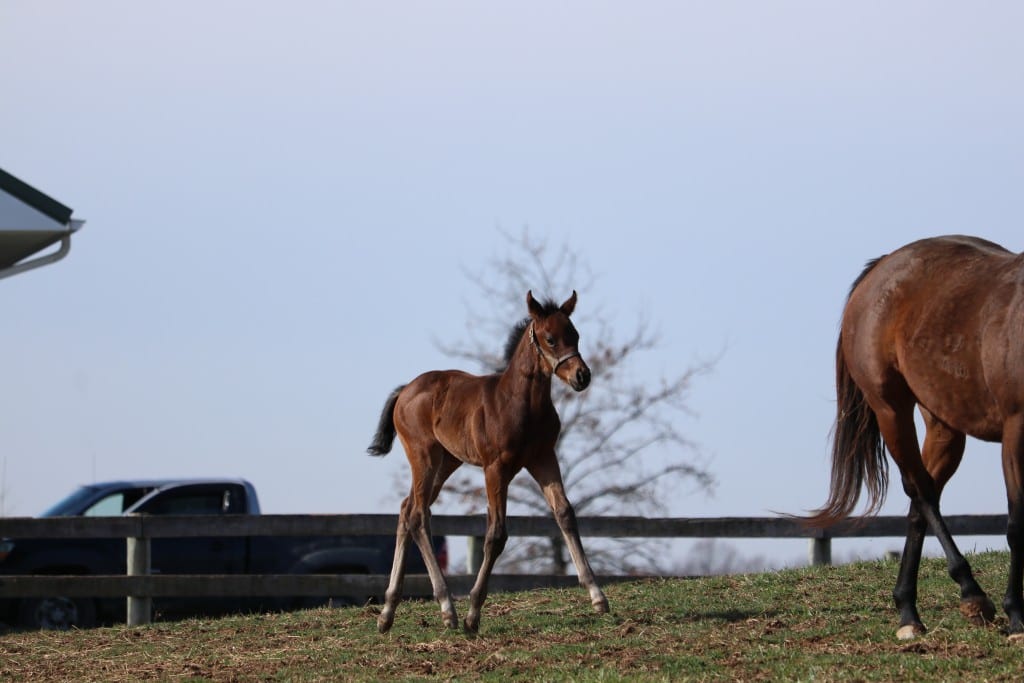 First foal by Peace and Justice to hit the ground is Super Starlet, out of Movie Starlet, by Flatter.
A sponsored story
On the racetrack, Peace and Justice never got a square shot to demonstrate his quality, making only eight starts, three of them wins, before being retired.
In the breeding shed, however, it looks like he'll get that chance.
"He'll breed a lot of mares this year," says Paul O'Loughlin, Bloodstock Manager at Northview Stallion Station, whose Pennsylvania operation stands him for $3,500 LFSN. "He's pretty popular."
Which makes sense. He's a son of top sire War Front and out of the winning Smart Strike mare Strike the Sky. He's a half-sibling to a bevy of winners, among them the Grade 2 winner Hudson Steele, who earned over a half-million dollars in his career.
And while his racing career was cut short, he showed plenty of talent to excite potential breeders.
"He was a terrific foal at Claiborne, a terrific two-year-old for trainer John Shirreffs, and he worked great on dirt though he never ran on it," points out Steve Young, who owns Peace and Justice. "He had sprinter's speed that could go a mile; he's a special horse."
In his best win, a front-running score in a Santa Anita allowance, he zipped the opening half-mile in 44.55 seconds en route to running a blazing-fast mile on the grass in 1:32.36.
His first foals have just begun to hit the ground, and, say the men, so far, so good.
"The ones I've seen, you have to be real happy," Young says, who has two Peace and Justice foals on the ground.
"Anybody that's had a foal so far is coming back to him," agrees O'Loughlin. "The foals are pretty correct. They're good advertisements for the horse."
Another good advertisement for the horse is the potential bonanza he offers to breeders. Young is offering not one but two $250,000 bonuses to people who breed to Peace and Justice. One of those applies only to foals of 2018, but there's still a chance to get in on the other.
The bonus goes to the breeder of the first of Peace and Justice's foals of 2019 to win a non-restricted stake between January 1, 2021 and December 31, 2022. Additional conditions apply.
"It gives breeders in a regional market a chance to hit a home run," says Young, and that's certainly true; a quarter-million bucks can accomplish a lot.
There's more to it than that, though.
"This horse has a lot of good aspects about him that I know and other people don't," Young points out. "The bonus makes people who are unfamiliar with the horse go research him."
Young is confident that when they do, they'll arrive at the same conclusions he has.
"I sent 16 mares to him. That's how much I believe in the horse," he says. "The more scrutiny he's under, the better he looks."