For Capuano, Lynch, waiting, then winning on Tesio day
Frank Vespe

April 15, 2023
At 45 – "a young 45," he jokingly reminds you – jockey Feargal Lynch is closer to the end of his racing career than the beginning.
Trainer Phillip Capuano, a boyish-looking 29, is, on the other hand, just getting his career revved up. He began training on his own – taking over his uncle Dale's Laurel Park string – in January.
Lynch and Capuano each had reason to smile Saturday at Laurel, though, as each posted a stakes win. For Lynch, the win aboard Perform in the $125,000 Federico Tesio Stakes for three-year-olds was his first win of the year, following his annual winter off. And it was his first stakes win since last November.
Capuano's win, with Alwaysinahurry in the Frank Y. Whiteley for older sprinters, was the first stakes triumph of his training career, and it followed the longest wait imaginable: those several moments after the stewards hung the inquiry sign and before they changed it to "official."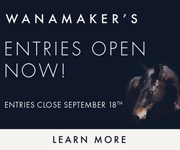 "You know, my heart got racing when I watched the head-on," Capuano said of waiting out the inquiry. "In the first shot, it looked like he might have laid on Factor It In just a touch, and obviously, that just causes a snowball effect."
In the Whiteley, Alwaysinahurry, under rider Jorge Ruiz, was mid-flight early while wide around the turn and then closed outside rivals. As he passed them, he drifted in a bit, prompting the inquiry.
So, Capuano watched, waited, and paced the winner's circle. Finally, the stews decided the five-year-old Maryland-bred Great Notion gelding had not fouled his rivals; the win stood.
It was Capuano's second win of the day; the first, with Thataway in an allowance contest, came after that horse survived an objection by another rival. Which made for a day of nervous pacing for the trainer.
"That's two today I had to wait for," he laughed after the Whiteley. "I don't like that feeling."
As he stood chatting with reporters after the race, his phone kept up a steady squawking as texts poured in.
"It's nice. I mean, I had so many people rooting for me," Capuano said. "I wish I could have the time to thank everybody, but it feels good knowing that people want to see me succeed and do well. It's a humbling feeling, very humbling, and I'm very grateful."
Lynch, meanwhile, took the winter off, as he typically does these days, to recharge: to visit his parents in Spain, play some golf with his father, and stay out of the cold.
"It keeps me fresh, you know? I think at my age, I enjoy it more," Lynch said. "Coming back to these races, especially, it really lights me on fire. These are the days I want to be here for."
Lynch, aboard the Shug McGaughey-trained, last-out maiden winner Perform, found himself dawdling at the rear of the field early before picking his way among horses, finally swinging out inside the sixteenth to get up late over Ninetyprcentmaddie.
"He just kept picking up horses from the half-mile," Lynch said. "I needed to figure out a way through here. That's gonna be the hardest bit. When we came into the stretch, I seen Paco [Lopez, aboard Ninetyprcentmaddie] coming off [the inside], so if I go up that inside, I know he's going to make it tight. So I just went around and hoped I had enough time."
He did, prevailing by a head in a race in which the first eight finishers were all within four lengths of each other.
The Tesio is a win-and-in for the Preakness, but Perform is not Triple Crown-nominated. It would cost owners Woodford Racing LLC, et. al., $150,000 to supplement him to the Triple Crown. While his owners certainly have deep pockets, that's a pretty big bite for a horse who likely would be a longshot in Baltimore.
"It's a shame he's not in the Preakness," Lynch said. But that wasn't about to dampen his spirits after winning the day's most consequential race.
NOTES Ninetyprcentmaddie finished 1 ¼ lengths ahead of show horse Summer Cause… Post time favorite Prince of Jericho finished sixth, though beaten less than three lengths, after rallying from seventh… Coffeewithchris, who's danced every Maryland dance to date, led early before tiring late to finish fifth… Alwaysinahurry's win in the Whiteley was his second stakes triumph… Post time favorite Factor It In was bumped at the furlong pole and finished fifth…Grade 3 General George winner Eastern Bay was eased in the Whiteley and later reported by the stewards to have bled…
FEDERICO TESIO STAKES
| | | | | | |
| --- | --- | --- | --- | --- | --- |
| Perform | C R McGaughey III | F Lynch | Woodford Racing LLC, Lanes End Farm, Phipps Stable, Ken Langone, & Edward J. Hudson Jr. | Michael Orem & J.B. Lane Orem | KY |
Horse/trainer/Jockey/Owner/Breeder/State bred
FRANK Y. WHITELEY STAKES
| | | | | | |
| --- | --- | --- | --- | --- | --- |
| Alwaysinahurry | P Capuano | J Ruiz | Mopo Racing | Dr. & Mrs. Thomas Bowman, Quin Bowman &Rebecca Davis | MD |
Horse/trainer/Jockey/Owner/Breeder/State bred
LATEST NEWS