BackTracks: Jameela, Maryland's first millionaire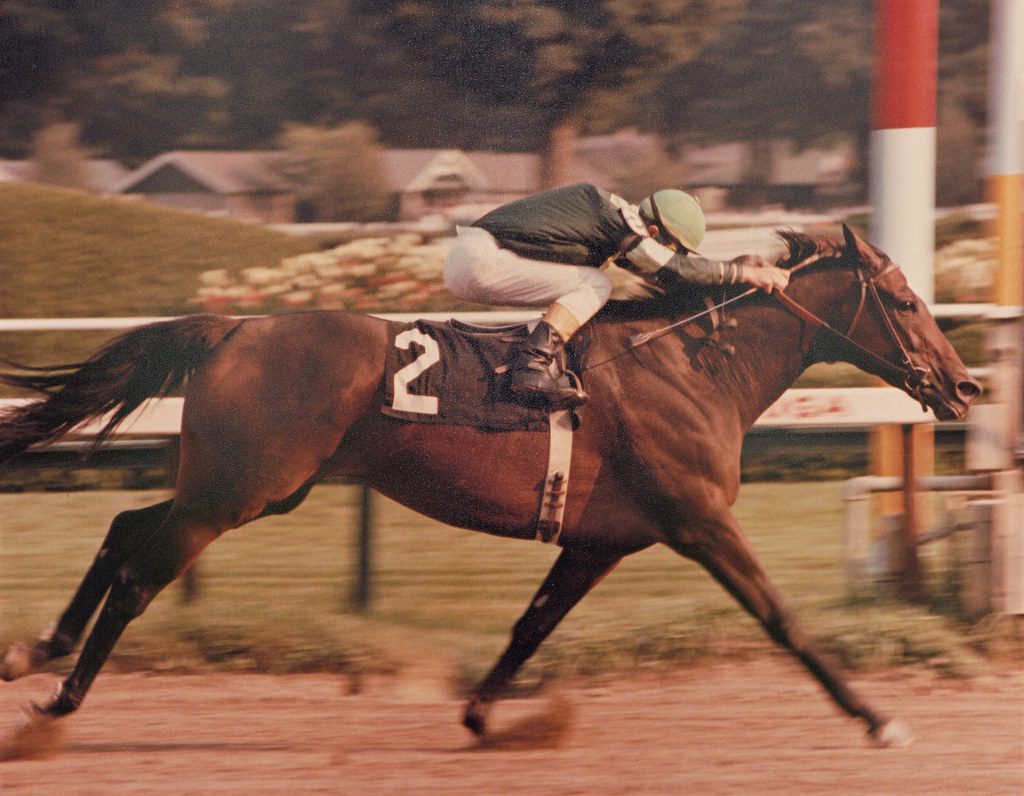 Betty Worthington had bred horses on a small scale at her Churchville, Maryland farm, but, in the late 1970s, she was about ready to bid the business farewell. Her husband Richard was a newspaperman, running the business side of the Aegis in Bel Air, while Betty had focused her time and energy on her horses.
She purchased the mare Snow Flyer at Timonium for around $3,000 and got stakes winner Sarah Percy and Asbury Mary from the Canadian-bred. In 1975, Worthington sent Asbury Mary to Glade Valley Farm to be covered by Rambunctious, stakes winner and stalwart regional sire. On March 15, 1976, Asbury Mary foaled a dark bay filly that Worthington would name Jameela.
Her name meant "beautiful" in Arabic, highlighting the Worthingtons' connection to Saudi Arabia, where Betty's brother worked for an oil company. She came from a line of durable, hard-trying mares, with her granddam Snow Flyer starting ninety-six times in her five seasons and her third dam Hey Hay racing a whopping 118 times with thirteen wins.
Worthington sent the filly to Sagamore Farm for her early education, but trainer Hyman "Hap" Ravich opted to wait until April of her three-year-old season to debut Jameela.
"She was hard to break," her breeder and owner said, "and then when I sent her to Buddy Troyer at Vanderbilt's [farm], I think they had a little trouble with her, too."
The extra maturation time made a difference: the filly won first time out and then kept winning, taking her first five starts, including the Dogwood Stakes at Bowie. Jameela raced thirteen times during the 1979 season, winning nine and never coming home worse than third. Those wins plus her runner-up finishes in the Grade 2 Test Stakes and the Grade 1 Delaware Oaks earned Worthington's filly the Maryland-bred three-year-old filly championship.
At four, Ravich kept Jameela in graded stakes company, building on that championship season with even more challenges.
BULDING EXCELLENCE
In her second season, this daughter of Rambunctious made 20 starts, at least one each month, ran at ten different racetracks from Hialeah to Saratoga, and built on the momentum her three-year-old season had generated. She went to Oaklawn to finish second in the Grade 2 Apple Blossom. She won the Geisha, the Mary Duvall, and the Lady Baltimore on her way to a second Maryland-bred championship in 1980.
Jameela had had two good seasons on the racetrack already, but, at age five, she took her form to another level. She won the Imp and the Twilight Tear at Belmont Park and then went on to Saratoga where she battled the Virginia-bred Love Sign in the Ballerina, finishing second, and then beat her in the Mahubah at Saratoga and the Maskette at Belmont. 
Jameela's high-profile tussles with Love Sign and other distaffers caught the eye of breeder and owner Peter Brant. The wealthy publisher and film producer had been part of the effort to bring legendary sire Mr. Prospector to Claiborne Farm in Kentucky and had raced his filly Just a Game against Jameela.
By this point, Jameela was the only horse left in Betty Worthington's stable after she had dispersed her bloodstock, including both Asbury Mary and Sarah Percy. Brant offered $840,000 and agreed to keep Jameela in training once the deal was done.
"I think his goal is to make her a millionaire," Worthington said. "I certainly hope she wins some of these big races in New York for him this fall."
She did that, winning the Grade 1 Ladies Handicap in November, and then went a step further.
Brant kept Ravich on as the mare's trainer, bringing her back for another season in 1982. She went west for the first time that season, finishing second in the Santa Maria before returning to Oaklawn to try the Apple Blossom again. She was third there and then in the Hempstead at Belmont Park.
Ravich sent her to Monmouth Park for her third go at the Molly Pitcher. This time she was successful, after which Ravich revealed some news.
"This is it. This is the last year," the trainer shared, "She's just coming back to herself. […] She hasn't acted well recently because of the weather, but she is really perking up now."
Jameela followed up the Molly Pitcher with a trip to Delaware Park for the Grade 1 Delaware Handicap, where she would meet Love Sign once again.
Over 1¼ miles, Jameela stalked Love Sign until the stretch, taking the lead and pulling away to win by two lengths. The Grade 1 victory, her third, upped her value as a broodmare and pushed her over the $1 million mark, the first Maryland-bred to do so. She followed that up with another win in the Mahubah at Saratoga before an injury sent her into retirement. 
In her four seasons on the racetrack, Jameela logged a record of 58-27-15-6 and winnings of $1,038,704, winning Maryland-bred Horse of the Year for 1981 and 1982 in addition to her divisional championships in 1979 and 1980.
LASTING INFLUENCE
To celebrate the retirement of Maryland's first millionaire, Jameela paraded in front of the crowd at Laurel in early December, still looking every bit the determined racehorse she had been through her long career. Ravich shared her toughness with Evening Sun reporter Russ Peddicord, telling how Jameela had stolen an apple out of his hand when he was standing in front of her stall.
"Even now that she is being let down, she is still tough," he reflected.
She passed along her toughness to her first foal, a colt by Mr. Prospector. Gulch, bred and owned by Brant, won five straight stakes at age two and then became a classic contender at age three, winning the 1987 Bay Shore and Wood Memorial before finishing sixth behind Alysheba in the Kentucky Derby. The following year he won the Eclipse Award as champion sprinter, and he capped off his stellar career with a victory in the 1988 Breeders' Cup Sprint. At stud, he sired dual classic winner Thunder Gulch, continuing the excellence that both Mr. Prospector and Jameela brought to their championship foal.
Brant sent Jameela to Mr. Prospector again, producing Big Mukora, who did not have quite the same record as his more famous brother. That same year, colic took Rambunctous's best horse at the young age of nine.
From a small breeder came a mare with a thoroughly Mid-Atlantic pedigree and a talent for finding the winner's circle. She competed with the best of her generation, including Love Sign, another product of the region's great breeding programs, and then passed along that excellence to her champion foal and the many stakes winners he produced. Jameela serves as another beautiful example of what Maryland brings to American horse racing.
Sources
PRINT SOURCES
Austin, Dale, "Grable Nears Apprentice Jockey Title," Evening Sun, September 11, 1982.
Boniface, William, "Jameela Wins Arundel, Tops 3-Year-Old Fillies," Baltimore Sun, December 16, 1979.
Feldner, Karl, "Jameela Wins Delaware Handicap," Morning News, August 2, 1982.
Handleman, Bill, "Jameela Sprints home First in Molly Pitcher Race," Asbury Park Press, July 6, 1982.
Harris, Russ. "Jameela Gets Even, Tops Love Sign by 8½," New York Daily News, November 2, 1981.
Harris, Russ, "Jameela One of the Best of a Fine Crop of Mares," New York Daily News, August 19, 1981.
"Jameela Wins Handily," Edmonton Journal, November 2, 1981.
Kellner, Jenny, "Jameela tops Love Sign by 2," New York Daily News, September 7, 1981.
Kiser, Jack, "Classy Kaenel, Jameela Win Delaware Handicap," Philadelphia Daily News, August 2, 1982.
Maisel, Bob, "Some Views on Racing's Volatility at 'Jameela Day,'" Baltimore Sun, December 2, 1982.
Peddicord, Ross, "Jameela, Nobulee Score Victories at Pimlico," Baltimore Sun, April 20, 1979.
Peddicord, Ross, "Jameela Races Today in Anne Arundel," Baltimore Sun, December 15, 1979.
Peddicord, Ross, "Jameela Takes Final Sentimental Romp at Laurel," Evening Sun, December 2, 1982.
Peddicord, Ross, "Sale of Mare May Be a Record," Evening Sun, September 9, 1981.
"Rambunctious Dies at 31, Leaving a Rich Legacy," Maryland Horse, October 1991, 46-47.
"Richard Worthington, Former Publisher, Dies," Baltimore Sun, September 2, 1990.
Whelan, Tom, "Jameela Coasts in Ladies Handicap," Poughkeepsie Journal, November 2, 1981.
Whelan, Tom, "Jameela Wins Maskette Mile," Daily Times, September 7, 1981.
Zamarelli, Don, "Owner Retires in Style," Daily Record (Morristown, NJ). September 14, 1979.
LATEST NEWS