LAUREL PARK PICKS AND PONDERINGS: FEB. 11, 2022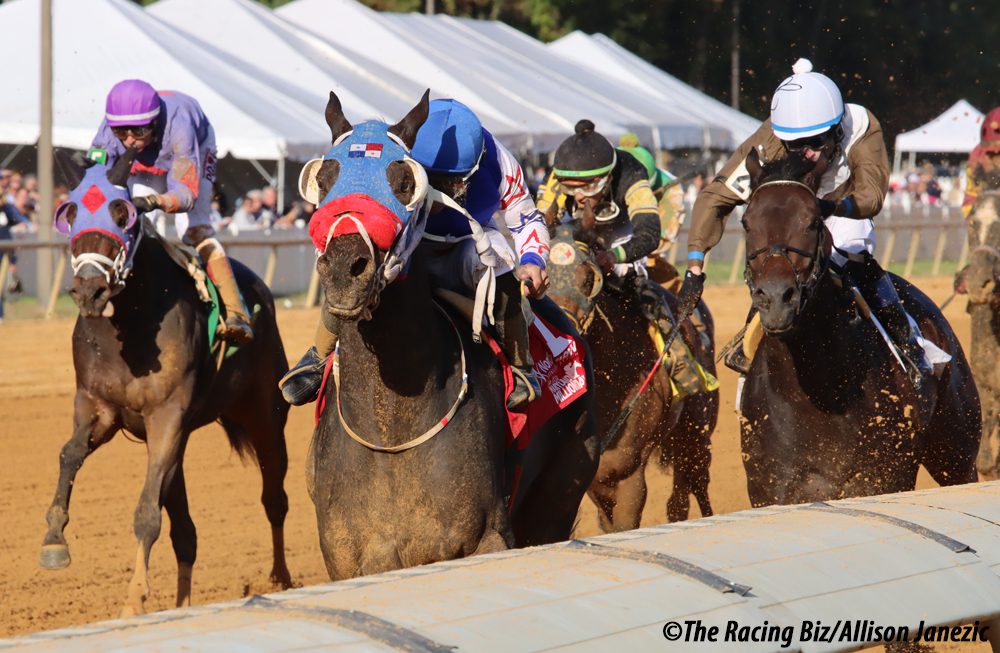 RACE 1: MAIDEN CLAIMING $10,000, 4 AND 5-YEAR-OLDS, 1 MILE
1-2-5-4
After three consecutive dull efforts to start his career, #1 Lookin For Justice (5/1) took a big step forward fourth time out. He showed speed, which he hadn't done in his prior starts, and held on to finish third at 46/1. He cuts back from 1 1/16 miles, a distance that he didn't seem to care for. We'll see how he does at a mile. #2 Transfer the Funds (3/1) finished ahead of Lookin For Justice last out, after making a big move to the front and striking the lead before flattening out. He's also been taking steps forward lately. #5 Captain Cardo (9/2) ran a career-best figure of 68 last out, his first time start off the layoff. He ran on well in the stretch going six furlongs and is a candidate to improve going a mile.
RACE 2: CLAIMING $16,000 (N/W3L), 4-YEAR-OLDS AND UP, FILLES AND MARES, 1 1/16 MILES
4-5-3-1
Both of the top contenders in here have abundant early speed. #4 Unshakable U (8/5) went gate-to-wire to win a first-level allowance at Charles Town two starts back, and narrowly missed wiring the field at this level last out. She has faster early pace figures than Betcha By Golly, the only serious speed threat drawn to her inside, and shouldn't have much trouble getting to the front and establishing control. #5 Hashtag Lucky (5/2) is also a confirmed front-runner, but may have a hard time outrunning Unshakable U in the early stages of this one. She might be better off trying to rate off the leader. #3 Marketability (4/1) was very flat last out but generally has a good closing punch and should rally for a piece.
RACE 3: MAIDEN CLAIMING $25,000, 3-YEAR-OLDS, 1 1/16 MILES
7-6-3-2
#7 Rookieoftheyear (3/5) comes back to Maryland for Graham Motion and looks like he towers over this group. He churned on in the stretch last out and got third against straight maidens at Aqueduct last out, with a figure of 76. He ran an 80 here in late October, his last start before going on the shelf. He has a big class edge over the others and will be tough if he runs his race. #6 Mercury Ten (8/1) consistently ran in the 70s last year, then got hung wide in his sophomore debut and stopped badly. Will try to work out a better trip here. #3 Make The Way Clear (5/1) chased a clear winner last out but held on for third in his first start at this condition. He's run in the 70s in back-to-back starts.
RACE 4: STARTER OPTIONAL CLAIMING $16,000, 4-YEAR-OLDS AND UP, 1 MILE
7-6-2-3
The top three finishers from the race at this condition on January 23 are back here. I'll try to fade the winner of that race, Halite, as it was a dramatic improvement from his prior two starts, and I don't know if I'd bet that he can keep it up at low odds. Carol Cedeno also jumped off to ride My Man Pots N Pans in this race. Bryson Butterfly has the call instead. I'll try the runner-up instead. #7 Silent Malice (3/1) made a giant rally from behind and dueled with Halite in the stretch of that race, but was outgamed and finished second. He consistently runs great late pace figures and will be flying at the end. #6 Visual Artist (6/1) set the pace and drew off to beat a softer field last out, and will be a pace factor once again. It's not every day you get a good price on a Jamie Ness/Jaime Rodriguez horse, but that might be the case here. #2 Rough Sea (9/2) churned on for third behind Halite and Silent Malice last out, now goes second off the layoff. He'll also rate off the pace and run on late.
RACE 5: CLAIMING $5,000 (N/W2L), 4-YEAR-OLDS AND UP, 7 FURLONGS
1-9-5-6
#1 Dejohn (4/1) was visually unimpressive in his last start, but he ran a figure of 69, which makes him a strong contender in this race. Drops back here after a try in a $10,000 n/w2L race last time. #9 Tradition (5/1) has no early speed at all but a strong closing kick. He was rolling late last out and missed by just two lengths. He's a major exotics candidate, at least. #5 Lifespan (5/2) has been in career-best form since returning to dirt. He lost a photo finish to One More Factor last out. That rival came back to win a n/w3L claiming race at Charles Town next out.
RACE 6: MAIDEN CLAIMING $16,000, 3-YEAR-OLDS, 1 MILE
6-9-5-8
#6 Pit Stop Man (8/5) ran gamely in his last start at Aqueduct, battling on a fast pace and holding on for second. He's improved his figure in each of his three starts. He finished ahead of #9 Money Code (3/1) in that race, who flew in the last eighth to get third. He tends to make a middle move and flatten out, but it was encouraging that he ran on late last time. #5 Icy Minister (5/1) couldn't last on the lead last time but held on for second after a wide trip. Goes third off the layoff here.
RACE 7: ALLOWANCE (N/W1X), 4-YEAR-OLDS AND UP, FILLIES AND MARES, MD-BRED, 6 FURLONGS
2-3-5-7
#2 Marvella Nasty (9/5) was supposed to race at this level last weekend, but the race, and the card, was cancelled. She drew off impressively to win a starter optional claiming race last out with a career-best mark of 93. She should get the dream trip just off the leaders. #3 Response Time (9/2) couldn't have won her last start any easier. She broke on top in a $25,000 starter optional claiming race, and never looked like she was in any danger of losing as she crushed the group by 4 1/2 lengths. She struggled in two starts at this level right before that, so we'll see how she does on the step up in class. #5 Mattitude (6/1) will try to press Response Time on the lead. She showed heart on the lead last out against similar and held on for second.
RACE 8: ALLOWANCE OPTIONAL CLAIMING (N/W3X), 4-YEAR-OLDS AND UP, 6 FURLONGS
1-2-6-5
#1 Redeem Eddie (5/2) makes his first start of 2022 here, after a 2021 season that saw him finish in the top two in five of six starts. He has plenty of early speed and a great draw; the only question is how he'll race first off a 3 1/2-month break. #2 Borracho (9/5) improved sharply second off the layoff, dueling Zabracadabra into the ground but unable to hold off Maryland Million Sprint champion Air Token. However, Borracho did hold on for a clear-cut second. Will be tough if he moves forward again. #6 Arthur's Hope (5/1) recovered from an awkward break to get third behind Borracho last out. Goes second off the layoff and should rally for a piece.
RACE 9: MAIDEN CLAIMING $40,000, 3-YEAR-OLDS, 6 FURLONGS
6-5-2-3
This race is the second leg of the Stronach 5. #6 Goldenize (5/1) ran on willingly on debut and won a photo for second with an impressive figure of 82. Takes a step up from the $25,000 level into a pretty salty group for the level, but has room to improve and the price will be right. #5 Must Be Love (3/1) had a clear lead on debut got caught late by The Addison Pour, who came back to finish second in a tough first-level allowance race yesterday. I don't think there's anyone in here as good as that one. #2 Mocephus (6/1) improved twenty points second time out despite a wide trip, losing the aforementioned photo to Goldenize. Should save more ground here after two tough draws in a row.
RACE 10: CLAIMING $5,000 (N/W3L), 4-YEAR-OLDS AND UP, 1 1/16 MILES
5-3-9-8
This is the payoff leg of the Stronach 5. #5 Voltamour (3/1) has impressed in both his tries at this level, closing well to get a piece in each race. Last out, he closed for second in his first start in mor than two months. He got stuck behind a slow pace in the race prior. #3 Straight Up Guy (9/2) finished third behind Voltamour last out, drawing within a length of the lead late but flattening out after making up lots of ground. #9 Paint Music For Me (4/1) is the only one in the field without multiple losses at this level, having gotten up for a n/w2L win last out. He's rounding back into career-best form for Kieron Magee.
LATEST NEWS