DELAWARE PARK HANDICAPPERS' NOTEBOOK 2021 VOL.21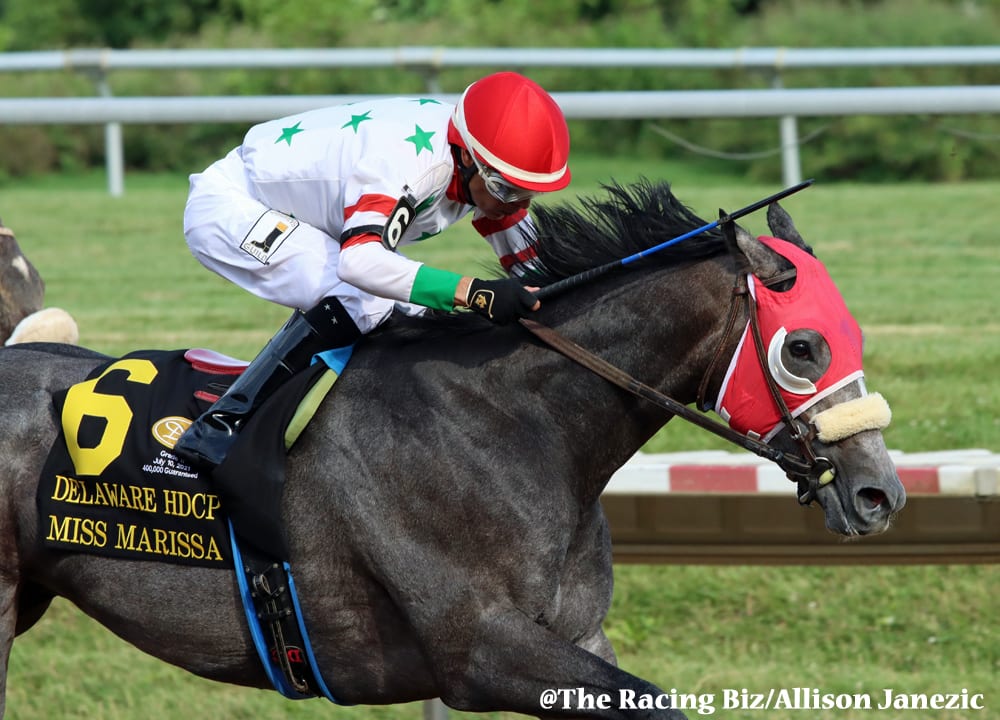 Notable races and trips
OCTOBER 20 – OCTOBER 23
A speed bias was evident all three days. Beginning with the first race on October 20 and running through the 5th race on October 21, all but two of the races were won by horses that were first or second at the first call of each of the races. On Saturday, October 23, six of the eight races were won by horses that were first or second at the first call.
OCTOBER 20
Race 1: One of the best known horse racing maxims is that there is no bigger class drop than horses who are dropping from MSW to maiden claimers. Actually, there is a bigger class drop angle but it happens very infrequently. That angle is horses dropping from winners to maiden opponents. Intrepid Daydream ended up being a strong favorite as bettors noticed that in her first race, she was low-odds in a minor stake and encountered a bad trip. When she returned in this MSW event, she was rightfully bet down to 6-5. Not only did she win by over 16 lengths, but she also did so effortlessly. Can definitely compete with allowance foes next time out.
Race 8: Not only did Flat Out Flying defeat the aforementioned speed bias, but the 5-year-old gelding also showed grit by wearing down foes in the stretch when he looked beaten. Will be tough if comes back against similar after resting.
OCTOBER 21
Race 6: If a new handicapper were to ask me what is the most important factor to consider when analyzing a race, my answer would be "class." This was a tough three-other-than allowance/optional 65K claimer but the eventual favorite and winner Miss Leslie had a huge class edge. Her opponents were almost exclusively horses that had run competitively in tough claimers, allowances and/or state-bred stake events. Miss Leslie had run in open stakes and graded events. She was the only 3-year-old and she had a running style not conducive to the speed bias. It did not matter. Jockey Angel Cruz bided his time and circled the field to win easily,
Jockey and Trainer of the Week
Jockey Isaac Castillo had 11 placings out of 16 starters, including four winners this week. He does not ride at Delaware often, but when he does he is almost always on a live horse. His win percentage for the meet is 24% and his ITM percentage is 67%
Trainer Edward Allard also has been an infrequent participant at Delaware this year. Over the last three days he had two wins, one place and one show with just five starters.
Handicappers' Toolbox
Everyone knows that proper placement of horses is a big key to any barn's success. One need only look at Jamie Ness's placements to see that is one of the factors behind his record for the year. A tip of the hat for three other stables at this meet that have far fewer starters but always run their horses where they belong. Bell Gable Stables, Black Cloud Stables, and the stable of Nick Sanna consistently run their horses at just the right level. When you back horses from these three owners, you can be generally certain that the owners feel their horse is live.
LATEST NEWS