DELAWARE PARK HANDICAPPERS' NOTEBOOK 2021 VOL. 13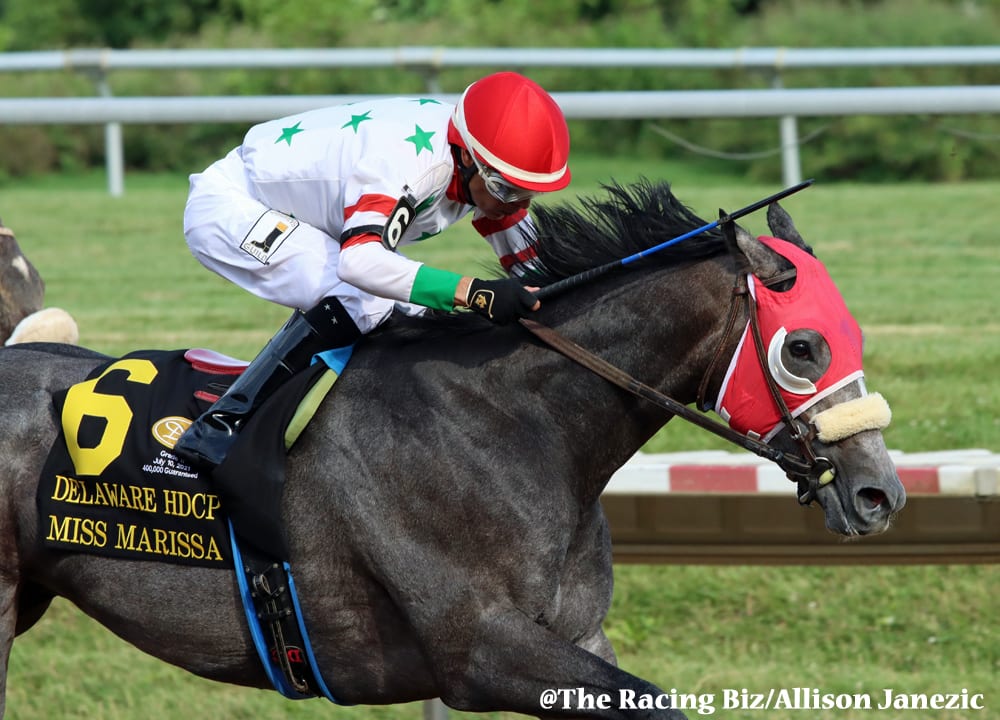 Notable races and trips
AUGUST 25-30
Value bets are going to be hard to obtain the rest of the meet if the field sizes continue to come up small. Owner's Day will hopefully offer some value as well as any turf races that can stay on the grass. Be conservative with your bankroll and wait for value as opposed to taking short odds in short fields.
AUGUST 25
Race 1: Two year-old Golden Eib Micrphn won impressively first time out at the 20K claiming level. Jock said the filly had plenty in the tank so can come right back if properly spotted.
Race 6: The Blue Hen Stakes for Del-certified two-year-old fillies went postward with just four runners, two of them maidens. The winner Cashing Big Checks showed plenty of guts but had to work hard to beat a rival who was 0-for-5. Overall, the race does not appear to have been strong.
Race 6: Show'em Who's Boss was bet down to odds of 2.7 to 1. Was reluctant to leave the paddock until blinkers were temporarily removed. Also hesitated to step onto the track. None of this appears in the chart of the race, and even though as noted above the race was a weak one, I think you can draw a line through this performance. Take note if properly spotted and does not act up next time. Will most likely go off at higher odds after showing nothing here.
AUGUST 26
Race 1: Simoff first-timer Clairensam took some action and hit the board, but this is not one of the trainer's better runners and will need to be placed back against lower level claimers.
Race 8: Rebel Empire was smartly piloted by jockey Aubrie Green to score a 16-1 upset over the well-regarded No Sabe Nada in the Dover Stakes.
Jockey and Trainer of the Week
Jockey Aubrie Green won two races for the week, with one of them was a stakes race. She won the Dover Stakes for trainer Lynn Ashby (and then won a stake at Colonial Downs for the same trainer). Now double-digit wins for the meet after a slow start. Only Jaime Rodriguez had more wins for the week, and he had almost twice as many entries. Green does not often ride the favorite in a race, and her average win payoff for the meet exceeds $20.
Trainer Jamie Ness was 3-for-11 for the week. Five additional entrants were in the money.
Handicappers' Toolbox
The end of the Colonial meet should lead to more of the Maryland jockeys appearing on the weekday cards, In addition, the agent for Jorge Vargas got him an entry this past week. While I always put more emphasis on the horse over the pilot and will place a bet on 90% of the jockeys at Delaware, I am a believer that a jockey switch to a better pilot is worth a few lengths.
LATEST NEWS