Pimlico picks and ponderings August 20, 2021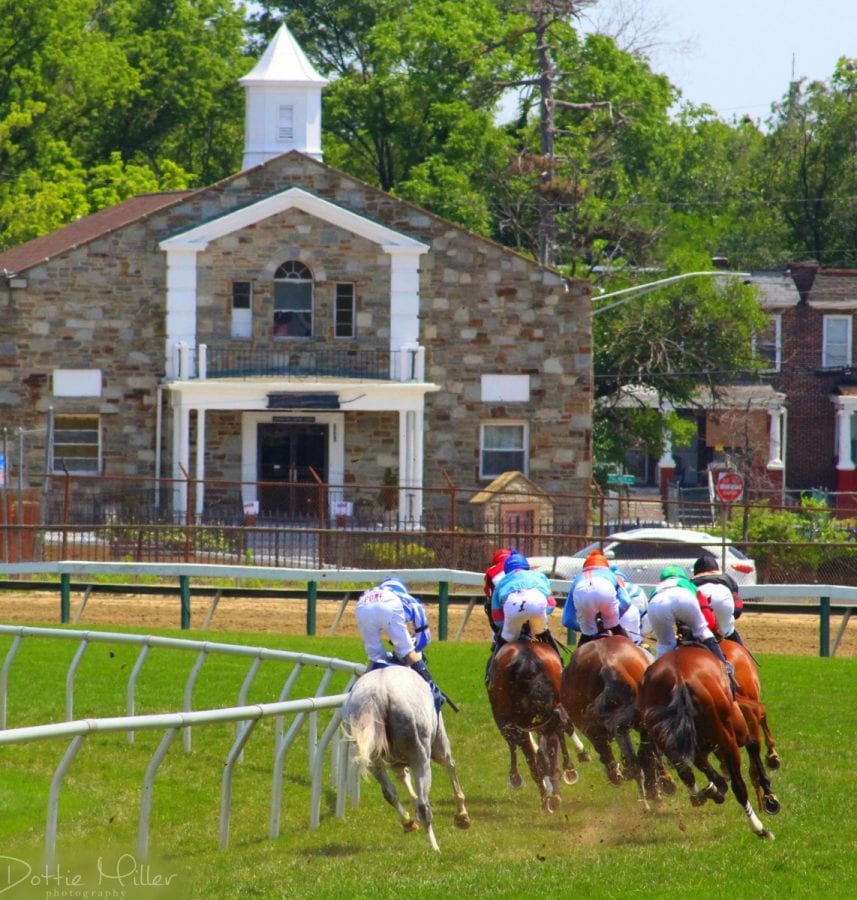 Horses round the first turn at Pimlico. Photo: Dottie Miller
In which we pick the races from Pimlico each day…
Post time: 12:40 p.m.
Carryovers: Rainbow Jackpot Pick 6 — $0 Super High 5 — $1,960 Late Pick 5 — $0
ANALYSIS
RACE 1: MAIDEN SPECIAL WEIGHT, 2-YEAR-OLDS, FILLIES, 6 FURLONGS
1-2-3-5
Three more days, and then we're back to the big T. #1 Murph (1/1)will likely take all the money here, and deservedly so. This Brittany Russell trainee was well-backed on debut, going off as the 3/2 choice. She finished a fast-closing second, living up to many of the expectations. Any improvement makes her an easy winner. #2 She's Mo Better (7/2) has had a light but sharp worktab at Colonial Downs for trainer Cal Lynch. Charlie Marquez is looking to clinch the riding title as soon as he can. #3 Redwhitentacos (6/1) has a similar profile as She's Mo Better for the Dilodovico/Karamanos trainer/jockey combo. 
RACE 2: STARTER OPTIONAL CLAIMING $32,000, 3-YEAR-OLDS AND UP, FILLIES AND MARES, 5 FURLONGS (GRASS)
6-7-4-5 (DIRT: 1-4-5-7)
#6 Crystalology (3/1) broke her maiden impressively on grass on debut, closing from just off the pace to win by 1 1/4 lengths with a brisnet figure of 74. She's had some time off since her unsuccessful dirt debut on June 11, but she's had some very sharp works for trainer Niall Saville, including a bullet drill at Fair Hill last week. #7 Bound for Broadway (5/2) races third off the layoff here, after a strong performance last out at Delaware Park against similar. She fell towards the back, but rallied to lose by less than two lengths. She hasn't shown as much early speed this year as she did in her grass tries last year; we'll see if that changes here. #4 Castilleja (4/1) was pulled up in her grass debut, but made up for it last out with a good, wide rally at Colonial Downs, earning a figure of 77 in the runner-up finish. She's another one who will be heard from late. 
RACE 3: CLAIMING $16,000 (N/W2L), 3-YEAR-OLDS AND UP, 6 FURLONGS
6-2-7-5
#6 Kickstarter (2/1) ran a career-best figure of 87 in his last start at this level. He set the pace and held on to finish second at Delaware Park, in his first start off a long layoff. With a few more races under his belt coming into here, he's a serious threat. #2 Josef is Real (5/2) dropped to this level for the first time on dirt last out, and made a bold, wide bid to get second and earn second. He hasn't run a figure below 78 in any of his last five dirt starts. #7 Speightster Red (5/2) has shown speed and backed up in his alst few starts against better. The drop in class might help him carry his speed further.
ANALYSIS
RACE 4: CLAIMING $5,000 (CONDITIONED), 3-YEAR-OLDS AND UP, 6 FURLONGS
6-2-1-3
#6 Keeping the Peace (5/2) rolled to an impressive win first off a brief break last out at Delaware, with a season's best mark of 86. He ran consistently good figures when racing here this spring, but greatly improved last out, and will contend if he keeps it up. #2 Amen Corner (3/1) was the slight favorite against similar last out, and earned a season-top figure of 82 with a mild third-place finish. He broke through for a win two races back after a string of disappointing tries. However, his figures have been consistently competitive. #1 Smart Step (4/1) has hit the superfecta in three of his last four and has good late pace figures. He picks up Horacio Karamanos here, as Victor Rosales opts for Keeping the Peace.
RACE 5 – CLAIMING $16,000 (CONDITIONED), 3-YEAR-OLDS AND UP, FILLIES AND MARES, 5 FURLONGS (GRASS)
5-7-8-9 (DIRT: 2-6-4-1)
#5 Aprilness (2/1) surged and just missed in each of her last two grass starts, both of which came here. She'll likely attend the early pace. The lightbulb went on for #7 Alluring Rumba (9/2) recently, as she's won her last two starts after beginning her career 0-for-11. She enjoyed a good trip against n/w2L types at Colonial last out, rating right off the lead and cruising by late. #8 Great Cause (10/1) goes first off the claim for Mario Serey and will likely be a factor on the early pace. The one time she couldn't get to the lead was her last grass try, and it wasn't a particularly successful race. She's hoping that will change here. 
RACE 6- MAIDEN CLAIMING $25,000, 3, 4, AND 5-YEAR-OLDS, 1 1/16 MILES
4-2-1-3
#4 Gregoria's Bay (8/1) stretched out around two turns for the first time last out, and handled it with ease, as he plodded on to get second. Worth a shot if he stays near his morning line. #2 Tremendous (2/1) makes his first start for trainer Horacio DePaz, after racing twice for Jimmy Jerkens in New York. He improved sharply to run a 75 last out at Belmont Park, but must have suffered some kind of injury in that race, as a claim on him was voided, and he hasn't been seen since that May 30 race. Recent local works have been solid, and a bounce-back effort would not be a surprise at all. #1 Super Houdini (5/2) has consistently good figures, but his lack of early speed has doomed him to an 0-for-15 record thus far. He's probably better off used underneath. 
ANALYSIS
RACE 7 – ALLOWANCE OPTIONAL CLAIMING (N/W2X), 3-YEAR-OLDS AND UP, FILLIES AND MARES, 5 FURLONGS (GRASS)
4-3-6-7 (DIRT: 6-7-4-5)
#4 Ellanation (7/2) won the Jameela Stakes two races back over this track with a strong closing bid. She got roughed up at the start last out at Monmouth Park and lost forward position, but still closed well. The winner of that race, Introduced, came back to win the Incredible Revenge Stakes last weekend. #3 Whispurring Kitten (9/2) showed promise on grass last year at Laurel Park, and now comes back here from Penn National after starting to find her best form there. She cleared her n/w1x condition last out with a determined win, running a career-best figure of 82 in the process. #6 Olive Kat (9/5) has won her last two on grass and has good tactical speed. 
RACE 8: CLAIMING $10,000 (N/W2L), 3-YEAR-OLDS AND UP, FILLIES AND MARES, 5 1/2 FURLONGS
1-6-2-7
#1 Unrequited Love (7/5) goes third off the layoff for Cal Lynch and Charlie Marquez, and has blazing early speed from the inside. Will be tough to catch on the front end. #6 Make It a Double (8/5) goes second off the claim for Anthony Farrior, who has struggled at the meet. This one will likely rate right off Unrequited Love and chase her home to complete the exacta. Her stablemate, #2 Raised Wrong (8/1) broke her maiden on debut last out at Charles Town with an impressive win against maiden claiming company. Gets lasix for the first time here.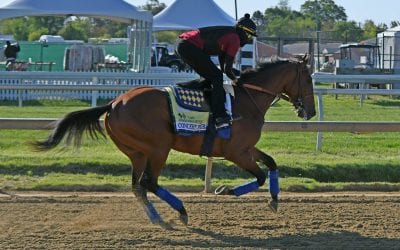 The fourth Kentucky Derby future wagering pool will kick off Friday, and 2yo champ Forte is the top individual choice on the morning line.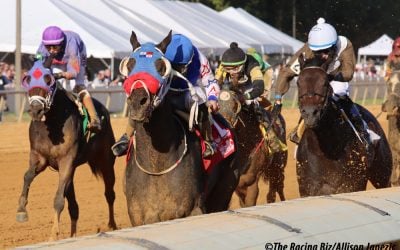 We provide full-card picks and analysis for this afternoon's races at Laurel Park.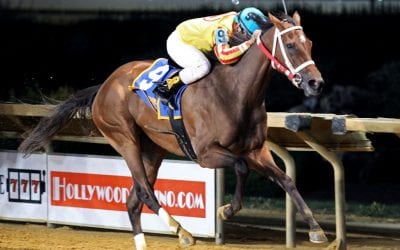 We provide picks and analysis for this evening's card at Charles Town Races.