Pimlico picks and ponderings July 4, 2021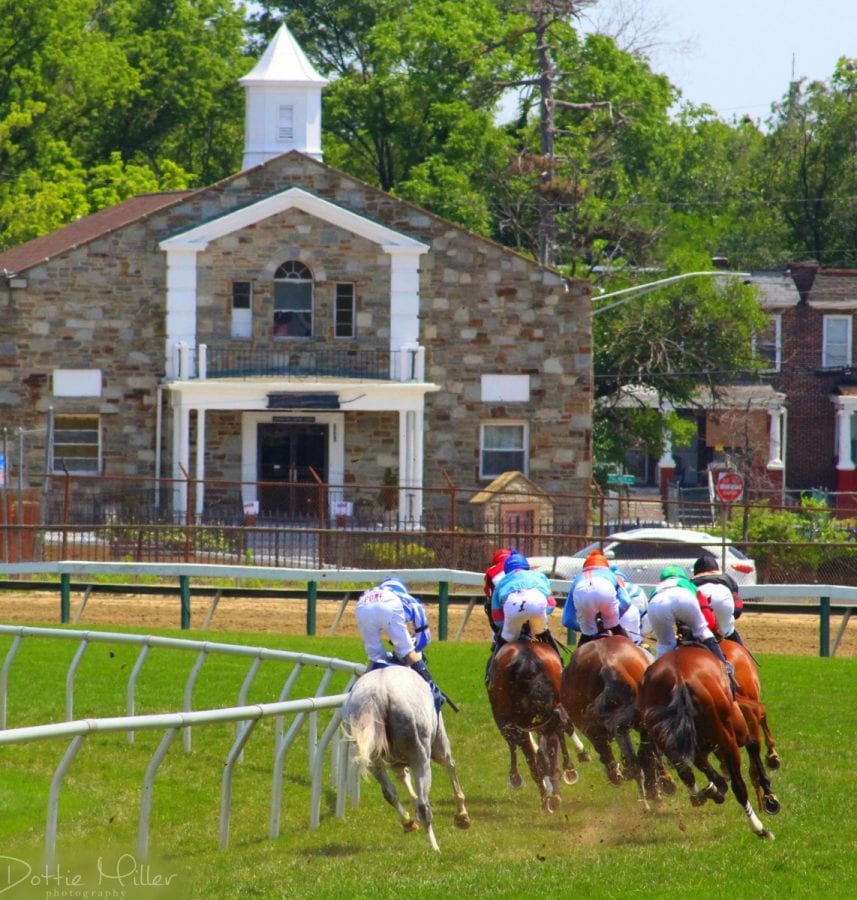 Horses round the first turn at Pimlico. Photo: Dottie Miller
In which we pick the races from Pimlico each day…
Post time: 12:40 p.m.
Carryovers: Rainbow Jackpot Pick 6 — $1,435,080 Super High 5 — $0 Late Pick 5 — $0
ANALYSIS
RACE 1: CLAIMING $5,000 (N/W2L), 3-YEAR-OLDS AND UP, 6 FURLONGS
7-2-3-4
Today is finally the day! The rainbow pick 6 pool, with almost $1.5 million in it, will be emptied out today. The sequence begins in race 6; let's get through the first five races first. #7 Golden G (7/2) was the heavy favorite to break his maiden last out, and delivered on his 1-5 promise. He battled on the lead, found another gear in the stretch, and drew off for a 1 3/4-length win. The horse he battled with on the lead, Pepe and Heywood, came back to break his maiden as the favorite on Friday. Claudio Gonzalez and Angel Cruz are always tough when they team up. #2 Get Lit (7/2) came from the clouds to get fourth after a rough break last out. Usually, he's a bit closer to the pace, but he had to rally from ten lengths back, and didn't have much left for the stretch drive. Will be a threat if he stays close. #3 Scottsdale (6/1) gets back to a dirt sprint, at which he broke his maiden three back, and will be a major factor on the lead.
RACE 2: CLAIMING $16,000 (CONDITIONED), 3-YEAR-OLDS AND UP, 6 FURLONGS
2-8-4-3
 #2 Self Awareness (2/1) got hung wide on the lead last out against better, and stopped. The last time he broke from post two, he drew off to a dominant win and earned a brisnet figure of 88. He's going to be a major pace presence. #8 Fugitive (9/5) is the better of the two Anthony Farrior horses in this race. He's hit the board in four of his last five, and has been knocking on the door at this level. Last out, he got hung wide from the outside post against better, but held on for third at 16/1. A similar scenario could unfold here. #4 Commanding General (6/1) has steady mid-70s figures and should enjoy a good trip just off the pace. 
RACE 3: MAIDEN CLAIMING $40,000, 3, 4, AND 5-YEAR-OLDS, 1 MILE (GRASS)
5-3-12-11 (DIRT: 9-5-1-12)
#5 Iron Pearls (6/1) hasn't run worse than a 70 in his three grass starts, and goes for a tag on this surface for the first time. He made very mild ground in his last start, which was his first in three months. Looks to move forward here. #3 Ballyhoo Prince (5/1) hasn't raced this year, but has been on the worktab since March, with a string of strong drills. He finished second in his two grass starts last year, both against similar company. #12 Pauping (15/1) goes second off the layoff, drops in class, and adds lasix for the first time. He was dull last out, but now drops in class and faces a field composed primarily of his fellow 3-year-olds.
ANALYSIS
RACE 4: CLAIMING $5,000 (CONDITIONED), 3-YEAR-OLDS AND UP, FILLIES AND MARES, 5 1/2 FURLONGS
6-2-4-5
#6 Sublimity (5/2) won against similar last out, stalking the pace and swooping wide for the win. Her only bad race at the meet came when she was on the pace; she'll look to rate just off it here. #2 Sacred Lady (3/1) takes a slight drop in class and goes third off a very long layoff. She showed early speed and ran figures in the upper 70s pretty consistently last year, and she'll try to find that form again in this spot. #4 Eight Oaks (7/2) has closed well in her last two; profiles as a good exotics candidate but will need a bit more to be a serious win threat. 
RACE 5 – ALLOWANCE (N/W1X), 3-YEAR-OLDS AND UP, FILLIES AND MARES, MD-BRED, 1 MILE (GRASS)
1-2-6-4 (DIRT: 3-8-7-1)
#1 I Love You (7/2) ran a solid race in her last grass start, making a premature move and holding on for second behind Judi Blue Eyes, who came back to win on Preakness day. #2 Speed Lane (7/2) has closed strongly in her two recent starts over this track, now drops to MD-bred company. Will be flying late, as will #6 Proper Storm (8/1), who closed off a very slow pace to break her maiden two races ago in her second career start. She was outclassed in the 12-furlong Searching Stakes last out, but now she'll drop in class and cut back to a more suitable distance.
RACE 6, LEG 1: STARTER OPTIONAL CLAIMING $32,000, 3-YEAR-OLDS AND UP, FILLIES AND MARES, 6 FURLONGS
1-8-2-5 (Rainbow Pick 6 horses: 1, 8)
(dramatic trumpet music pl

 

ays). The moment has arrived! The rainbow pick 6 sequence begins with an interesting field of starter optional claiming horses. #1 Tam Char (2/1) is a must-use off an impressive maiden win last out, but #8 Brewster Flats (12/1) intrigues me as a longshot. She broke her maiden impressively last September at Charles Town, going gate-to-wire while earning a figure of 75. She was well-beaten in what proved to be her season finale last October, but returned with a solid third-place finish against similar last out. She couldn't do much against the winner, but closed well and just missed second. If she wins, she could knock out a lot of tickets and increase the possible payout, even if the other legs chalk out. Those two make for a good team to begin the sequence. 
ANALYSIS
RACE 7, LEG 2: JAMEELA STAKES, 3-YEAR-OLDS AND UP, FILLIES AND MARES, MD-BRED, 5 FURLONGS (GRASS)
6-8-12-9 (DIRT: 4-1-9-6) (Grass Rainbow Pick 6 horses: 2, 6, 8, 9, 12) (Dirt Rainbow Pick 6 horses: 4)
Jameela, if you were wondering, was a Maryland-bred mare who won multiple grade 1s in the early 1980s. If this race is moved to the dirt, it requires no imagination, as #4 Hello Beautiful (1/2) will win unless she falls down. It's a more interesting race if it stays on grass. #8 Introduced (8/5) is one of the most likely winners, but she's a comfortable favorite on the morning line, and I'm not sure if she's worth a low price, as her figures aren't that much more superior than those of the rest. If you wanted to toss her, I wouldn't blame you. #2 Proper Attire (15/1) has speed from the inside and could be tough to catch if left alone. At least, it's worth a shot at those odds. #6 Can the Queen (9/2) goes third off the layoff, and will also be a threat on the lead. #9 Paisley Singing (8/1) has little grass experience, but has made strong middle moves in her recent races, and will be right there to take advantage if the pace falls apart. #12 Spun Glass (4/1) ran on the grass all winter at Gulfstream Park, and held her own after rating wide in her last two starts. Any recent positive grass experience is good in a race like this. 
RACE 8, LEG 3: CONCERN STAKES, 3-YEAR-OLDS, 6 FURLONGS
1-4-6-5 (Rainbow Pick 6 horses: 1)
This one is named for the Maryland-bred winner of the 1994 Breeders' Cup Classic, although he's perhaps best known as the foil to Holy Bull's heroics in the 1994 Travers. #1 Mighty Mischief (6/5) looks like a single here, off an impressive win in the Chick Lang Stakes last out. He set the pace and held off his stablemate Jaxon Traveler for a 1 1/2-length win. He has an ideal draw, and hasn't been headed in his last three starts, which he won by a combined nine lengths. If you want to try and beat the favorite, #4 Sibelius (6/1) broke his maiden impressively at Keeneland two back, and cuts back in distance after trying, without success, to stretch out around two turns in the Penn Mile. He might be well-advised to rate just off Mighty Mischief and apply pressure, rather than battle him head-to-head for the lead. 
RACE 9, LEG 4: CAESAR'S WISH STAKES, 3-YEAR-OLDS AND UP, FILLIES AND MARES, 1 1/16 MILES
3-8-7-2 (Rainbow Pick 6 horses: 3, 7, 8)
Caesar's Wish won the Black-Eyed Susan Stakes and the Mother Goose Stakes in 1978, and was second in the Coaching Club American Oaks. She won nine stakes in total in her brief career. We'll go three-deep in this race. Bettors are going to be scared off by the last race of the #3 Artful Splatter (8/1), in which she was a complete non-factor. However, she had a rough trip in that race, as she was fanned wide and was unable to get to the front. She's got a need for speed, and shouldn't have much trouble getting to the front and the rail. #7 Mrs Orb (3/1) goes second off the layoff, after a third-place finish in the Critical Eye Stakes against New York-breds last out. She ran figures in the 90s pretty steadily last fall and winter, including a 99 when second in the Turnback the Alarm Handicap at Aqueduct. #8 Landing Zone (5/2) lands in an ideal spot after finishing third in the Lady's Secret Stakes at Monmouth Park last out, making a good closing bid off a slow pace. She also runs in the 90s pretty consistently. She's likely going to be the favorite, but probably not a prohibitive one. 
RACE 10, LEG 5: LITE THE FUSE STAKES, 3-YEAR-OLDS AND UP, 6 FURLONGS
5-7-4-6 (Rainbow Pick 6 horses: 5)
Lite the Fuse was not a Maryland-bred, but he did win the DeFrancis Dash in 1995 and 1996. He remains the only horse to win that race twice. This betting in this race is going to be dominated in by two horses. #5 Chateau (9/5) has blazing early speed, and won the Tom Fool Handicap gate-to-wire three races back at Aqueduct. Last out, he was second behind Firenze Fire in the Runhappy Stakes at Belmont Park. #7 Yaupon (7/5) looked like an absolute monster last year, winning four races in a row, including the Chick Lang Stakes over this track. He went off as the favorite in the Breeders' Cup Sprint, but couldn't get to the lead and was a non-factor. He was also up the track in Dubai, in his lone start this year. It's definitely possible that he gets right back to his old self and runs off the screen. However, as a rule, I'm not big on horses who have only raced once in the past eight months, especially at low odds. You really can't use both, because that would double the cost of the ticket, while not increasing the expected payoff if you get by. I lean towards Chateau here, as he's got good recent form. Either way, this is a race in which taking a stand is a must. 
RACE 11, LEG 6: MAIDEN CLAIMING $16,000, 3-YEAR-OLDS AND UP, 5 FURLONGS (GRASS)
3-6-8-13 (DIRT: 8-10-12-2) (Grass Rainbow Pick 6 horses: 1, 3, 6, 7, 8, 10, 13) (Dirt Rainbow Pick 6 horses: 2, 6, 7, 8, 9, 10, 11, 12)
Any way you slice it, this is a spread race, so I'll focus only on my top grass picks. #3 Crack the Safe (6/1) was closing strongly last out when he jumped the tracks and lost some momentum. He still ended up missing third by just half a length. #6 Hair of the Dog (7/2) has tried several times without success at this level, but is 4-for-11 with horses making their first start for his barn. #8 Leave 'em Loaded (9/2) has improved in his last few on dirt, and faces a field without much good grass form. I don't think we'll see a big favorite in here regardless of surface, so you can spread in this one and not have to worry about catching a really low price on the end.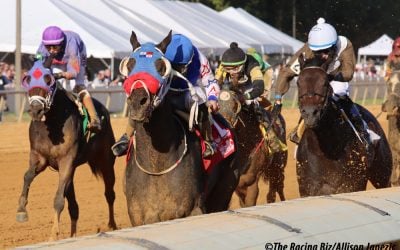 We provide full-card picks and analysis for this afternoon's races at Laurel Park.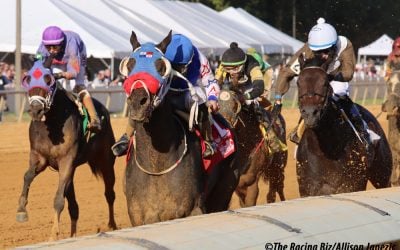 We provide full-card picks and analysis for this afternoon's races at Laurel Park.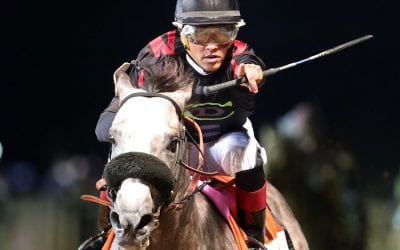 We've got Charles Town picks and preview today as the track presents its Friday card!