Pimlico picks and ponderings April 22, 2021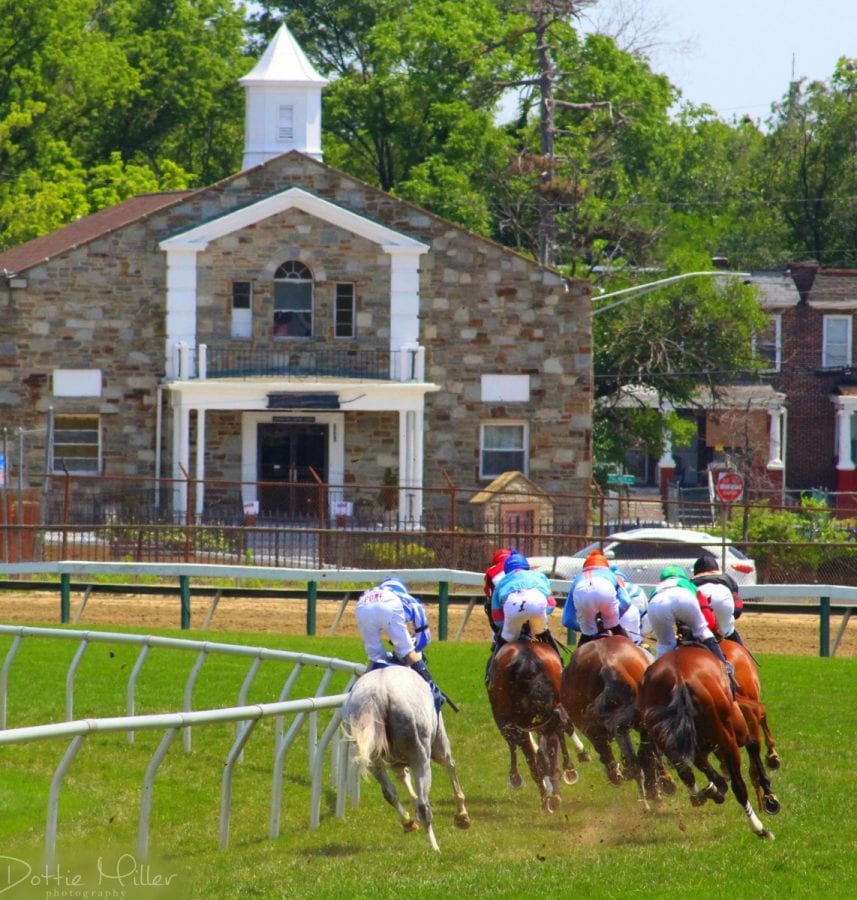 Horses round the first turn at Pimlico. Photo: Dottie Miller
In which we pick the races from Pimlico each day…
Post time: 12:40 p.m.
Carryovers: Rainbow Jackpot Pick 6 — $0  Super High 5 — $0 Late Pick 5 — $0
ANALYSIS
RACE 1: CLAIMING $5,000 (N/W2L), 3-YEAR-OLDS AND UP, FILLIES AND MARES, 1 1/16 MILES
2-1-7-8
Hi ho, Pimlico! The spring meet begins two weeks early, with a n/w2L group going long. The betting public will likely gravitate towards #2 Martini Lane (6/5) and I can't blame them. She was well-bet against slightly tougher last out, and almost wired them before getting caught in the last eighth. There's a few more seconds and thirds on her resume than I'm comfortable with, but she's the dominant speed and has the perfect post to drop over and take them all the way around. #1 Imagine Winning (4/1) is relatively lightly-raced, having made just eleven lifetime starts prior to this one. She earned a lifetime top figure last out, in her first start off a brief freshening. Adds blinkers here. #7 Classy Solution (8/1) is the other main speed of the race, but will have a tough time getting to the lead if Martini Lane secures her spot first. She's held well on the pace going a mile; 1 1/16 miles might be a tougher ask. She will be a much bigger price than Martini Lane, if you believe.
RACE 2: MAIDEN SPECIAL WEIGHT, 3-YEAR-OLDS AND UP, FILLIES AND MARES, 5 FURLONGS
4-3-6-1
You don't see 1/2 shots on the morning line too often, but that's the price you'll see on #4 Above the Limit (1/2), and she might be lower at post time. She's raced just twice in her career so far, finishing second both times. Last out was her dirt debut, and her first race off a long layoff. She opened up a very long lead, but got tired late. That was at 5 1/2 furlongs, and her speed's a lot more likely to hold at five panels. Charlie Marquez has the mount on this one and Martini Lane. It could be a very low-priced Marquez double. #3 Diamond in the Sun (8/1) makes her 3-year-old debut here and adds lasix for the first time as a result. She was a non-factor in her first two starts, but she's been working strongly at Fair Hill for trainer Mike Trombetta. Watching the board on her. #6 Moonrock (9/2) is a first-time starter for Miguel Vera, who hits at 18% with his debuters. Looking for a solid effort from her first out, as one of two first-timers in the race. 
RACE 3: STARTER OPTIONAL CLAIMING $32,000, 3-YEAR-OLDS AND UP, 1 1/16 MILES
8-6-4-1
#8 Mine Not Mine (7/2) goes first off the claim for Jamie Ness, who is very potent with that angle, but not as potent with it in Maryland. This one finished a distant second last out to Dinosaur Ben, who closed from about the same place on the track but ran away and hid by eleven lengths. He came back to win his next start in a race much like this one. Mine Not Mine doesn't have much early speed, but he's run steadily good brisnet figures in the upper 70s, and has some back-class, with two stakes placings at Laurel last year. #6 Ratify (3/1) finally broke his maiden in career start #12 last out, winning a maiden claiming race as the 1/2 favorite after five straight runner-up finishes. Goes second off the layoff for Brittany Russell, and has shown good tactical speed. Will be a favorite of believers in the "lightbulb" angle; this would be a pretty strong example of it. #4 Miami Mumbles (6/1) is looking for redemption in this spot. He steadily ran figures in the 80s and low 90s last year, but has struggled in his last two races. He was soundly beaten last out at Aqueduct, then went to the bench and is making his first start since February 21 here. He's had two decent workouts at Pimlico getting ready for this spot. Look for him to rate off the pace and try to save as much ground as he can.
ANALYSIS
RACE 4: MAIDEN CLAIMING $16,000, 3-YEAR-OLDS, 6 FURLONGS
2-8-7-1
Jerry Robb and Xavier Perez are always tough when they team up. Horses with early speed at Pimlico are tough. When you get both in the same horse, you have #2 Zip the Lip (5/2). He's going third off the layoff and taking a career-low drop in class. He was very aggressively used to get to the lead from the outside post last out, and he faded in the stretch when pressed. Here, he should be able to ration his speed a bit better. #8 Inject the Light (3/1) is moving dangerously towards "sucker horse" territory. In four starts, he's hit the board every time, but hasn't yet won. He raced well last time, closing four wide in the stretch and just missing in a driving finish. His figure declined significantly in that race, however. Looks to rate just off the pace on the outside, can he take advantage? #7 Charlie Potatoes (4/1) adds lasix for his 3-year-old debut. He earned a big figure of 75 two races back, where he was a fairly even second. Even so, it's the best closing kick he's shown in his four career starts. It's also the only time he's competed at this level.
RACE 5 – CLAIMING $10,000 (N/W2L), 3-YEAR-OLDS AND UP, FILLIES AND MARES, 6 FURLONGS
10-2-7-1
#10 Golden Moon Shine (9/2) also has early speed, and drops to this level for the first time. The extreme outside draw is not ideal, but she looks fast enough early that she can clear to the top without too much trouble. Acosta will have to be aggressive. Her lone win and top figure came in a gate-to-wire effort. #2 Bust Out Lady (8/1) goes against winners for the first time, after a strong maiden-breaking effort at Laurel on February 27. She was impressive in that race closing from well off the pace to win going away. Alex Crispin keeps the mount after riding her to victory first time up. Could fall through the cracks in the wagering. #7 Toma (12/1) went to Charles Town last out, and made a solid move for the lead to finish third, earning the best last-out figure of anyone in the race, with a 69. Her 1-for-26 is not inspiring, but she can definitely string along for a piece of the exotics, at least.
RACE 6: MAIDEN CLAIMING $16,000, 3, 4, AND 5-YEAR-OLDS, FILLIES AND MARES, 6 FURLONGS
10-1-4-3
Note that the late pick 5 begins here, with the 10-race card. #10 Glossamer (8/1) makes her first start since July 16, when she ran an encouraging race at Delaware Park. Going long on the grass, she showed speed for the first time, and held in gamely in the last eighth. This is a much different ballgame here, of course, but it was a much-improved effort, and she's lightly-raced, having made just three career starts. In a race like this, it's worth taking a swing. #1 Writtenbythestars (4/1) earned a career-best figure of 64 last out, and gets a jockey upgrade here to Charlie Marquez. Finally finds a spot at this level going short, where she should fit right in. #4 Claire's Darling (7/2) has shown early speed, and goes first off the claim for Jerry Robb. She earned a career-best figure of 65 in her debut last September, and hasn't been able to duplicate it since then. Another one who should be used aggressively. Turned in a bullet workout when returning to the tab on April 9.
ANALYSIS
RACE 7 – CLAIMING $5,000 (CONDITIONED), 3-YEAR-OLDS AND UP,  FILLIES, 6 FURLONGS
3-1-5-4
#3 Tapete Claire (6/1) goes first off the claim for trainer Anthony Farrior, who is 24% with that angle. She was fairly visually impressive in that race, making a solid bid from behind to get third, but her figure was not that great. Still, she had run figures in the 70s pretty consistently prior to that race, and has had some time off since that March 6 effort, with good works in between. #1 Keeper in Spite (5/2) has won her last two in gate-to-wire style, and looks like a serious threat to wire them once again. Shouldn't have much trouble holding and keeping the lead. #5 Instinctive (6/1) got up to win after stalking the pace three races back, and has just missed in each of her last two starts. She got run off her feet by a loose leader last out, but outgamed the rest and finished second. Wouldn't be surprised with a similar outcome here.
RACE 8: MAIDEN CLAIMING $40,000, 3-YEAR-OLDS, 6 FURLONGS
5-2-1-3
#5 Carolina Chrome (4/1) improved sharply second time out, and first off the layoff, finishing second while showing more early speed than on debut despite a rough break. He also broke awkwardly in his debut, but never recovered. Hopes to take another step forward third time out. #2 Frosted Indian (9/5) races for the Claudio Gonzalez barn for the first time and takes a big drop in class after facing maiden special weight types at Aqueduct. Showed speed and faded every time there, but ran his best race last out while going today's distance of six furlongs. #1 Billingsgate (7/2) also broke awkwardly last out, then moved five-wide and flattened out. Drops back in for a tag and looks to rate right off the leaders.
RACE 9: ALLOWANCE (N/W1X), 3-YEAR-OLDS AND UP, 6 FURLONGS
5-8-3-6
#5 Return the Ring (4/1) ran a huge race two back, in the Jimmy Winkfield Stakes at Aqueduct. He battled all the way with Hello Hot Rod, but ended him losing to that rival by a head in a game performance by both. Next out, Return the Ring was a non-threatening third, but it was his first start off a brief freshening, and he now faces a softer field. Hello Hot Rod returns in the Tesio Stakes on Saturday. #8 Flat Out Flying (6/1) lives up to his name every time out, as he tends to rate way off the pace and make giant late rallies. He surged from way out of it down the long stretch at Laurel last out to lose by half a length. Six furlongs might not be enough distance for him, however. #3 Fast Break (3/1) made his first start in more than a year last out and ran well given the circumstances. He chased the leader and finished fourth, earning a figure of 83, right about what he had been running before going on the shelf last March. Looking for improvement second off the bench.
RACE 10 – CLAIMING $5,000, 3-YEAR-OLDS AND UP, 1 1/16 MILES
3-5-4-6
#3 Invest (8/5) takes a drop in class after showing little against better in each of his last two. He had a nice streak a few months ago, when he won three of four starts. His top figures tower over those of the rest, but how much does he have left in the tank? #5 Southside Warrior (6/1) raced wide throughout and stopped badly last out. He ran steady figures in the 80s before that, although none of those races were particularly visually impressive. #4 Glengar (3/1) got a brief freshening since a dull effort on February 7, and stretches out around two turns for the first time in a while. Should be on or near the pace.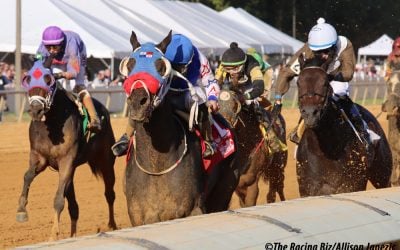 We provide full-card picks and analysis for this afternoon's races at Laurel Park.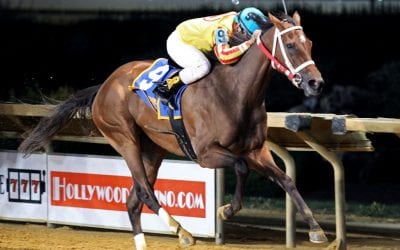 We provide picks and analysis for this evening's card at Charles Town Races.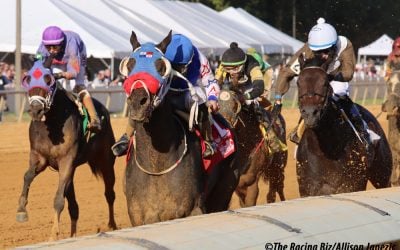 We provide full-card picks and analysis for this afternoon's races at Laurel Park.