Changing of guard for Grams as Runnin'toluvya takes over for Moonlit Song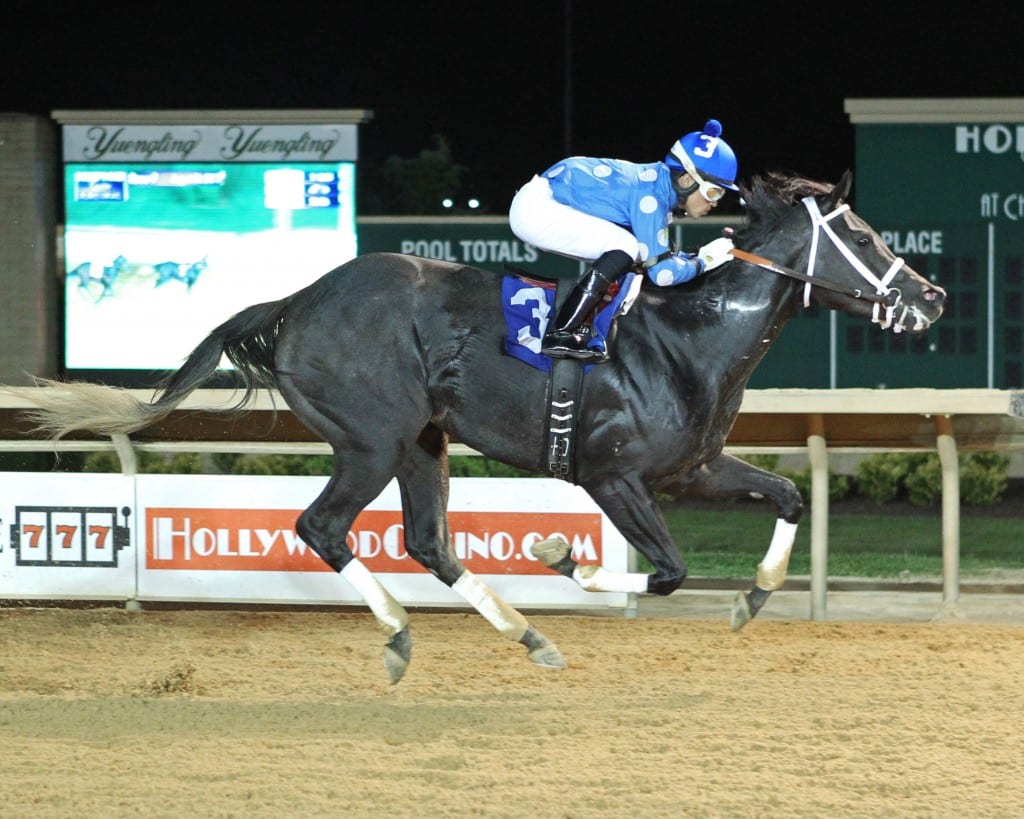 Moonlit Song. Photo by Coady Photography.
As lifelong participants in the Thoroughbred industry, Tim Grams and his wife Judy have certainly experienced their fair share of ups and downs. But the last month might just top them all.
Last Saturday afternoon, much to the delight of Grams and those local fans rooting for the hometown David to knock off the visiting Goliaths, Runnin'toluvya benefited from a confident ride from jockey Oscar Flores when he wore down Diamond King on the far turn and outfought that one in the lane for a half-length victory in the Grade 2, $1 million Charles Town Classic while getting the one-mile and one-eight in 1:50.56 over the fast track.

Runnin'toluvya, a five-year-old Fiber Sonde gelding trained by Tim Grams for his and Judy's Grams Racing Stable operation, prevailed in the track's signature event roughly one month after the longtime local conditioner had retired his previous top trainee, Moonlit Song. A daughter of Fiber Sonde, Moonlit Song was a disappointing second in her final start March 14, running behind the Jeff Runco trainee See Ya Manana despite being sent off at 1-9 odds. But the $5,800 she banked that day made her — for about five weeks — the richest runner Grams had ever trained. 
"In the weeks prior to the Classic, we were waiting to hear whether or not Moonlit Song was in foal to Jimmy Creed," said Grams about a Spendthrift Farm stallion that fetches an announced $20,000 stud fee. "After her last race when she finished second to Jeff's filly [See Ya Manana], she just didn't run the way we thought she would. She had some heat in her knee and we had her x-rayed and they found a chip, so we just decided it was time to retire her."
Two years earlier at age three, Moonlit Song rapidly ascended through the local ranks among state-bred three-year-old fillies, winning eight of 11 starts and earning nearly $235,000 while taking a handful of stakes, including the $125,000 Cavada Breeders Classic and Sadie Hawkins, both against older rivals. Last season at age four, Moonlit Song enjoyed another productive campaign, winning four of 10 starts and earning nearly $130,000. But she failed to win a stake and yielded the honors of top state-bred distaffer to Late Night Pow Wow, a Javier Contreras-trained Fiber Sonde filly who won the Grade 3, $300,000 Charles Town Oaks, the Cavada and later the Grade 3, $250,000 Barbara Fritchie Stakes at Laurel and was most recently third in the Grade I Madison Stakes at Keeneland.
"Last year she ran well in most of the stakes, but she kept finishing second," Grams said. "One of her best races was in the Cavada when Late Night Pow Wow just beat her. We tried her again in two open stakes at Laurel, but Javier's filly was just too good by then. The plan was to keep her close to home and run in the West Virginia races this year, but after that last race there wasn't any sense of leaning on her too much longer. She had a great career and she deserved to be retired. She brought us a lot of great memories."
While Moonlit Song, who concluded her career with 14 wins and nearly $405,000 banked from 26 career tries, was in Kentucky starting on the second phase of her life, Runnin'toluvya was being pointed for the biggest race of his life and that of his connections. With many of the top older handicap horses in the country either retired or elsewhere following the Grade I Pegasus at Gulfstream Park and Grade I Dubai World Cup at Meydan, the Grade 2, Charles Town Classic was getting thinner in quantity and quality and the Grams trainee was no longer facing the serious prospects of getting bumped from the starting gate because he had no graded stakes earnings.
"Over the last couple of months, everything was just starting the fall into place for us," Grams said. "He had won his first start [of 2019 in the $35,000 Russell Road overnight prep] easily and came out of it great. He was so good I kept telling Judy that I think we have to think about taking a shot at the big one. Every time I looked at the list of noms, it looked like he had a better and better chance of making the body of the race. When he drew in, I told Judy we had to stay in and give it a shot. We were both a little nervous all week because this was a tough spot and he had never run against graded horses like that."
Runnin'toluvya, now riding a nine-race win streak following his dramatic Classic triumph and boasting 12 wins and earnings in excess of $910,000 from just 16 starts, was sent postward at 9-1 – the same price that Late Night Pow Wow paid in the Charles Town Oaks last fall – and carried the banner of local owners, breeders and fans hoping that another West Virginia-bred could prevail in a graded stake. Grams, who watched the race atop his outrider's pony, admits that he will never forget the roar of the crowd as Runnin'toluvya wore down Diamond King late to capture the 11th edition of the event.
Grams said that his star came out of his biggest test in fine fettle and ate up as usual the night after the race. While he knows that he'll have to think about the future soon enough, his thoughts drifted back to the Classic.
"Me and Judy were very excited that we won and it really didn't sink in right after the race," said Grams, who has saddled 18 winners from 89 runners this year 727 winners from over 4,100 starters in his career. "But we felt like we won it for Charles Town and all the owners and breeders in West Virginia who have always dreamed about owning a horse like him the could win a graded stakes race anywhere. He won it for us, but he also won it for all the fans and breeders and owners at Charles Town. Hearing the crowd cheer for him like that was an emotional moment for me. You could tell they wanted him to win it. Really, when I got back to the winner's circle I was speechless. It was a day and a moment that I will never forget, although it still hasn't sunk in yet."