PETA-Stronach alliance spurs questions, concern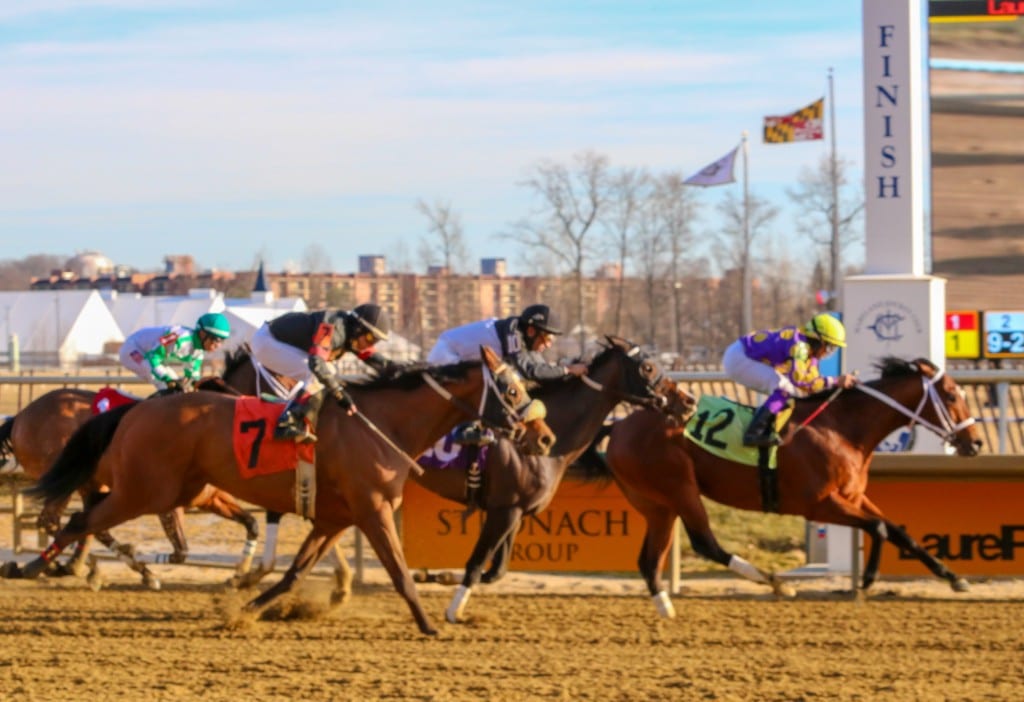 Photo by Dottie Miller.
During the week before the Florida Derby, Gulfstream Park is used to being the center of attention. The Grade 1 Kentucky Derby prep is one of the key dates on the national racing calendar, and one of the two biggest days at the Hallandale track. Usually, the attention of the turf media is turned squarely south, but this year, Gulfstream, owned by The Stronach Group (TSG), arguably got less attention than another TSG track, one that hadn't held live races for most of the month of March.
Overshadowing this year's Florida Derby were issues that call into question the future of Santa Anita Park in Arcadia, CA – and could directly impact Maryland's Stronach-owned tracks, Laurel Park and Pimlico, as well as the entire Thoroughbred industry. Santa Anita closed for several weeks following a spike of equine fatalities since the winter meet opened on December 26.
The spate of injuries got the attention of national media, with headlines in non-racing publications virtually a daily occurrence. The focus became even more intense on March 14, when The Stronach Group published an "open letter" announcing that it would immediately begin implementing measures at Santa Anita to ban Lasix, further restrict a number of other medications, and reduce riders' use of a whip. The next step in that process will take place April 12, when jockeys are slated to ride without whips.
Shocking as the announcement was on its own, it was equaled in impact by the inclusion in the letter of a quotation from People for the Ethical Treatment of Animals, endorsing TSG's actions.
Reaction was swift and furious, ranging from "It's about time," for such measures, to "WHAT?! Really?" to excoriating TSG for partnering with a group that many in the racing industry liken to a terrorist organization, not an animal welfare group.
The relationship between PETA and The Stronach Group has been building for five years, since PETA released an edited, undercover video that claimed to expose a multitude of abuses within trainer Steve Asmussen's barn.
"After we released that investigation," said Kathy Guillermo, PETA's senior vice president, "we asked to meet the owners of the more prominent racetracks, and The Stronach Group is the one that said 'yes.' They were open to it right from the beginning."
Among the first joint initiatives was establishing a way for bettors to donate to the Thoroughbred Aftercare Alliance through specially-programmed wagering machines at Stronach tracks, an idea proposed by PETA.
"PETA did not seek compensation, monetary or otherwise, for the concept," said the TAA's Stacie Clark Rogers in a 2017 article in Blood-Horse. "Their only request was that 100% of the money donated through these terminals would support Thoroughbred aftercare. We would like to thank AmTote, the Stronach Group, and PETA for their joint leadership in horse care. The TAA is thrilled with the potential of this technology to help Thoroughbreds beyond their racing careers."
Since then, the New York Racing Association has also provided machines at its tracks to enable such donations.
According to Guillermo, PETA turned its attention to horse racing following "whistleblower" phone calls the organization had received from people concerned about the way horses were being treated.
"There are a lot of rumors flying around the racing industry, and every now and then one is true and really troubling," she said. "When I've gone to The Stronach Group with that information, they've always checked it out, and we've dealt with some issues that have turned out to be accurate."
Guillermo's primary contact at TSG is Mike Rogers, president of the racing division, who referred questions to chief operating officer Tim Ritvo. He confirmed Guillermo's assertions.
"Mike's a forward thinker," said Ritvo. "He watches the culture change. As Kathy said yesterday, people within the industry made PETA aware of what happened in our game."
Ritvo was referring to Guillermo's comments at the March 28 meeting of the California Horse Racing Board.
"I started working for PETA because I don't think animals should be experimented on," she said, according to the transcript. "We got pulled into this industry because we couldn't ignore the phone calls from the public and the phone calls from the people inside racing."
In multiple on-the-record conversations, Guillermo has maintained that PETA's goal is not to eliminate horse racing, a stance viewed with skepticism — at best — by most people in the racing industry. Their skepticism seemed justified when, on the day The Stronach Group's letter was released, PETA tweeted its support of Santa Anita's measure, concluding with, "Racing must go the way of the animal circus, but this will eliminate some of the misery on its way out."
Referring to the demise of Ringling Brothers' circus, the tweet has since been deleted.
"I do understand why people are calling for the end of racing," said Guillermo. "Because of what we've seen in the last few weeks, there's the same kind of scrutiny on racing as there is on animal circuses. And if things in racing don't change, racing will go that way."
She added, "Ending horse racing is not an active goal. My goal is to make things better for horses."
The Stronach Group's open letter was signed by Belinda Stronach, chairman and president of the organization. She wrote, "…make no mistake: these changes will be implemented. The time to discuss 'why' these advancements must take place is over. The only thing left to discuss is 'how.'"
Or, if you're based at Gulfstream Park or Laurel Park – two other tracks owned by the Stronach Group — the question you might be asking is, "When?", as in, "When are these changes going to affect us?"
Apparently, no time soon.
"Belinda is going to look at the game from a different lens," said Ritvo, "with good intentions. She's saying, 'Timmy, if we don't do things that are right outside the bubble of racing, we won't have to worry about the game because it will go away.'
"As we continue to look at what works and what doesn't work, we'll talk to industry stakeholders in our other jurisdictions to see what will make them more successful and sustain the longevity of the sport."
Fair Hill-based trainer Graham Motion was initially supportive of The Stronach Group's moves, calling them "commendable and a brave step."
"Later," he said, "I learned how it came about, and that it concerned satisfying PETA amongst other things."
"I'm frustrated because there's so much more to the issue of equine welfare," he went on, citing lack of security and supervision in barns and better handling of blood samples as examples. "I admire Santa Anita's goal of improving the welfare of horses, but I worry about the process."
He is not alone among horsemen, many of whom have questioned the apparently-unilateral decision-making by The Stronach Group without including trainers, jockeys, and owners in the initial process. In Maryland, horsemen and officials suggested that the Maryland Thoroughbred Horsemen's Association and Maryland Racing Commission would likely demand more central roles in any safety-related decisionmaking process.
"I also learned," said Motion, "that California's attorney general is going to investigate trainers, which makes all of us vulnerable, even if we're not doing anything wrong."
He is a vocal supporter of eliminating race-day Lasix, even as he unapologetically uses it in training and with young horses, a stance he made clear at a summit at Belmont Park on race-day medication in 2011.
"Once a horse bleeds, some damage is done [to their lungs] and it can be long-term," he said. "But I do believe that Lasix can't be the exception to the rule it comes to medication on race day."
The situation in California changes nearly daily, with lawmakers who previously have shown little interest in racing calling for investigations and the closure, at least temporarily, of Santa Anita Park. A successful — and fatality-free — Santa Anita Derby weekend this past weekend provides some breathing space, but the track, and the industry as a whole, remain under scrutiny.
So what happens next? Good question.
The CHRB has begun the lengthy process of implementing Belinda Stronach's protocols, and no one has yet suggested bringing them east.
"We want to show everyone our commitment to racing is as strong as it's ever been," said Ritvo. "We need to all come together to make the best of this sport we all love."