Delaware Park: Frippery takes feature on eventful opening day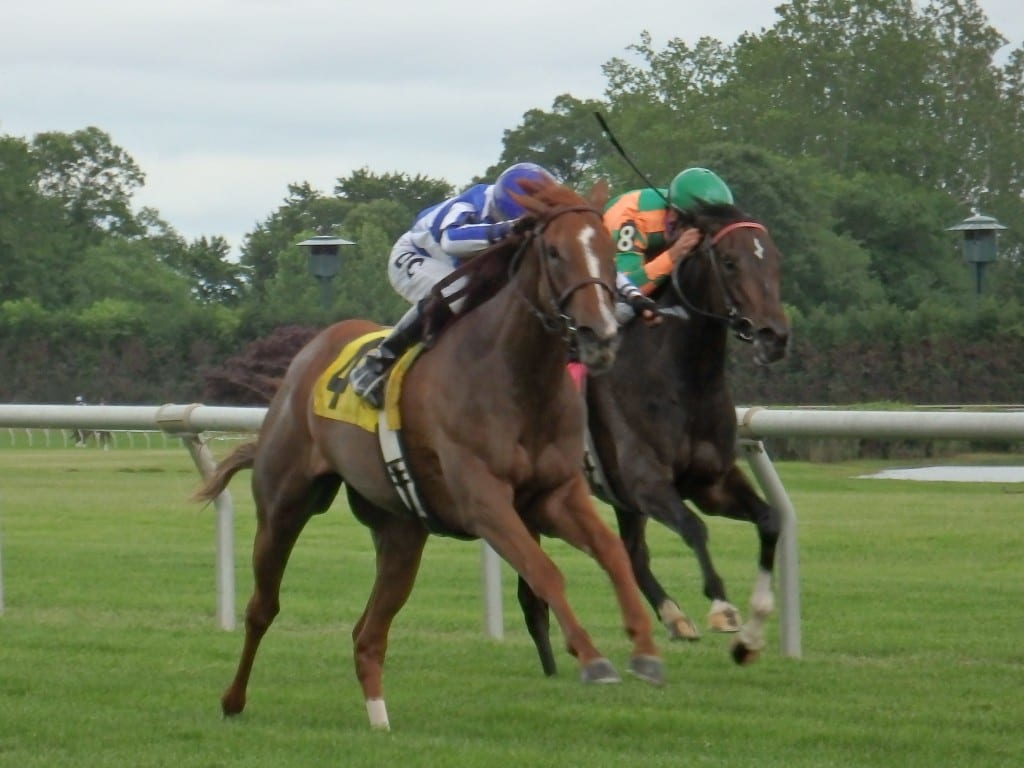 Frippery. Photo by The Racing Biz.
by Frank Vespe
On a Delaware Park opening day that had a little bit of everything Wednesday, a semblance of order was restored in the feature, a $34,000 maiden special weight test on the turf.
Trainer Arnaud Delacour saddled the winner, a well-bred first-time starter named Frippery, the 26th time in the last five years that Delacour has won a maiden special weight race with a firster. Frippery paid $9.00 to win in a race in which the bettors couldn't quite decide among four runners.
Bred and owned by Dr. Catherine Wills, three-year-old Frippery is out of the unraced Rahy mare Flagrant. She is a half-sister to the Grade 1 winner Furthest Land.
"She has good breeding, a very nice filly," Delacour said afterwards. "We're happy for Dr. Wills because she's also the breeder; it's always nice to win one when you've also bred the horse, you know."
Under jockey Daniel Centeno, Frippery enjoyed a near-perfect trip. She broke alertly to press the sluggish early pace of Silla Manila, who cantered the opening quarter-mile in 25.60 seconds while holding a one-length advantage over Frippery.
Rounding the far turn in the 7 1/2-furlong test, Frippery began to push the issue, eventually pulling away late to win by one length, with Silla Manila holding second, and favored Agreeable third, another two lengths farther back. It was six more lengths back to anyone else in the field, and the running time was 1:32.59 over turf rated firm.
"Still a bit green. so I think there's room for improvement," Delacour added. "She's a nice filly."
It was a predictable outcome — a well-bred runner from a top barn winning a Delaware maiden race — on a day when little else seemed to make sense. In Frippery's race, for example, there was the Jonathan Sheppard trainee Screen Image, who got herself briefly caught in the starting gate, wriggled out of it, then ran off and managed to get herself over the rail to land between the turf and main tracks before getting caught. Both horse and rider — Mario Pino, making his return to Delaware — appeared to be fine afterwards.
A few races earlier, 17-1 Nobody's Angel, a Jeff Talley trainee ridden by Shannon Uske who could easily have gone off at even longer odds, won for fun, cruising to a four-length win in a bottom claiming race.
And that's to say nothing of the power outage that struck the track between races three and four, the apparent result of an accident off the grounds. The power sputtered and died, the infield toteboard and big screen suddenly dark, the air conditioning units starkly quiet. Then it came back only, perhaps 30 seconds later, to die out again, this time for a good 15 to 20 minutes.
Eventually the track came back to life, the fourth race sent off at 3:12 — 54 minutes after the third.
None of that had a detrimental effect on handle, however, which on a quiet day of racing nationally zoomed past $2 million. That figure compared quite favorably with last year's lid-lifter, on a Saturday, which generated less than $820,000; the first Wednesday of last year's meet, June 7, came in under $1.3 million.
And by day's end, Frippery had done her part to restore order.
"She has a nice cruising speed in the morning," Delacour said. "Not so much of a good breezer on the dirt, but she's bred for the turf. That's what she's meant to do, and she did it nicely today."