Spa selections 2022: Saratoga picks July 20
Ginger N Rye won the 2017 Smart N Fancy Stakes at Saratoga. Photo by Chelsea Durand/NYRA.
by Joseph Aiello
In Spa Selections, Saratoga on-site correspondent Joseph Aiello provides Saratoga picks for a handful of key races at Saratoga, including all of the exciting stakes action!
Race 1 – Grade I A.P. Smithwick Memorial Steeplechase Stakes
1. #6 Redicean (6-1) – Won by a ridiculous fifty-four lengths last time, and as one of the more battle-tested of this group and solid here in the past, is a good play with good value
2. #7 Iranistan (7-2) – Won twice here two summers ago, and even after failing in finish last time, this one has some good races recently that can win in this group
3. #2 Down Royal (5-1) – Winner of her last two and in the money in five straight, the new front-end running style has worked wonders for this eight year old mare
4. #3 Pistol Whipped (8-5) – Showed promise last time finishing second to Snap Decision, and should continue to improve in her second career steeplechase start
Race 7 – Maiden 105k
1. #3 Hey There (5-2) – Nearly took them gate to wire last time out but gets to go shorter here and has shown the versatility to close from the back if the pace is quicker than forecast
2. #2 Crowding Out (3-1) – Hasn't finished any of her three strongly after some solid efforts, but these connections are too good and this filly still clearly has some potential off a long layoff
3. #4 Bali Dove (4-1) – Will look to be aggressive here, but got the slower fractions she wanted last time at this distance and still couldn't hang on, will need to improve
4. #6 Mrs. Green (9-2) – Has shown some nice finishes but at slightly longer distances, will need to hope for more pace or be placed a bit more forward to hit the board or win here
Race 8 – OC 62500n2x
1. #9 Mischievous Diane (4-1) – This filly by Practical Joke has flashed some speed and has improved her figures in every race, winning two in a row with a chance to wire this field
2. #3 Far Away Love (10-1) – Adds lasix for the first time in North America, with a couple dominant wins from the fall, this one has plenty of upside to contend here for Mott
3. #6 Betsy Blue (6-1) – Maybe not a winner as she finished second in three of four here last summer, but finishes in the money in nearly every race and should be in the mix
4. #1A Piece of My Heart (4-1) – This mare by Flat Out has some good speed figures and a few races that hit the board here, plus the right running style to take advantage of a quick pace
Race 9 – Suzie O'Cain Stakes
1. #4 Classic Lynne (4-1) – Looking for someone with good value to beat the always strong duo of Rosario and Clement leaves this filly with a race two back that would be competitive here
2. #5 She's a Mia (7-5) – Will be a short price with the connections, but three seconds in four turf starts might show some winning difficulties and she may be coming from the back here
3. #3 Lisa's Vision (5-2) – Stretches in distance and wasn't particularly fast in her last race win, but bet to favorite both tries and has a strong jockey trainer combo
4. #2 Dufresne (8-1) – Won her only try at Saratoga last year, and will be interesting to see what her running style is stretching out, most likely will be closing late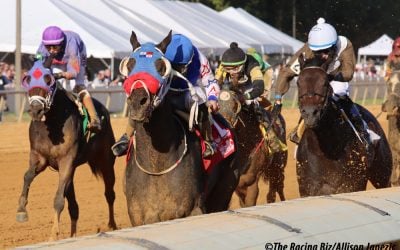 We provide full-card picks and analysis for this afternoon's races at Laurel Park.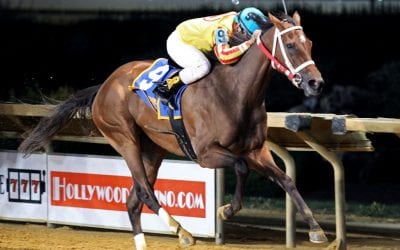 We provide picks and analysis for this evening's card at Charles Town Races.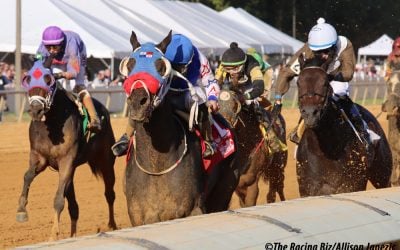 We provide full-card picks and analysis for this afternoon's races at Laurel Park.