LAUREL PARK PICKS AND PONDERINGS APr. 11, 2021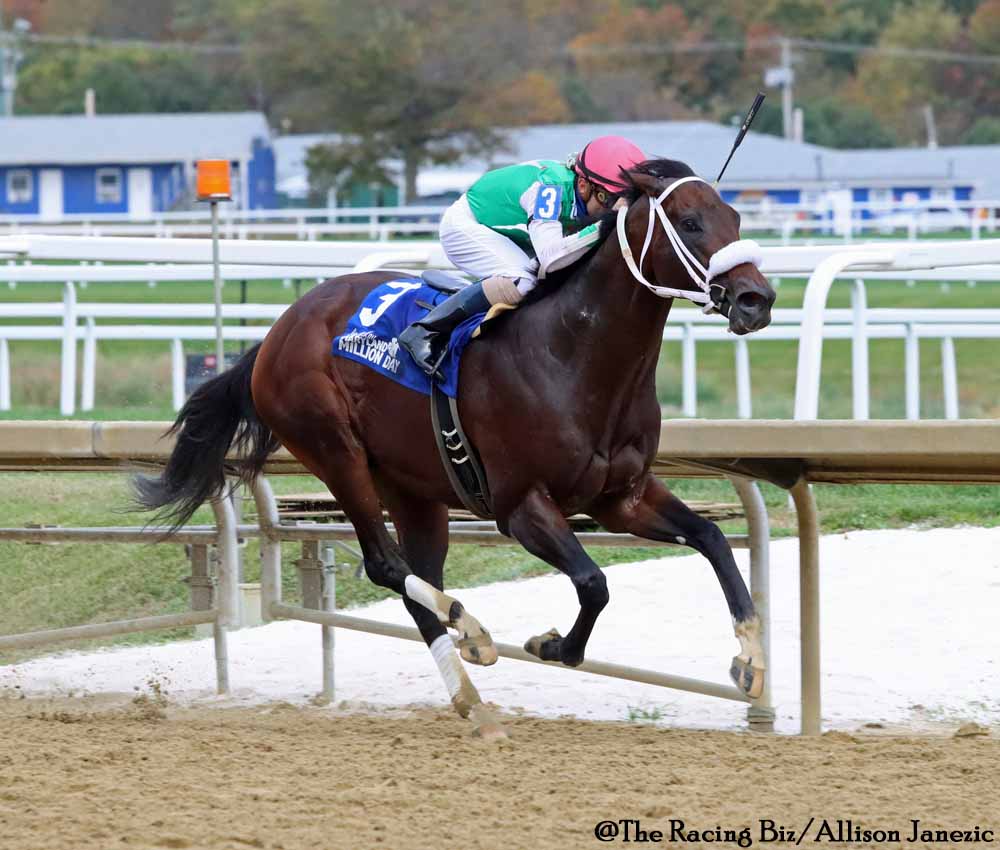 RACE 1: MAIDEN CLAIMING $10,000, 3, 4, AND 5-YEAR-OLDS, FILLIES AND MARES, 6 FURLONGS
3-5-1-4
Kicking off what looks like a splashtastic day of racing with a bottom-level maiden claiming group. #3 Classy But Sassy (3/1) improved a little bit second off a year-plus layoff last out, hanging in there for fifth after a wide trip. Has some speed and is drawn towards the inside. Looking for her to rate just off the leader in the two-path. Claudio Gonzalez has started off the spring meet on a tear; he sends out #5 Paddy's Princess (8/5) here, in her first start at this level. She was bet on debut, but stopped badly after getting hung wide. Cuts back in distance from seven furlongs and once again gets a wet track. Will contend if she improves second time out. #1 My Super Sally (2/1) goes out for the first time since November. She couldn't get to the lead last time, but has shown speed in the past. Looks like a speed/fade type, but I'm hoping she can hang around and round out the exotics.
RACE 2: STARTER OPTIONAL CLAIMING $16,000, 3-YEAR-OLDS AND UP, 6 FURLONGS
5-6-4-3
Few horses around here are more aptly named than #5 To the Front (3/1). He has plenty of early speed, but has won his last two at Charles Town while rating off the pace. He's been on a nice little streak between here and Charles Town, finishing first or second in his last seven races. He's going to have some competition on his inside from #4 Candygramformongo (7/2), but if To the Front can outkick that rival early, he could prove tough to catch. #6 Kingston Pike (3/1) ran a big race last out, in spite of his relatively low brisnet figure of 79. He broke slowly, lost early position, and got hung wide. He still rallied well to finish fourth, and may well have won if he broke better. Two back, he crushed an open claiming group with a figure of 92. A race like that would win this one.
RACE 3: STARTER OPTIONAL CLAIMING $32,000, 3-YEAR-OLDS AND UP, FILLIES AND MARES, 1 MILE
5-1-2-3
There could be another gate-to-wire winner here, in #5 Margie's Heaven (8/5). She's been on or near the lead in each of her last four starters, and wired a first-level allowance field last out. That was at 5 1/2 furlongs, but she's also proven herself going a mile, having almost lasted on the lead at that distance three races ago. In contrast, #1 Car Lady (4/1) has no early speed at all, and took advantage of a race blowing up to win a n/w2L claiming race handily last out. Here, she'll look to linger towards the back and pick up the pieces of those chasing Margie's Heaven. #2 Union Song (2/1) ran a game race last out, battling on the lead throughout and losing by just half a length. I don't know if she can go with Margie's Heaven, but she can rate off her and then make a bid.
RACE 4: MAIDEN CLAIMING $25,000, 3, 4, AND 5-YEAR-OLDS, 6 1/2 FURLONGS
6-3-5-8
#6 Mrs. Mims (7/2) goes first off the claim for Anthony Lynch after what was far and away a career-best race. He earned a very strong figure of 77 after just missing with a pace-stalking trip. He jumps back up in class after racing for $10,000 last out. #3 Miracle Bobbie (9/2) has had some time since a dull performance on November 19, but showed some promise over the summer with two in-the-money finishes after showing speed. It's possible he needs a race, but can still contend if he gets his trip. Cal Lynch has a pair of interesting firsters in here. Leaning towards #5 He's Orientate (9/2), who has some sharp workouts and gets Charlie Marquez in the saddle.
RACE 5: STARTER ALLOWANCE $5,000, 3-YEAR-OLDS AND UP, 1 MILE
4-1-7-9
#4 Invest (7/2) has won three of his last five, but is coming off a dull race where he backed up after showing speed. That race was at 1 1/8 miles, but he's enjoyed the most success at 1 1/16 miles, where he's won a string of races going gate-to-wire. Interested to see how he handles the one-turn mile. #1 In Him With Him (6/1) goes second off a brief layoff, after running a career-best figure against better last out. Should also press the pace from the inside. #7 Belfour (9/5) has spotty form, but when he's on, he's very sharp. He won four of seven last year, showing speed and drawing off each time. Takes a drop in class and cuts back in distance for his first race since January 17. Look for him to provide a challenge to Invest in the early stages.
RACE 6: MAIDEN CLAIMING $25,000, 3-YEAR-OLDS, FILLIES, 5 1/2 FURLONGS
7-1-2-6
You don't see many Oregon-breds here, but that's what the #7 Runner's Dream (7/2) is. She got bet on debut against straight maidens, and showed speed before fading. The outside draw isn't ideal, but she could still be fast enough to get to the front and outkick the rest. #1 Fearless Lassie (7/2) also has speed and a rail draw, and goes first off the claim for Claudio Gonzalez. Cuts back from a mile to 5 1/2 furlongs here, which should help her cause. #2 Practically Dizzy (2/1) sold for $200,000 and yet is debut first out for $25,000. That's a bit of a red flag. Brittany Russell trainees are hard to dismiss, however, so I'll watch the board with this one and see if people believe.
RACE 7: ALLOWANCE OPTIONAL CLAIMING (N/W3X), 3-YEAR-OLDS AND UP, 1 MILE
4-3-2-6
#4 Money Ride (3/1) took a second-level allowance field gate-to-wire in his last start, now moves to the Gonzalez barn. He won three of five at Aqueduct and Belmont Park before moving his wares down here. Look for him to try to take them gate-to-wire. In contrast, #3 Dixie Drawl (8/5) is well-versed over this track, having hit the board in 12 of 17 starts here. Chased them around last out in the Harrison Johnson Stakes, ending up third. Has made some winning moves in his recent lines. If Money Ride falls apart on the lead, this one will be there to catch up. #2 Hanalei's Houdini (7/2) goes second off the claim for Gonzalez, and just missed last out going shorter, earning a career-best figure of 98. Should rate right off his stablemate on the inside.
RACE 8: STARTER OPTIONAL CLAIMING $32,000, 3-YEAR-OLDS AND UP, 7 FURLONGS
6-3-5-4
#6 Dinosaur Ben (5/2) has won two of his last three races by eleven lengths, including a win last out at this level going a mile. He raced erratically in the stretch of that one; he's had some good workouts since then and hopefully has things straightened out. #3 Fast Cash (3/1) is a deep closer who hasn't quite been able to break through lately, making big rallies but always ending up second or third. Last out, he made a good five-wide surge and missed by half a length. #5 Bernie's on Fire (3/1) makes his second start in the past thirteen months. He ran big in his last start, on January 18, where he closed from just off the pace and might have won if he wasn't interfered with late.
LATEST NEWS