On Breeding: Hoping for a comeback in New Jersey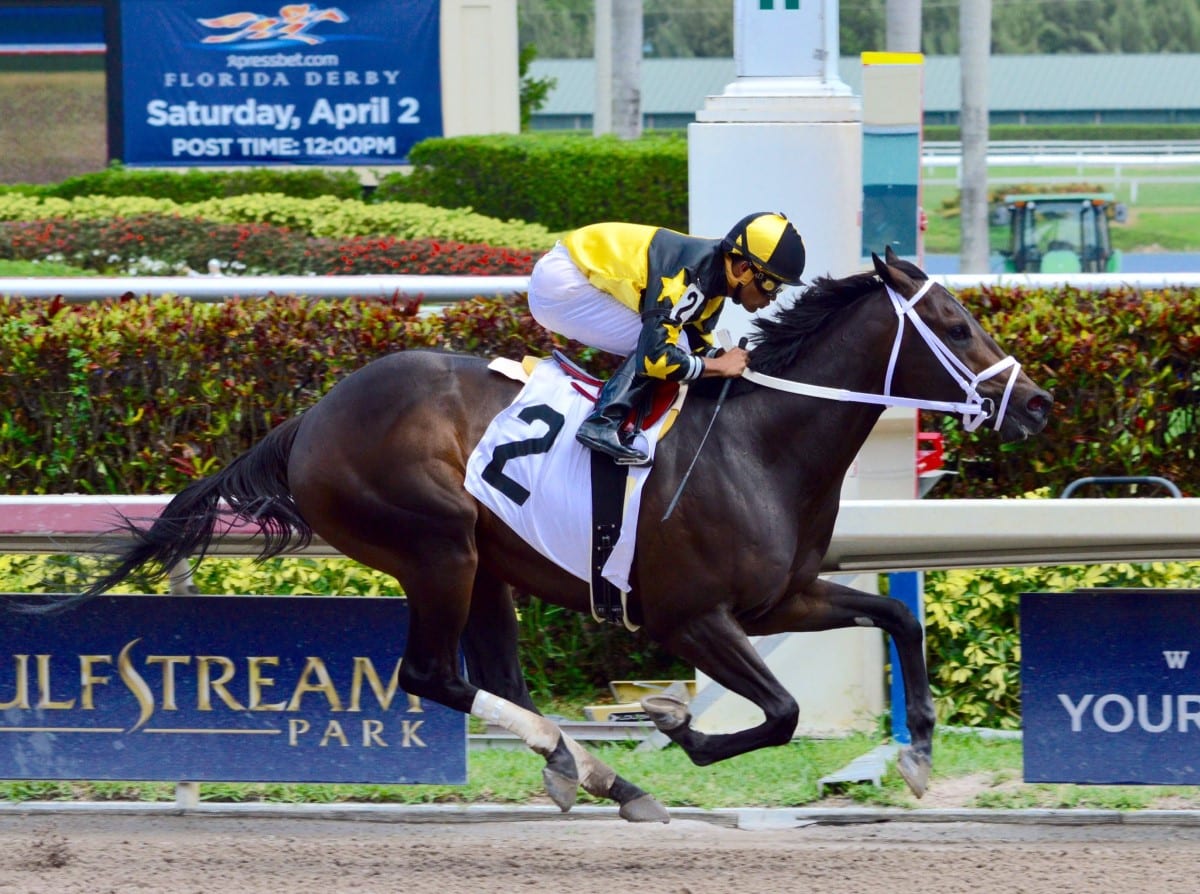 Sea Wizard broke his maiden in his second start, at Gulfstream Park. Bob Coglianese photo.
Over the last several decades, the number of stallions and farms in New Jersey has steadily declined, for a myriad of reasons.
But since sports betting was legalized in the state in 2018, the once-vibrant industry has shown signs of life. Thanks to a $10 million supplement pumped in by the state, the Jersey-bred bonus program was brought back in 2019, having been discontinued after the 2016 season. The supplement, which was also designed to help the racing program, triggered a 40 percent bonus, based on purse earnings, to owners of New Jersey-breds that finished first through third in open company at Monmouth Park or the Meadowlands.
The supplement was finally some good news for New Jersey's breeding industry, which has fought to survive over the years. Jersey-breds weren't as desirable once a pair of state racetracks, Atlantic City and Garden State Park, closed for good, taking with them year-round racing opportunities. Farms were shuttered and the land sold to developers.
Consider this: In 1947, just after World War II ended, there were 30 stallions standing in the state, according to the 1948 American Racing Manual. More than 50 years later, in 2001, there were 26 stallions standing; the last two years, the number has been seven.
And the Jockey Club reports that the Jersey-bred foal crop has fallen from 420 in 2001 to just 64 in 2018.
Yet sports betting and the revival of Jersey-bred bonus program may have stemmed its further decline, at least for the foreseeable future.
"The 40 percent bonus for New Jersey-breds running in open company was a positive sign for our industry," said Mike Campbell, executive director of the Thoroughbred Breeders' Association of New Jersey. "Dennis Drazin (chairman and CEO of Darby Development, which operates Monmouth Park) and the New Jersey Thoroughbred Horsemen's Association have been very supportive of the New Jersey-bred program. Monmouth Park also added four stakes races to the calendar last year, and they were scheduled to be run again in 2020 before Covid-19 changed everything."
Campbell added that the purse subsidy demonstrated that New Jersey Gov. Phil Murphy and the state Legislature understand the importance of the racing and breeding industries in the state, and the impact the equine industry has on open space and jobs. 
Forty years ago, when New Jersey had ample year-round racing, it wasn't unusual to have annual Jersey-bred foal crops numbering 1,200 or more. But the loss of Garden State and Atlantic City, as well as neighboring states that began reaping the rewards of casino gaming revenue (Delaware Park, for instance, in 1995), the foal crop plummeted.
In 2017, 76 foals were registered, and in 2018 there were 64, according to The Jockey Club. In 2019 there were 67, said Campbell.
"I expect there will be between 85-90 New Jersey-bred foals born in 2020 based on the reports we have received," he said. "I am optimistic the foal crop will increase in the future as we have seen breeders who foaled in surrounding states bring their mares back to foal in New Jersey."
Average earnings per New Jersey-bred starter rebounded well in 2019, too, from $26,830 in 2018 to $34,160, The Jockey Club reported.
Longtime Jersey breeder Sam Fieramosca, who owns Colonial Farms in Colts Neck, said that there was more interest in his stallion, Sea Wizard, this year, and he expanded his broodmare band. If it hadn't been for the owner bonus, he said, he might not be in business.
Fieramosca, who has been operating since 1950, said it hasn't been easy keeping Colonial Farms running through turbulent times. But he's hopeful that sports betting revenue and the owner bonus will prove to be just the tonic the industry needs.
"Last year, Sea Wizard bred 12 mares, and this year that number doubled," said Fieramosca.
In his career debut at Belmont Park, the $190,000 OBS 2-year-old, trained by the late John Mazza, was second to eventual Grade 1-winner Destin; he then came back to break his maiden with a flourish at Gulfstream Park.
"Sea Wizard had tremendous speed and was less than a second off the track record for 5-½ furlongs when he broke his maiden," said Fieramosca. "Then he got hurt, but with his pedigree and speed, I took him for a stallion."
The son of Uncle Mo, bred in Kentucky by R. Alex Rankin and Richard and Patricia Lenihan, is the second foal out of the Tale of the Cat mare Sea Road, a multiple stakes winner of nearly $200,000, who did her best running on the turf. Second dam Packet, by Polish Navy, was also a multiple stakes winner on the turf, and hails from a rich Claiborne Farm family.
Packet produced multiple graded stakes winner Great Intentions, as well as The Right Pew, the dam of Gr. 1 winner Karlovy Vary. Deeper in the family are champions War Pass and Slew O' Gold, as well as classic winner Coastal and Gr. 1 winner Jack Milton.
Sea Wizard, who stood his second season in 2020, stands for $1,500, live foal. Also standing at Colonial is Il Postino, by Distorted Humor – Awful Smart, by Black Tie Affair (IRE), who stands for $1,000.
New Jersey's stallion lineup also includes Ali, a son of Pioneerof the Nile, who stands at Greenfields Farm; King Puma, a son of Forest Wildcat, who stands at Sleeter Farm; Love Who, a son of Not For Love, who stands at Hidden Acres 4-D Farm; and Coastal Warning (by Coastal Storm) and Wild Court (by Arlenes Valentine), who both stand at Batcha Farms.
"I think (the New Jersey breeding program) has a shot," said Lynn Ott, who bred two mares this spring to the prolific stallion Hey Chub (not standing in NJ in 2020), and who has supported the program for many years with her husband, Al. "New Jersey-breds are resilient beasts. They keep running. People love them. I know I do. I know a lot of people do. If racing in New Jersey holds on – New Jersey-breds will, too."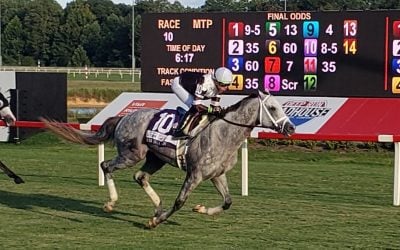 The Grand Slam of Grass once connected Colonial Downs and Arlington Park. With the Secretariat Stakes now moved to Colonial, the connection lives on.