"Win and in" stakes introduced for May Maryland Jockey Club races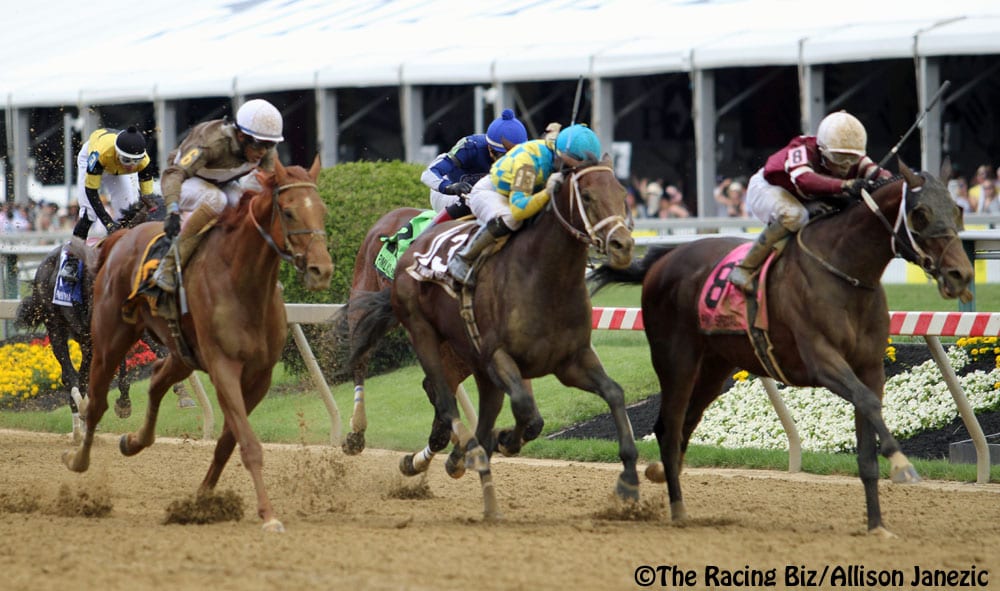 Tenfold won the Pimlico Special. Photo Allison Janezic.
The Maryland Jockey Club announced today a "Win Today, See You in May" series of races from tracks across the country that will offer automatic entry into stakes on Preakness weekend 2020 at Pimlico Race Course.
The unique and innovative series will include stakes races from Charles Town in West Virginia, Laurel Park in Maryland, Golden Gate Fields in California, Gulfstream Park in Florida and Oaklawn Park in Arkansas.
"The Maryland Jockey Club is excited to build off the success we had this year with our qualifier races. We are very excited to add new races and get new partners involved," said Maryland Jockey Club Racing Secretary Chris Merz. "We would like to thank the great teams from Oaklawn Park, Charles Town, Gulfstream Park and Golden Gate Fields for working with us on this and making the series possible."
Winners of the $125,000 Federico Tesio at Laurel Park, $300,000 Oaklawn Invitational at Oaklawn Park and $100,000 El Camino Real Derby at Golden Gate Fields who are nominated to the Triple Crown will be reserved a spot in the starting gate for the 145th Preakness Stakes (G1), the Middle Jewel of the Triple Crown, to be run May 16.
Alwaysmining won the Tesio, Laughing Fox captured the Oaklawn Invitational and Anothertwistafate took the El Camino Real en route to respectively finishing 11th, fifth and 10th in this year's Preakness
Golden Gate's San Francisco Mile (G3) will serve as an automatic qualifier to the 119th running of the Dixie (G2) on turf for 3-year-olds and up on the Preakness undercard. Oaklawn's Count Fleet Sprint Handicap (G3) will earn the winner a spot in the six-furlong Maryland Sprint (G3), and the top three finishers from Gulfstream's Orchid (G3) will get their fees waived to the 1 ½-mile Searching Stakes for fillies and mares 3 and older, also on Preakness Day.
The 96th Black-Eyed Susan (G2) for 3-year-old fillies on May 15 will have three automatic qualifiers in 2020 – the $125,000 Weber City Miss at Laurel, Gulfstream Park Oaks (G2) at Gulfstream and Fantasy (G3) at Oaklawn. Each of the top three Fantasy winners will have their fees waived for the Black-Eyed Susan.
Part of the Black-Eyed Susan Day program, the historic Pimlico Special (G3) for 3-year-olds and up, lengthened to 1 ¼ miles for 2019, will get automatic entrants from the Charles Town Classic (G2), Oaklawn Handicap (G2) and Gulfstream's Hal's Hope (G3).
The winner of the $125,000 Sanibel Island for 3-year-old fillies at Gulfstream will be afforded automatic entry to the $100,000 Hilltop, also on Black-Eyed Susan Day. Both races are contested at one mile.
The winner of all races will have their nomination, starter and entry fees waived.
Earlier this month, the MJC announced that winners of the $100,000 City of Laurel for 3-year-olds and $100,000 Warrior's Reward Safely Kept for 3-year-old fillies, both at seven furlongs, would earn automatic entry to the $300,000 Malibu (G1) and $300,000 La Brea (G1), respectively, Dec. 26 at Santa Anita.
If the winner of either race goes to California, they will also be given a $2,500 stipend toward travel costs