Lengthened Selima draws intriguing group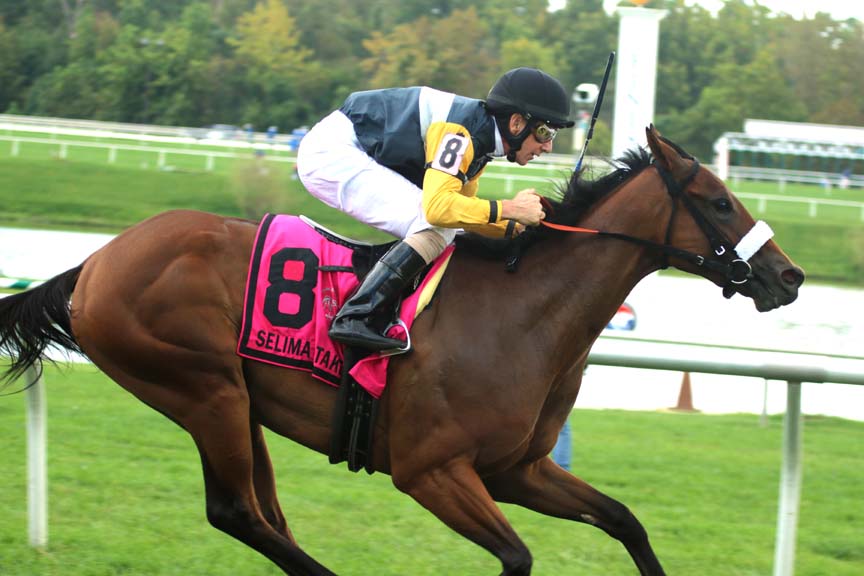 2017 Selima winner Wise Gal. Photo by Laurie Asseo.
Saturday's Selima Stakes for two-year-old fillies on the grass will, like its brother race, the Laurel Futurity, differ from its immediate predecessors in two important ways.
For one thing, there's the purse, which this year is $200,000 – double what is was a year ago. For another, there's the distance; Saturday's race will be contested at 1 1/16 miles on the turf, up from six furlongs a year ago.

That, said Maryland Jockey Club president Sal Sinatra, is by design.
"Those races in the past were long on the dirt and won by some great horses," Sinatra said Thursday. "We're trying to get back to a more traditional 'long on the turf.'"
Indeed, the Selima was a Grade 1 event until 1988 and retained graded status all the way until 1999. But with Maryland racing's fortunes by then starting to be on the wane, so too was the status of the Selima.
The Selima was not run in 2001 but returned for the next six years. Then it was mothballed for 2008-2010, and when it returned, it did so at a sprint distance.
Sinatra also said his team was hoping to encourage the Breeders' Cup to consider designating some races at Laurel Park "Win and You're In" events, and lengthening the Selima and Laurel Futurity and boosting their purses seemed like logical steps to bolster the races' prominence.
One trainer who's perfectly happy with the added ground in the Selima is Phil Schoenthal, who's slated to send out Midship Lady, the 5-1 fourth choice in the seven-horse field. The Graham Motion-trained Sharing is the 9-5 morning line favorite.
"We've thought all along she'd want two turns," Schoenthal said of his charge, a daughter of Midshipman. "We've been trying to get her in going a route."
Without, it's worth noting, any success. Midship Lady ran second on debut going 5 ½ furlongs on the grass and followed that up with a win at that same distance.
In that victory, she sat a good trip behind the speed of entrymate More Or Less before making a late run to get up in time by a neck. She galloped out well ahead of her rivals.
"She was pretty keen that day," Schoenthal said. "She ran a great race."
In fact, that keenness is something of a strength – and a weakness – for Midship Lady.
"She's kind of a throwback," the trainer said. "The more you give her, the better she does."
So much so, though, that he's planning to give her a two-mile gallop the morning of the race "to take some of the starch out of her."
The added ground does figure to fit her well. Her dam, the Medaglia d'Oro mare Make It Snappy, earned both of her career wins around two turns and posted her career-best Beyer in the longest race she ever ran, a 1 ½-mile allowance on the turf.
This'll be no easy spot, though. In addition to Sharing, a $350,000 daughter of Speightstown, the race includes the second- and third-place finishers from Monmouth Park's Sorority Stakes, Rising Bella and Sky Kitten, respectively. There's also the Michael Stidham-trained Love Beach, who won at first asking going a mile, and the Mike Maker shipper Sunset Promise, who ran fifth in a $500,000 stake at Kentucky Downs.
Still, Schoenthal likes the spot he's in.
"She's doing fantastic," he said. "I like my chances if my horse will relax and take a deep breath."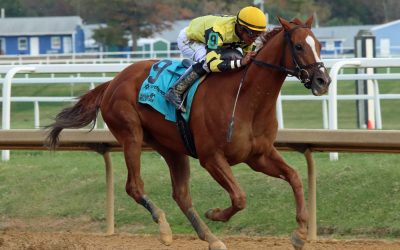 The Friday Laurel allowance feature is a third-level allowance featuring a pair of Maryland Million Classic winners in Monday Morning Qb and Ournationonparade.