"Not getting this again": Cedeno, Star Fitzstall loving match race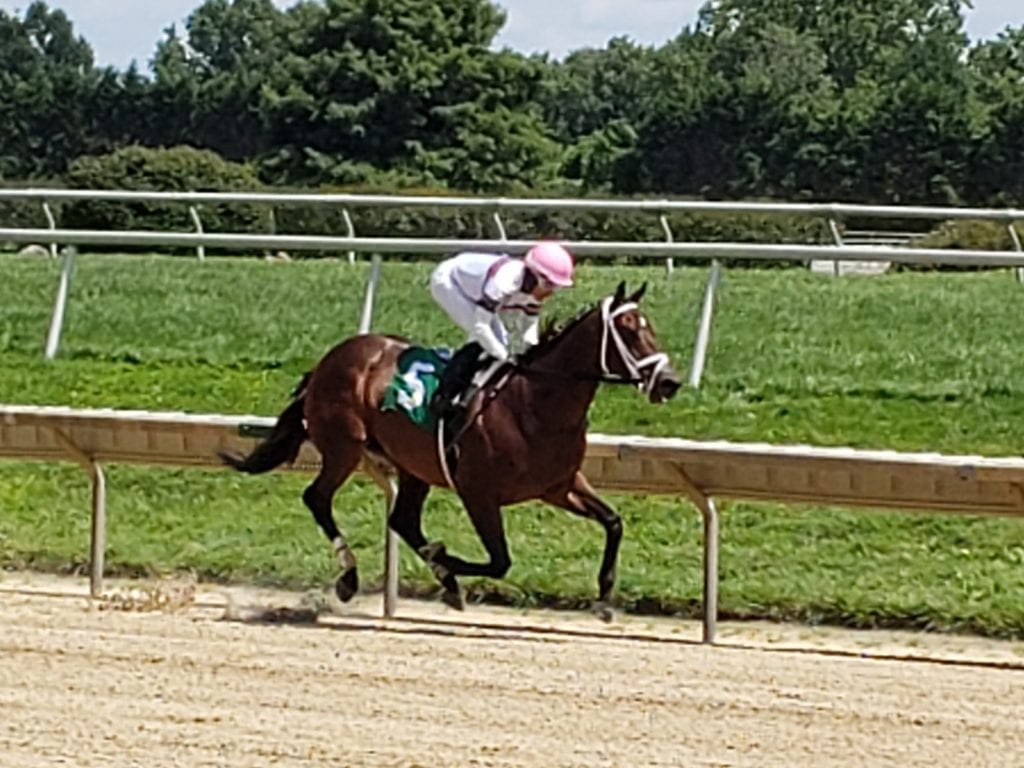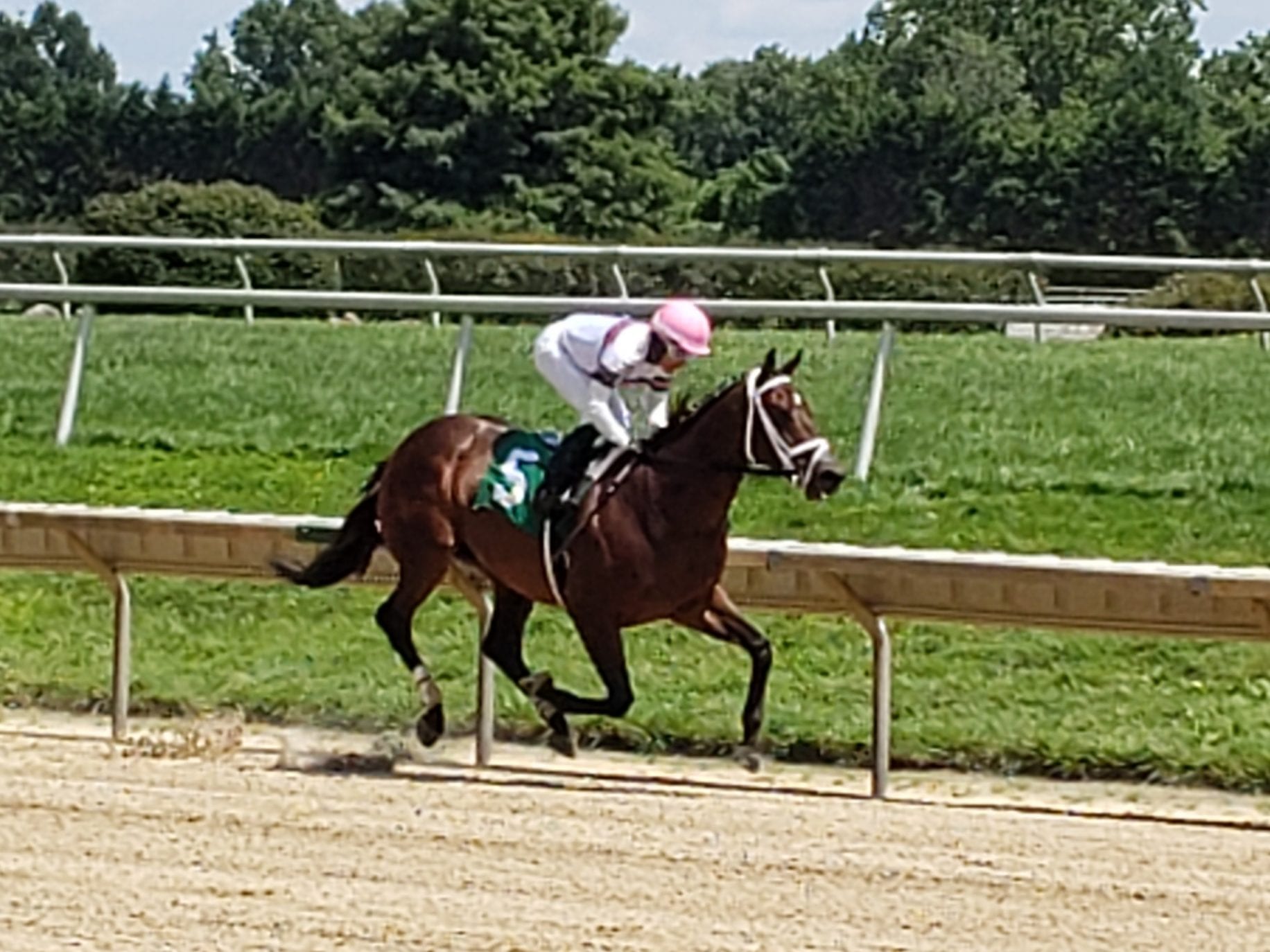 Star Fitzstall. Photo by The Racing Biz.
"Oh, yes," jockey Carol Cedeno laughed Wednesday afternoon when asked if her win in Delaware Park's third race had been the easiest she could recall. "I don't think I'm going to get this again."
Cedeno had just ridden Star Fitzstall to a four-length victory in a one-mile maiden special weight test at Delaware Park that was notable primarily for what it lacked: namely, other horses.

Star Fitzstall and Galactic Slam were the only two runners to go postward in the race, a $34,000 maiden special weight test that had been moved from the turf to the main track because of a short but intense storm that had hit Delaware on Monday, just after the final race of the day.
The change in surfaces led seven runners to be scratched, turning an interesting contest into the next best thing to a walkover. Star Fitzstall had run three times and run well all three, finishing second twice and third once. Galactic Slam, a first-time starter for Sherene Bracho, was making his first career start after a series of sluggish works at Fair Hill.
"I just take it easy for the horse," Cedeno explained. "I knew the other one was first time out, and going a mile, it's not that easy. So I just wanted to take it easy."
She accomplished that, and then some.
Star Fitzstall, trained by Jose Camejo, grabbed a nearly immediate lead over his rival and slowed it down. Like, way down. The first quarter took a meandering 27.61 seconds, the half gone in 53.90.
In fact, Star Fitzstall never really picked it up, doling out three consecutive 26 1/5- or 26 2/5-second quarters after the opener.
Galactic Slam tried hard but after a brief bid proved no match. Running time for the flat mile was a langurous 1:46.63. The winner, off at 1-20, paid $2.10 to win.
"My opinion, when it's a small field, you just try to go easy with the horses and let them run a little bit," Cedeno explained. "When it's a big field, you have to see everything."
Cedeno has been riding a bit lately for the Camejo barn, and it seems like a promising combination. The trainer had eight wins from 21 starts at Delaware Park entering the day, one of the highest win percentages at the track, while the rider entered the day with 28 wins, second-most during the meet.
"I've been working horses inthe morning, and they gave me the opportunity," Cedeno said. "He's a nice horse. I like the horse."
They're the bane of racetracks and bettors everywhere, match races: the thundering hooves seemingly replaced by the pitter-patter of little feet.
For jockeys, owners, and trainers, however, match races are about as good as it gets: beat one other horse and get the money, or finish last and still get paid.
For his modest effort, Star Fitzstall earned his connections $20,400. For finishing last — or second, depending on your point of view — Galactic Slam added $6,800 to his connections' bankroll.
NOTES There was another match race, in the seventh race of the card. That one went to 1-9 favorite Facts of War, with bug boy Victor Rosales up for Gary Capuano. It was Rosales' second win on the card… The day's featured allowance/optional claimer went to the seemingly ageless nine-year-old Twocubanbrothersu, who won by 4 1/2 lengths while completing a mile on the main track in 1:37.44 under Daniel Centeno…