Baltimore City withdraws Pimlico lawsuit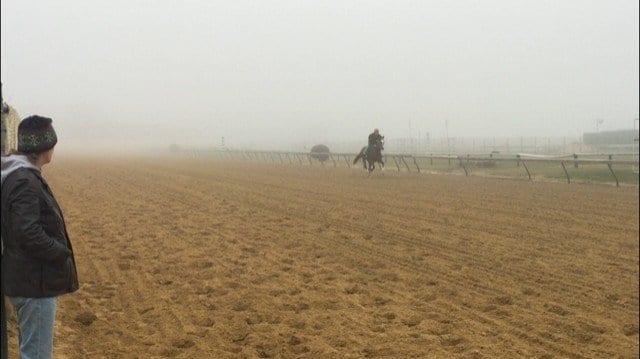 Trainer Beth Worton watches horses work at Pimlico. Photo by Gary Quill.
Story courtesy of The Blood-Horse.
The city of Baltimore has dropped a lawsuit against The Stronach Group and the Maryland Jockey Club over the future of Pimlico Race Course, citing in a press release plans to resume "good-faith negotiations concerning the ways and means by which to revitalize, renovate, and/or redevelop Pimlico."
The lawsuit, which was intended to block the Preakness Stakes (G1) from being moved to Laurel Park and give the city control of Pimlico, was originally filed in March by Baltimore Mayor Catherine Pugh, who resigned from office May 2 amid a scandal over the sale of self-published children's books.
The press release said there was a "productive" meeting between current Mayor Bernard C. "Jack" Young and Belinda Stronach, chairman and president of The Stronach Group, on Preakness Day May 18.
The press release stated that both parties discussed ways to "maintain and enhance the state's Thoroughbred racing industry, the city's capacity to host the Preakness Stakes, provide for sustainable year-round racing in the state, and to further economic and community development and the public's interest at large."
"We appreciate the withdrawal of the lawsuit and look forward to working with Mayor Young and his representatives, along with the state and other stakeholders," Stronach said.
On Preakness Day, Tim Ritvo, CEO of The Stronach Group, said during a meeting with media members that the lawsuit did not have "any merit" and that TSG had asked the city to drop it.
In addressing problems with the aging facility at Pimlico, he added May 18, "It gets tougher every year to give the customers the experience they deserve for an event like this. A pipe broke about two days before the race, and we had one break two years ago. We go in and repair it, and I guess, with all of the pressure, it takes time to build up. It's old infrastructure. We are doing everything we can to keep it up, but when you don't have anybody here all year and then fill the place up, you have all sorts of problems.
"We're positive this place is safe. We've done the reports. The portion (of the grandstand) we closed down, we thought it wasn't worth taking the risk, so we closed it down. We only did that after the Maryland Stadium Authority's study where they found that the building has lived its lifespan.
Equix
"We spend millions of dollars every year on the facility, and obviously upgrades for the event are different. The day-to-day operations to keep this place going—the electricity and plumbing—we spend millions, and it doesn't make a dent in what you see here."