Perez: "The X-man is back"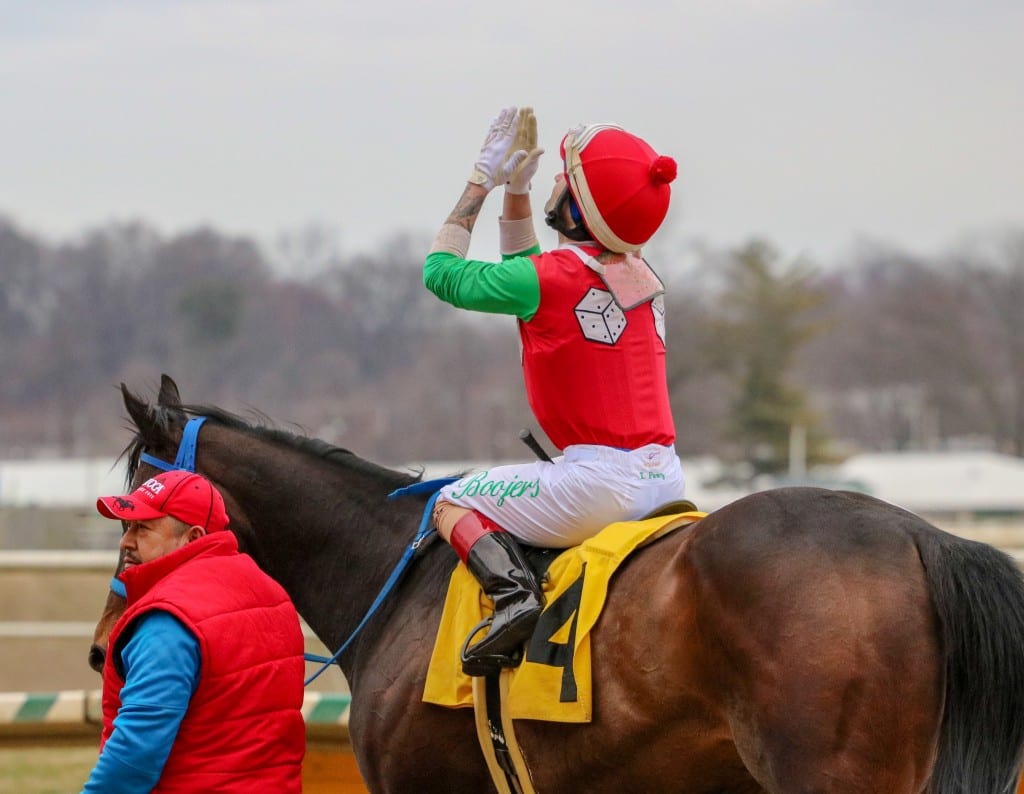 Xavier Perez gives thanks after winning the Conniver Stakes aboard Anna's Bandit. Photo by Dottie Miller.
by Ted Black
Xavier Perez gave an enthusiastic fist pump as he crossed the wire aboard Anna's Bandit in Saturday's $75,000 Conniver Stakes for Maryland-bred or -sired fillies and mares. You have to think that, were she able, Anna's Bandit would have done the same.
Anna's Bandit recorded her first stakes victory and her third straight score overall with Perez in the irons, perhaps signifying the emergence — really, the re-emergence — of both on the local scene.
Anna's Bandit, trained by Jerry Robb, had won her career debut at Laurel against maiden special weight foes by almost seven lengths nearly two years previously, then had placed against stakes company Belmont Park and Churchill Downs before getting over a year off to deal with sesamoid problems. Since returning this past September, she had won three allowance tests while getting, Robb said, "fitter and fitter and fitter."
For his part, Perez was at one time a leading rider at the Maryland tracks, and his career appeared to be on an upward trend in 2013 when he set career tops with 133 wins and over $3.8 million in earnings. But those numbers began to take a dramatic turn for the worse in subsequent years; in 2016-17, Perez booted home only 44 winners with a paltry 5.5 percent strike rate.
But last year also marked Perez's rekindled association with agent J.D. Brown, who had forsaken the rider at one time and Perez admitted to finally regaining some lost luster last summer and fall. Throughout the first three months of the current campaign, Perez has already steered home 17 winners from roughly 100 mounts, and his three straight victories aboard Anna's Bandit, including their first stakes score together in the Conniver, symbolized what he hopes will be the true turning point in their careers.
"I have to give a lot of credit to my agent, J.D., and my fiancee, Jessica [Lindsey] and to Jerry Robb for putting me on his horses," Perez said upon making the walk from the winner's circle back to the jock's room. "All three of them have shown a great deal of faith and confidence in me, and now I'm back riding the way I always wanted to."
These days — after a couple of years in the cold — Perez has a more acute sense that it's not about destinations; it's about the journey itself.
"Every day is a new chance for me to show everyone what I can do and I'm enjoying every minutes of it now," he said. "I know how much work it takes to succeed in this business, and I'm willing to do that work."
The Conniver marked the fifth consecutive collaboration for Anna's Bandit and Perez. The tandem ended 2017 on a winning note last December 26 when Perez guided Anna's Bandit to a head victory in a 5 1/2-furlong allowance at Laurel. Exactly one month later they were back in the winner's circle when the Robb homebred filly captured a six-furlong allowance by a length in 1:10.86. Saturday's score in the Conniver was her fifth tally in 10 lifetime outings and pushed her bankroll toward $200,000.
Perez and Anna's Bandit are now three-for-five, with one second, together.
"This filly just keeps getting better and better," Perez said. "Jerry has done a great job with her and Eric Camacho [who rode the filly in her first three starts] gets aboard her in the morning and keeps her fit. Jessica is always behind me and there to support me. The whole team does a great job. This filly keeps getting better and I think she can improve off a this effort today. She's winning races and I'm winning races again and J.D. keeps getting me live mounts and now I'm back – the X-Man is back."