Four champs looking for happy Maryland Million returns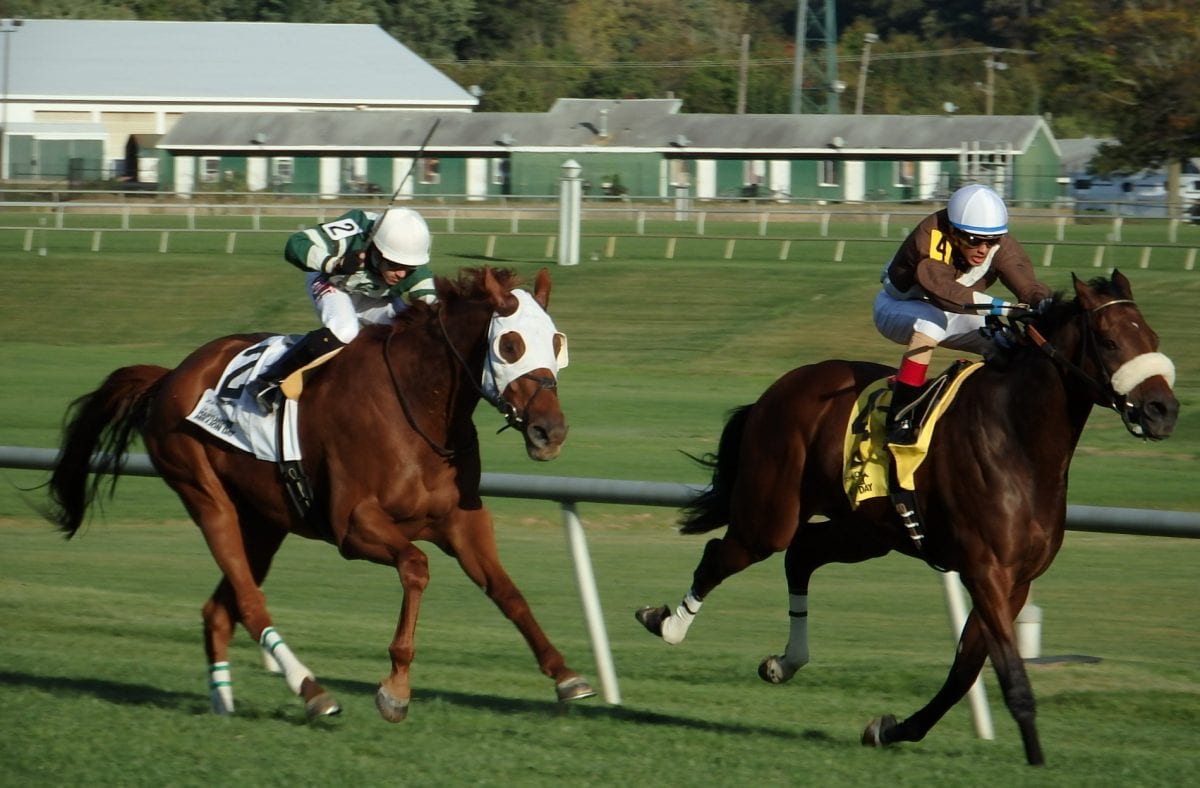 Phlash Phelps held off Roadhog to win the Maryland Million Turf. Photo by The Racing Biz.
by Frank Vespe

Three horses look likely to return to defend their Maryland Million titles this coming Saturday, while a fourth 2015 champ will line up in a different race.
That fact should make for some interesting racing and, perhaps, some intriguing handicapping challenges.
The list includes 2015 winners Admirals War Chest (Classic), Phlash Phelps (Turf), and Monster Sleeping (Ladies).  Also likely to start is 2015 Nursery winner Corvus, who of course no longer can run in the juvenile Nursery but is instead pointed at the Turf.
Admirals War Chest, a five-year-old son of Elusive Charlie, scored a mild, front-running upset in last year's Classic, opening a five-length lead leaving the furlong grounds before hanging on to win by a neck.  This year, he may lead a cast that sees the top three finishers from 2015 — Bullheaded Boy was second, with I'm Mr. Blue in third — back to slug it out.
Admirals War Chest, trained by Corby Caiazzo for owner-breeder Dr. Stephen Sinatra, is a gelded son of Not for Love.  He has won once in four starts thus far in 2016, posting a front-running win last out in a Delaware Park allowance.  Overall, he has four wins from 18 career starts and earnings of $215,181.
A year ago, Phlash Phelps held off hard-hitting Roadhog to win the $125,000 Maryland Million Turf as the 9-5 favorite, and those two were three clear of A P Elvis in third.  This year, the five-year-old Great Notion gelding returns to defend his crown, and with Roadhog retired after a productive career, may once again have things his own way.
Phlash Phelps, bred in Maryland by Carol Kaye, is trained by Rodney Jenkins for Hillwood Stable.  His 2016 ledger shows a win and two thirds from four starts.  In his last two races, he finished third (as the 3-10 favorite) in the Find Stakes for Maryland-breds and then fifth, though beaten less than two lengths, in the Grade 2 Commonwealth Turf Cup.  Overall, he has five wins from 14 career starts and earnings of $255,605.
Monster Sleeping has been a towering figure in the Ladies in recent years, taking the grassy, nine-furlong test twice in its last three runnings.  A year ago, as the second choice in the wagering, Monster Sleeping dominated the field, cruising to a nearly-four-length victory.  The third- and fourth-place finishers that day — Pauline's Pride and Magician's Vanity — may be among her rivals on Saturday.
Monster Sleeping, a seven-year-old Oratory mare, is trained by Dale Capuano for owner Chip Reed and was bred in Maryland by Mr. and Mrs. Kenneth Holt and Mr. and Mrs. Mark Vogel.  She has a win and a third from six starts this season and most recently finished fifth in a Delaware Park allowance over yielding ground she may not have liked.  Overall, she has 10 wins from 53 career starts, with earnings of $529,907.
Corvus won last year's Maryland Million Nursery, registering a 25-1 upset in the very first start of his career to take the $100,000 test for juveniles.  That win was not without controversy, as the Dance With Ravens gelding tested positive for the prohibited substance isoxsuprine following the race; after a hearing and an appeal, the Maryland Racing Commission left Corvus the winner of the race.
This year, Corvus is pre-entered for the Turf, a surface on which he has run twice, finishing a close-up fourth and then first in allowance tests.  While all three of his 2015 races came in stakes company, this will be his first foray into added-money company this season.  Corvus is trained by Katy Voss for herself, Bob Manfuso, and Wayne Harrison and owns three wins from seven career starts with earnings of $110,092.
Both Phlash Phelps and Admirals War Chest are cross-entered in two races; each is pre-entered in the Turf and the Classic.
RETURNING CHAMPS GALLERY