In this Thanksgiving week series, we'll recount some racing things for which we're thankful.
by Frank Vespe
For a few months this year, three-year-old California Chrome was the shiniest bauble in the racing jewelry box.
Yet those of us who follow racing are accustomed to treating the sophomore set as so much fool's gold.  As soon as they get good, they get gone, hustled off to the breeding shed.  Ahh, three-year-old champ, we hardly knew ye!

When California Chrome actually jets off to spread his seed remains to be seen, of course, but if past is prologue, he likely won't be on the track at age eight, like stalwarts Ben's Cat, Russell Road, and Eighttofasttocatch; seven, like the mare Winning Image; or even at five, like Lucy's Bob Boy.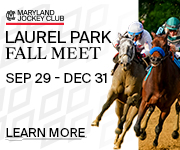 It's for those runners — those hard-hitters who come back year after year to entertain us, whom we describe as ageless though surely age affects them as it does all of us — that we are, today, thankful.
It's been said that time heals all wounds, though wags point out that it also wounds all heels.
Yet if that's true (and, well, yes, it is), you couldn't tell it by watching any of those runners.  All five have won at least one stake this season, and all but Eighttofasttocatch have earned at least $199,000.  Eighttofasttocatch won the Maryland Million Classic in just his second start of the season, is expected to be the favorite in the Jennings in two weeks, and will need to earn less than $3,000 to surpass $1 million in career earnings.
For their careers, those five hard hitters have combined to win 106 of 208 races with career earnings mounting in the direction of $7 million.  The busiest of them, Russell Road, has made 53 career starts and won 28 of them.  The highest earner, Ben's Cat, has made just over $2.2 million.  Those two and Lucy's Bob Boy have all won at least 21 times.
For comparison purposes, the last five Kentucky Derby winners prior to 2014  — Orb, I'll Have Another, Animal Kingdom, Super Saver, and Mine That Bird — combined in their entire careers to make 59 starts and win 23 of them.  Both Ben's Cat and Russell Road individually have won more than 23 races.
Those — the Triple Crown contenders — may be the horses that, for a fleeting moment, capture the public's attention (and earn stupid money).
But when that moment has fled — and it always does — these, these Ben's Cats and Russell Roads, these are the horses we return to.  It's Winning Image that's drawn jockey Tony Black out of retirement, Russell Road who left his owner speechless with a West Virginia Breeders Classics win, Ben's Cat who invariably has not only the bettors' backing but also that of the crowd.  It's these horses that add color and spice to what can sometimes be a bland racing stew.
It's worth nothing that none of the top 10 horses by wins on Equibase's rankings  was born after 1988.  When we bemoan what's become of racing's popularity, one place we might look is there: the dearth of good local runners who continue to run with the longevity, success, and, yes, frequency to become fan favorites.
But don't blame these five; they've done their part.