From a Maryland Jockey Club release
Erick Rodriguez, who has won nearly 870 races at Laurel Park and Pimlico Race Course since 2003, has returned to the jockey colony after spending the last five months at Presque Isle Downs where he finished fourth in the rider standings.
"I had a great meet up here but Maryland will always be home," said Rodriguez Friday afternoon as he was driving from Erie, PA to Glen Burnie, MD. "I have had so many good years in Maryland. It is all about hard work, going out there and doing what you are supposed to do. Work is the key to opening every door. I have been fortunate to ride for just about every trainer in Maryland and am looking forward to getting more opportunities."
The 34-year-old has three mounts on Saturday's 12-race card at Laurel Park, including Viva Lad in the $100,000 Laurel Turf Cup for trainer Mike Trombetta. The duo teamed up to win a pair of races at Presque Isle in May.

E ROD'S MARYLAND MOMENTS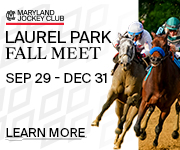 Ranked in the top 10 in the local standings for 10 consecutive years (2003-2012), including six straight ('06-11) in the top five. Finished second three times ('06, '09, '10)

Won Pimlico summer meet riding titles in 2003 & 2004

Captured 2009 Laurel Park fall meet title

Finished atop standings in 2010 Laurel Park winter stand

Won seven stakes races in 2006, including the $200,000 Martha Washington Breeders' Cup aboard Celestial Legend

Teamed up with Irish Colony for six victories at Laurel Park in 2003, including the Maryland Million Starter Handicap

Four 4-win days: Nov. 23, 2003; Apr. 10, 2005; Oct. 21, 2009; Dec. 9, 2009
Rodriguez will bolster an already deep colony that features Trevor McCarthy, Sheldon Russell, Victor Carrasco, Julian Pimentel, Forest Boyce, Horacio Karamanos, J.D. Acosta, Alex Cintron, Daniel Centeno, Jevian Toledo, Abel Castellano, Xavier Perez and Luis Garcia.