The Racing Biz has been tracking claiming activity in the mid-Atlantic region and reporting on it weekly for the last several months, in our Claimbox report.  We continue that, along with our Midlantic Claiming 7 — the trainers who have been busiest over the prior 30 days, ending in this case on February 25, 2014.
With every track but Penn National running its regularly scheduled slate of cards in the last week, claiming activity bounced back strongly.  The higher level of activity, however, did nothing much to the the Midlantic Claiming 7 list of the busiest trainers, however.  The top seven were identical to that of last week with only minor changes in position.
Michael Pino and Scott Lake flipped positions at the top of the leaderboard, with Pino on top this week.  For the second straight week, the two were equal in the number of horses claimed, each with eight; the value of Pino's claims, $95,000 (average: $11,875) gave him the edge on Lake.  Ramon Preciado remained in third place, with seven claims for a combined value of $82,500.  The average value of Hugh McMahon's four claims, $15,250, was tops among the seven leaders.
No trainers entered or left the list this week.
Preciado, who has had only one horse claimed from him in the region in the last 30 days, leads all trainers with a net gain of six horses ($75,000 in value).  Pino, Lake, and Patricia Farro all enjoyed a net gain of five horses over the last 30 days.  On the other side of the coin, Ollie Figgins, III, Robert Reid, and Philip Aristone all saw a net loss of three horses during the last 30 days, tying them for the largest net loss of horses.

For the week…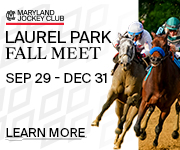 With every scheduled card — except for two canceled days at Penn National — run, claiming activity rose sharply this past week to more normal levels.
The number of horses changing hands rose from last week's low of 12 to 43 — roughly in line with numbers over the last two months.  Similarly, the total value of claimed horses rose, from $128,250 to $414, 250.  The average value of those claims declined by nearly 10 percent, to $9,634.
Parx was the busiest track in the region, with 15 horses changing hands via the claimbox, worth a combined $193,000 (average: $12,867).  That average was also tops among the region's tracks.  Laurel saw 12 horses claimed, while at Charles Town there were 11 claims.
The claimbox report covers claiming activity at Laurel Park, Parx Racing, Penn National, and Charles Town.
Weekly Dollar Value of Horses Changing Hands