LAUREL PARK PICKS AND PONDERINGS: FEB. 26, 2022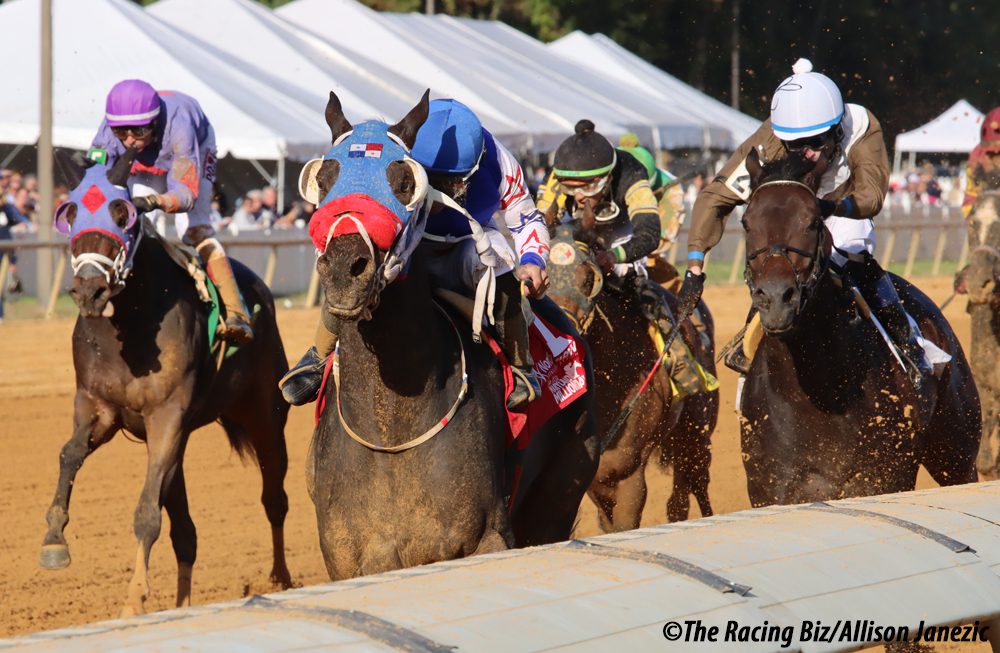 RACE 1: CLAIMING $10,000, 3-YEAR-OLDS, 5 1/2 FURLONGS
3-6-4-5
I turned a natural grand slam yesterday with my top picks; let's see what happens today. #3 Red Mesa (5/2) just missed two starts back, then broke his maiden with a game rally in his first start off the claim by Anthony Farrior. He's the only one in the field to have run brisnet figures in the 70s in back-to-back starts. #6 No Money Down (5/1) is also coming off a maiden claiming win, where he came from behind and won going away. He's in career-best form and should roll late. #4 Yo Nessroundonkern (3/1) races for the dangerous Jamie Ness/Jaime Rodriguez combo and also has good tactical speed.
RACE 2: MAIDEN CLAIMING $16,000, 4 AND 5-YEAR-OLDS, FILLIES AND MARES, 7 FURLONGS
6-7-1-8
#6 Lucky Lorraine (5/1) races for the first time since being eased on September 23. She had hit the board in her seven prior starts, but of course hadn't won. She drops to this level for the first time, and Mary Eppler is 20% off a 90+ day break. #7 Mary Jane Chrome (7/2) was in improving form on grass before going on the sidelines in mid-October. She was disappointing in her lone dirt start, so it's possible this is just a prep for grass season. However, her recent workouts are promising and this field is soft enough that she should contend if she takes to the dirt even a little bit. #1 Some is Nine (10/1) has run back-to-back figures of 67 and showed speed in her first start off the layoff before tiring. Here, she'll be able to control the tempo from the inside if she wants to.
RACE 3: CLAIMING $5,000 (N/W3L), 4-YEAR-OLDS AND UP, 5 1/2 FURLONGS
2-7-4-1
#2 Little Bold Bandit (8/5) got caught up in a speed duel last out, but still drew clear in the stretch and held on for third. Here, he looks like the fastest one early on and should be able to get the pace setup he wants. #7 Suspiros (6/1) has been racing at Charles Town, where he closed well for second last out as the favorite. Should keep moving forward third off the layoff. #4 Degas (6/1) stopped badly last out, but gets class relief and will sit the trip just off the pace.
RACE 4: CLAIMING $5,000, 4-YEAR-OLDS AND UP, FILLIES AND MARES, 7 FURLONGS
5-4-3-1
Outside of one dull effort going a mile a few starts back, #5 Cougar Vision (5/2) has been uber-consistent as of late, with figures in the mid-70s. She fell a bit further behind than she might've liked two starts back, but still closed strongly and lost by just a neck. She sealed the deal last out after rating closer to the pace. #4 Blue Sky Venezuela (2/1) has been flat in her last few starts, but she was hung wide in those races. If she can save more ground, she should be able to pack a winning punch. #3 My Way or Else (7/2) has some of the best late pace figures in the field and beat a conditioned field going away last out with a wide run.
RACE 5: MAIDEN CLAIMING $16,000, 3-YEAR-OLDS, 6 FURLONGS
1-5-6-7
My top three picks all exit the same race on February 10. #1 Vinny (5/2) ran a game race that day, dueling on the pace while wide and holding on for second. The winner of that race, Red Mesa, races earlier on the card. If he wins, it would certainly flatter this one's form. #5 Playboy Roy (3/1) was third in that race, but was unable to convert the win after sitting the trip. However, it was his first start in more than three months, so I'm willing to cut him a bit of slack. #6 Sky of Gold (5/1) faded after dueling on the inside in that spot, but was also coming off a long break. He was 3/1 in that race; you should get a better price here if you still believe.
RACE 6: ALLOWANCE (N/W1X), 4-YEAR-OLDS AND UP, 1 MILE
1-6-9-5
A field of thirteen, with eleven betting interests, will line up in this exciting contest. #1 Kid d'Oro (5/2) looks like the stronger half of the Jamie Ness entry to me. He stalked the pace and drew off impressively at Parx last out, with a giant career-best figure of 98. He raced wide in his prior two starts and didn't close that well, but with the five-hole here, he should be able to get his trip. You can draw a line through #6 Our Lucky Man's (5/1) last start, as he appeared to have equipment problems coming out of the gate and was pulled up right away. Prior to that, he was in improving form and closed strongly under very similar conditions two starts back to get fourth, earning an 88. #9 Mohaafeth (8/1) has been getting better with each start. He loomed a threat last time in the stretch, but flattened out in the last eighth. It's possible this is just a bit too far for him, but I'm willing to give him another chance.
RACE 7: MAIDEN CLAIMING $25,000, 4 AND 5-YEAR-OLDS, 6 FURLONGS
2-3-7-1
#2 Vanhoofer (3/1) set a very fast pace by himself last out and held on for second. Goes second off the layoff for Ben Perkins and will be dangerous if he can control his speed a bit better. #3 Mr. Mosley (6/1) was also a free-wheeling speedster last out, but his early pace figures don't look good enough to run with Vanhoofer early on. He's better off rating off the pace, like he did with increasing success last year. #7 Glorious Mahomes (4/1) races for Damon Dilodovico for the first time and for the first time outside of Charles Town. He made decent ground in both of his starts there, and should get a good pace to run at.
RACE 8: ALLOWANCE (N/W1X), 3-YEAR-OLDS, FILLIES, 1 MILE
5-2-7-6
#5 Gamestonks (7/2) crushed the field at Parx in her 3-year-old debut, inspiring her connections to take a shot in the Busanda Stakes. Unfortunately, she had traffic trouble out of the gate and was eased. Looks for redemption here, and the last line might scare some customers off. #2 Misty Mauve (7/5) ran a big figure of 89 in her debut two starts back, finishing second behind Divine Huntress, who impressively won at Parx next out. This one broke her maiden next out as well, after fighting on the lead and drawing off late. Has lots of potential. #7 Jackie the Joker (7/2) has won against winners twice but hasn't won against the caliber of horses she'll see here. She'll likely roll from off the pace.
RACE 9: MAIDEN CLAIMING $40,000, 3-YEAR-OLDS, FILLIES, 6 1/2 FURLONGS
6-5-1-2
#6 Charming Way (4/5) has run in the 80s in both of her starts. She was well-backed at this level last out and found herself too far back to catch the winner. This is an easier field than last time, however. #5 Solid Tune (7/2) has shown speed in her last few starts in New York and goes second off the layoff for Bruce Levine. Ran a big race while wide last out on a track that was playing towards the inside. #1 Miss Foxann (3/1) has been close at this level and will also be a pace presence.
LATEST NEWS