Laurel Park picks and ponderings November 21, 2021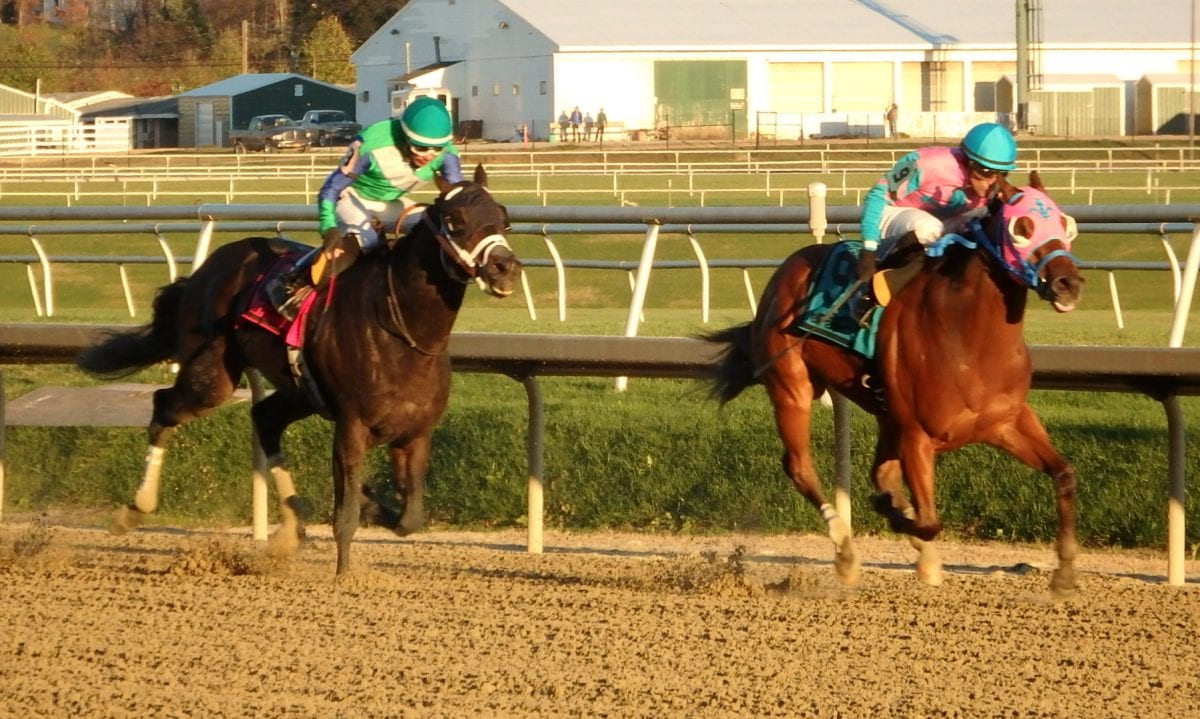 Horses race down the stretch at Laurel Park. Photo: The Racing Biz.
In which we pick the races from Laurel Park each day…
Post time: 12:25 p.m.
Carryovers: Rainbow Jackpot Pick 6 — $0 Super High 5 — $0 Late Pick 5 — $0
ANALYSIS
RACE 1: CLAIMING $10,000 (CONDITIONED), 3-YEAR-OLDS AND UP, FILLIES AND MARES, 1 MILE
6-2-4-8

Lots of good-sized fields on today's 9-race card. #6 Who U Gonna Call (5/2) raced off a six-day layoff at Charles Town last out, and improved her brisnet figure to a 73 with a third-place finish. She went off as the favorite at this level two starts back and closed well for third after a wide trip. #2 Mi Cleopatra and I (4/1) stretches out off a win at seven furlongs and has abundant early speed. She showed little in her last start beyond seven furlongs, but that was around two turns. This shouldn't be much of a problem for her if she can get her trip. #4 Mavilus (3/1) also has abundant early speed and went gate-to-wire against similar three races back. She's run decent races when stalking the pace, but will need to outrun Mi Cleopatra and I early to have her best shot. 
RACE 2: CLAIMING $10,000 (N/W2L), 3-YEAR-OLDS AND UP, 1 1/16 MILES
1-4-6-5
#1 Sheriff Chip (2/1) chased the leaders and finished second last out in his second start off the layoff, with a much-improved figure of 72. He hasn't shown as much aptitude around two turns, but at least he should sit the trip. #4 Souper Emperor (8/5) drops in class further after several tries against starter optional claiming types. He consistently runs in the 70s; if he can race that well around two turns, he's got a big chance. #6 Private Mission (10/1) broke his maiden in game fashion at Charles Town two races back and will be tough if he can avoid getting caught up on the pace, like he did last time. 
RACE 3: MAIDEN SPECIAL WEIGHT, 2-YEAR-OLDS, 1 MILE
1-2-3-6
#1 Caminero (3/1), one of two in here for Mike Trombetta, recovered from a bad break to fly and just miss on debut. Based on how he closed at seven furlongs, I imagine he shouldn't have much trouble going a mile. Looking for some improvement second time out. #2 Off Course (2/1) also broke badly in his first start, and made decent ground to get third. He ran a 72 in that race, a few points higher than the 70 Caminero earned last out. Takes a slight jump up from maiden claimers, but if he rans back to his debut, he'll be tough regardless. #3 Espresso Lungo (8/1) improved eight points second time out with a solid rally to lose by less than two lengths. He was outkicked by Caminero in that race, but has a slight experience edge over that rival and could shake up the exotics, at least.
ANALYSIS
RACE 4: CLAIMING $16,000 (N/W2L), 3-YEAR-OLDS AND UP, FILLIES AND MARES, 5 1/2 FURLONGS
7-8-11-10
#7 Windrush Karma (12/1) went gate-to-wire to break her maiden two races back, then was flat over an off track in her first start against winners. I'm willing to give her another chance at a price. #8 Bourbon Wildcat (4/1) goes first off the claim for Ferris Allen and gets back to dirt. In her lone start at this condition on this surface, she battled on well and just missed by a neck, just missing her career-top mark with a 76. #11 Danessa Baby (5/2) closed strongly to get third last out after checking up early and losing costly ground. With a cleaner trip, she ran a great race on the lead two back with a figure of 81.
RACE 5-  MAIDEN CLAIMING $10,000, 3, 4, AND 5-YEAR-OLDS, FILLIES AND MARES, 1 1/16 MILES
3-6-9-10
#3 Icy Harbor (7/2) is one of the lightest-raced horses in the field, having started just twice. She's never lost a dirt route before, and ran a solid 73 when going two turns on grass last out. Worth a shot in a race like this. #6 Diadora (2/1) also switches to dirt after four unsuccessful grass starts. She ran in the 60s pretty consistently on that surface. Looks to translate that form to dirt for the first time. Should sit in the middle of the pack and pick off tired rivals. #9 Home By Seven (5/1) improved to a 58 in her most recent dirt start, and has shown speed in her past grass races. Chased and finished second on grass at the Meadowlands last out.
RACE 6-  ALLOWANCE OPTIONAL CLAIMING (N/W1X), 2-YEAR-OLDS, 1 MILE
4-2-1-5
#4 Uncle Irish (4/1) is undefeated around two turns, having broken his maiden going a mile in a gutsy effort at Delaware Park. Ran a giant number of 86 in that race. He could regress a few points off that race and still win this. #2 Conclusive (4/1) has improved with every race, and ran a strong 81 in a maiden-breaking effort going two turns on this track last out. Brad Cox doesn't send too many horses down this way, but he's racing #1 Achilles Heel (3/1) here off an impressive maiden win against New York-breds at Saratoga. He's taken big steps forward with each start, but hasn't raced since late August. 
ANALYSIS
RACE 7– ALLOWANCE (N/W1X), 3-YEAR-OLDS AND UP, FILLIES AND MARES, 5 1/2 FURLONGS
1-4-7-10
#1 Marvella Nasty (5/2) has improved sharply in her last two starts, including a 9 1/4-length win last out with a figure of 90. She's been very impressive in her last two, but hasn't beaten much. This will be her class test. #4 American Bastet (7/2) was never seriously challenged in her maiden-breaking win, and crushed the field by 7 1/2 lengths. That was easily the best performance of her life. Trainer Miguel Vera is 28% with horses off a maiden win, and she's the only one in the race who has never lost against winners. #7 Pretty Lori (7/2) also comes off a career-top race, in which she was fourth at this level behind budding star Princess Kokachin. This one is the main early speed threat here.
RACE 8 — ALLOWANCE OPTIONAL CLAIMING (N/W2X), 3-YEAR-OLDS AND UP, 1 MILE (GRASS)
4-12-2-1 (DIRT: 12-13-14-3)
#4 Zarkallani (5/1) made his first start off an eleven-month layoff last out, and improved to a 92 after a traffic-filled trip. He's had some grass workouts since then and adds Jevian Toledo in the saddle. Fellow Jack Fisher trainee #12 Mystical Man (3/1) has been moving up the class ladder quickly, with victories in two of his last three races. He made a decisive move to win last out going away, and will try to build off that race. #2 English Tavern (5/1) outfinished Mystical Man in a n/w1x race three races back, and closed for second after a difficult setup in a Claiming Crown qualifying race in his most recent grass try. He's in improving form and should roll from behind.
RACE 9 — CLAIMING $10,000 (N/W2L), 3-YEAR-OLDS AND UP, FILLIES AND MARES, 6 FURLONGS
7-8-5-6
#7 Mick'sbestbetyet (7/2) chased a loose leader last out at Penn National and ended up second with a career-best mark of 74. In fact, she's run career-best figures in each of her last two starts. #8 Gimme's Goldengirl (9/2) cuts back from a mile, where she held on for third but was visually unimpressive last out. This'll be her first time sprinting at this level. #5 Salamina (5/2) can show speed or come from behind and hasn't run worse than a 60 in any of her dirt starts.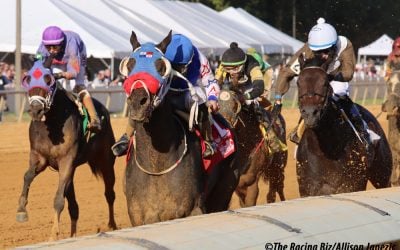 We provide full-card picks and analysis for this afternoon's races at Laurel Park.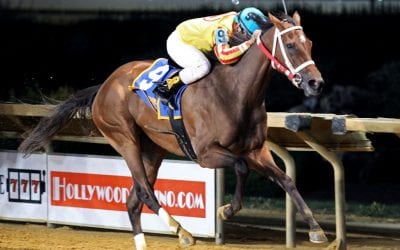 We provide picks and analysis for this evening's card at Charles Town Races.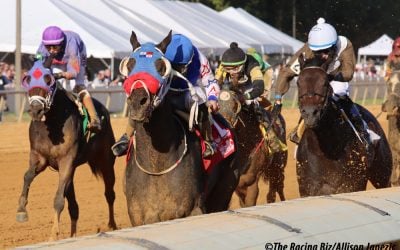 We provide full-card picks and analysis for this afternoon's races at Laurel Park.