ROBB, STREET LUTE TAKING SWING IN CT OAKS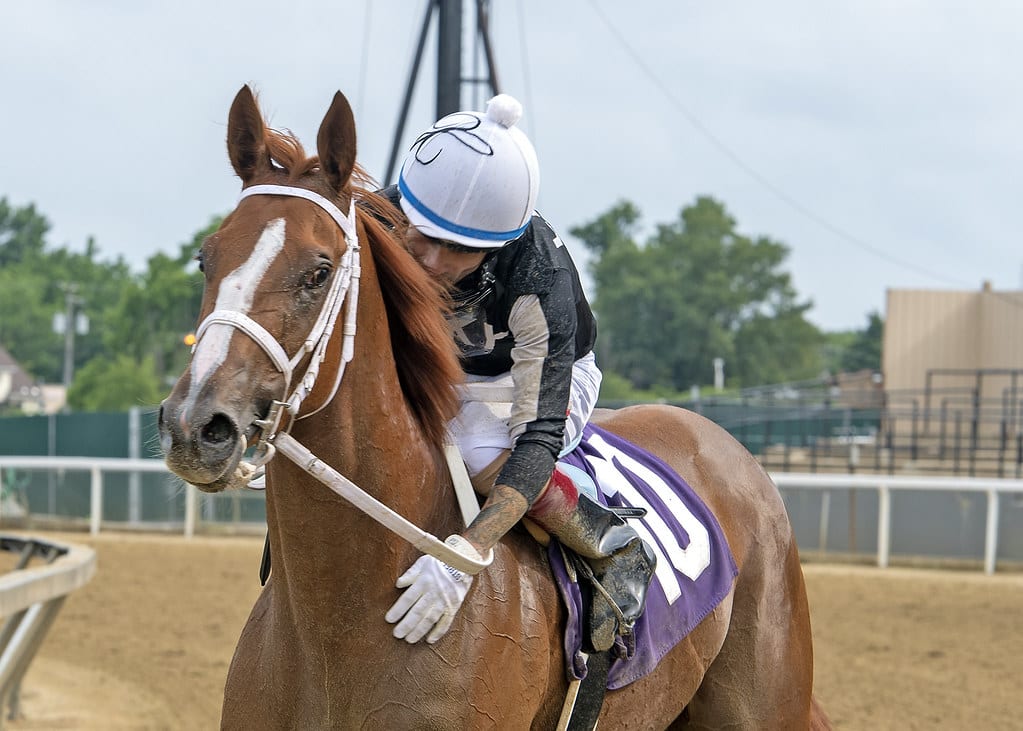 Frank Vespe

August 27, 2021
Trainer Jerry Robb has made a highly successful career out of taking the bird in the hand. But Friday he'll opt for two in the bush.
With a mid-sized stable and generally modest stock, Robb has won nearly 2,100 races by putting horses in spots where he knows they can compete – and often win – rather than by taking big swings.
So it tells you something that he passed on running stable star Street Lute in last Saturday's $75,000 Miss Disco Stakes – where she would likely have been the odds-on favorite – and is instead awaiting Friday's Grade 3, $400,000 Charles Town Oaks.
"We've been pointing to this race pretty much all year," Robb said. Street Lute is 8-1 on the morning line and will have regular pilot Xavier Perez in the irons.
Street Lute has won eight races, seven in stakes company, while earning more than $480,000. She enters this contest off a defeat, having finished sixth last time in the M. Tyson Gilpin Stakes at Colonial Downs, but that was on the turf.
She's showing one work in the interim. She breezed five-eighths of a mile over the new Laurel Park surface August 14, getting the distance in 59 2/5 seconds. That was the second-fastest work over a strip that has been on the fast side since its reopening; the only runner to go faster that day was 2020 Maryland Million Sprint winner Karan's Notion.
"She's doing real good," Robb said.
The Oaks will be Street Lute's second try against graded company. She ran sixth in the Miss Preakness Stakes on the Black-Eyed Susan undercard at Pimlico, but it's hard to draw much of a conclusion from that race. Horses breaking in and out around her put her in tight quarters from the start.
"She didn't break from the gate and never really got a chance to run," Robb said. "She got pinched off real bad."
It'll be Street Lute's first visit to Charles Town. The Maryland-bred Street Magician filly, who's owned by Lucky 7 Stables, already owns wins at Laurel, Pimlico, and Delaware. But Robb isn't worried.
"She's pretty much run good everywhere I've ever run her, so I can't imagine she doesn't take her racetrack with her," he said.
The field she'll be facing is a solid one. It includes the likes of Grade 3 winner Pauline's Pearl and graded-placed horses like Moon Swag, Inject, and Competitive Speed. And none of those is the morning line favorite; that role, instead, falls to the Bill Mott-trained Caramel Swirl, a winner of two of three.
But where Robb sees a possible advantage is in the speed department. In a field full of route horses and closing sprinters, Street Lute is one of a small number that have consistently shown early zip in sprint races.
"I think she's got a shot in there," he said. "I mean, there's a couple nice horses, but most of the tough ones come from out of it. I'll take my chances around them turns with a little speed."
LATEST NEWS