LAUREL PARK PICKS AND PONDERINGS MAR. 7, 2021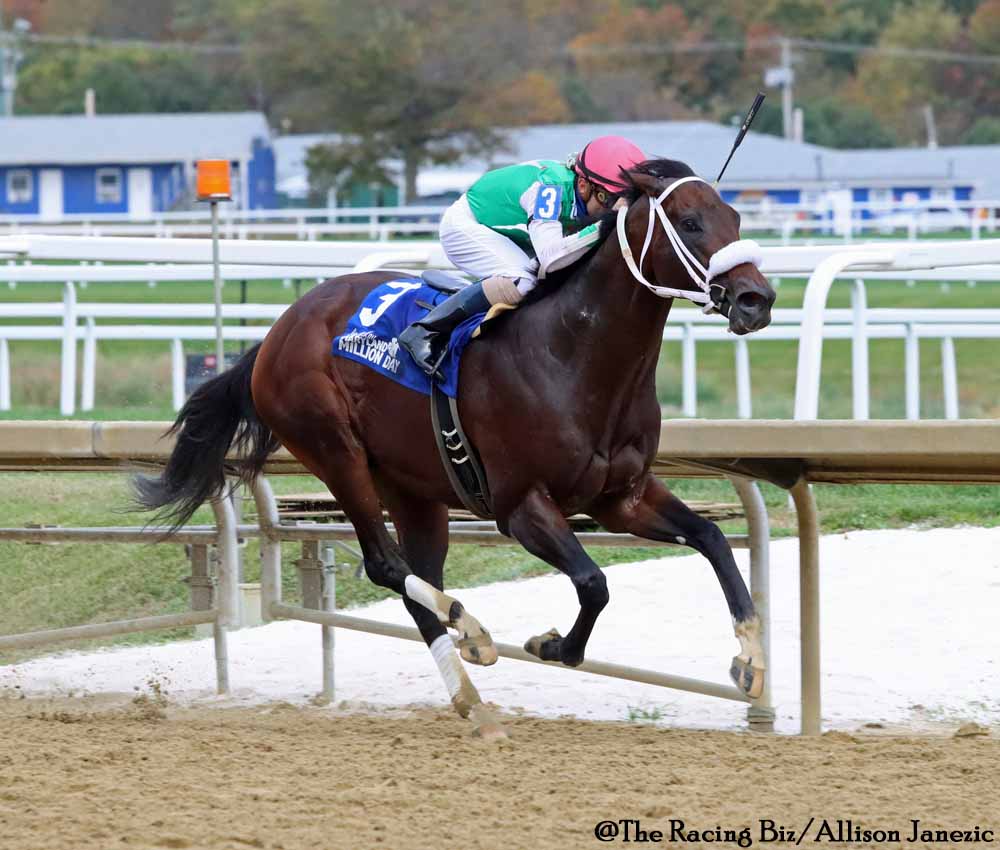 RACE 1: MAIDEN CLAIMING $10,000, 4-YEAR-OLDS AND 5-YEAR-OLDS, FILLIES AND MARES, 1 MILE
2-3-6-4
#2 Chelichna (3/1): Improved sharply when stretching out around two turns last out. After lagging behind early, she rallied to finish second, although no serious threat to the winner. These longer distances might be just what she needs.
#3 Nikki's Dream (7/5): The unknown factor in this field. Her lone start came at Saratoga last summer, when she was a non-factor in a grass sprint against better. She's had some time off, and now takes a major class drop. This is her first start for the Linda Rice barn. If she takes to the dirt at all, she'll be tough.
#6 Diva of Seville (6/1): Showed speed and faded in her last two at the distance at Penn National, which goes around two turns. She's never been around the one-turn mile, an din a race without a lot of speed, could prove tough to catch at this configuration.
RACE 2: CLAIMING $10,000 (N/W3L), 4-YEAR-OLDS AND UP, 1 1/16 MILES
6-2-1-5
#6 Blue Sky Painter (7/2): Raced well in his first try at the level, closing strongly on the inside for a second-place finish. He's run a new lifetime top in each of his last five starts, peaking at a 75 last out.
#2 Titan's Will (8/5): One of two in here for Brittany Russell, and the one that Sheldon has elected to ride. Save one poor effort going nine furlongs two races back, he's been running steady figures in the 70s against better in New York. He'll look to feast on the easier company here.
#1 Runner Runner Indy (6/1): Exits the same race as Blue Sky Painter. He rated just off the pace and boxed on well in the stretch, but was outkicked and was beaten half a length. Will have to go a bit faster late to win this one, but remains a strong exotics candidate.
RACE 3: CLAIMING $5,000 (N/W2L), 4-YEAR-OLDS AND UP, FILLIES AND MARES, 5 1/2 FURLONGS
4-1-2-5
#4 Bean Indiscreet (4/5): She made a solid rally at this level last out, but couldn't chase down the leader and finished second. She has the best late pace figures in the field by a good margin, and steadily improving figures. Will be tough if she runs her race.
#1 Thea's Theme (5/2): I don't know if she would've won, but she certainly would have raced a lot better had she not encountered traffic trouble in her last race. She keeps improving since getting claimed by James Casey; this will be her fourth race off the claim. Her figures are just a sneeze below those of Bean Indiscreet, and she'll likely be a better price.
#2 Sevilla Sangria (4/1): She got hung wide last out, and was unable to get to her usual spot on the lead. As such, her performance suffered. With a better draw here, she should have an easier trip.
RACE 4: MAIDEN CLAIMING $25,000, 4-YEAR-OLDS AND 5-YEAR-OLDS, 7 FURLONGS
4-5-3-6
#4 Start the Parade (9/5): Earned figures in the 70s in both of his two starts, improving sharply second out. Should progress even further going first off the claim for Claudio Gonzalez.
#5 Mr Shades of Gray (7/2): He got bet at this level last out, and finished a solid, even third. Might improve second off the brief layoff, but is a strong exotics contender no matter what.
#3 Magic Mule (9/2): Has lots of early speed, and has held on better in each of his recent races. Last out, he led until the last eighth, which he hadn't done before. Could prove tough to catch.
RACE 5: STARTER OPTIONAL CLAIMING $32,000, 4-YEAR-OLDS AND UP, FILLIES AND MARES, 5 1/2 FURLONGS
9-8-5-10
#9 Hufflepuff (9/2): Narrowly missed in her last start against similar after a wide trip. She's run at least a 77 in her last three races, making her one of the most consistent horses in the field.
#8 Princess Corey (7/5): Brittany Russell has been campaigning this one in New York, now sends her down for a local try. She's run some huge races up there, turning in game efforts on the front end.
#5 Make it a Double (8/1): Races for the first time since June 17, when she probably would've won if she didn't have some rein issues late. Might need a race first off the long break, but her form from last year would win this one.
RACE 6: CLAIMING $8,000, 4-YEAR-OLDS AND UP, 1 MILE
2-6-4-5
#2 King Mauro (5/1): His first start off the claim for Michael Gorham was a successful one, as he battled on the lead to win a conditioned claiming race. He's stepping up in class, but has been running competitive figures, and he's not dependent on having the early lead.
#6 Southside Warrior (9/5): He's gone off as the favorite in his last five, all against similar fields, but has only one win in that stretch. Closed well last out after dropping farther off the pace than he might have liked.
#4 Brutus (5/2): The likely early leader. He's won three of his last six, while being on or near the pace every team. If he isn't pressed, he could sneak away from them rather easily.
RACE 7: ALLOWANCE OPTIONAL CLAIMING (N/W1X), 3-YEAR-OLDS, FILLIES, 1 1/16 MILES
1-6-5-2
#1 Enter Sandwoman (5/1): Broke her maiden at Aqueduct last out, setting a slow pace and battling in the stretch. Ran a big figure of 78 two back in defeat, while not being as pace-advantaged. Will try to work out a similar trip from the inside
#6 Gravity's Rainbow (2/1): Won at first asking for Brittany Russell last out, earning a strong 78. The distance is the only question, although she drew away solidly at 6 1/2 furlongs in that race.
#5 Promise the World (7/2): She doesn't have as much of a distance question, as she won at first asking going a mile last out. It was a gutsy win, as she surged in the last eighth after dealing with some traffic trouble.
RACE 8: CLAIMING $5,000 (N/W2L), 4-YEAR-OLDS AND UP, FILLIES AND MARES, 5 1/2 FURLONGS
2-7-5-4
#2 Villamoura (5/2): She'll try to take them as far as she can, as fast as she can. Opened up a big lead early last out, before tiring in the last eighth. The distance and the class drop should help.
#7 Suzzette Star (4/1): Raced credibly in her first start against winners, showing brief speed and rallying wide. She's never lost at this level, having made that last start at the $10,000 level. Should rate off Villamoura from her outside.
#5 Bodes Sunset (7/2): Improved in her third start off the layoff last out, making up solid ground in the last quarter-mile. Gets a jockey upgrade to Charlie Marquez.
LATEST NEWS