LAUREL PARK PICKS AND PONDERINGS MAR. 5, 2021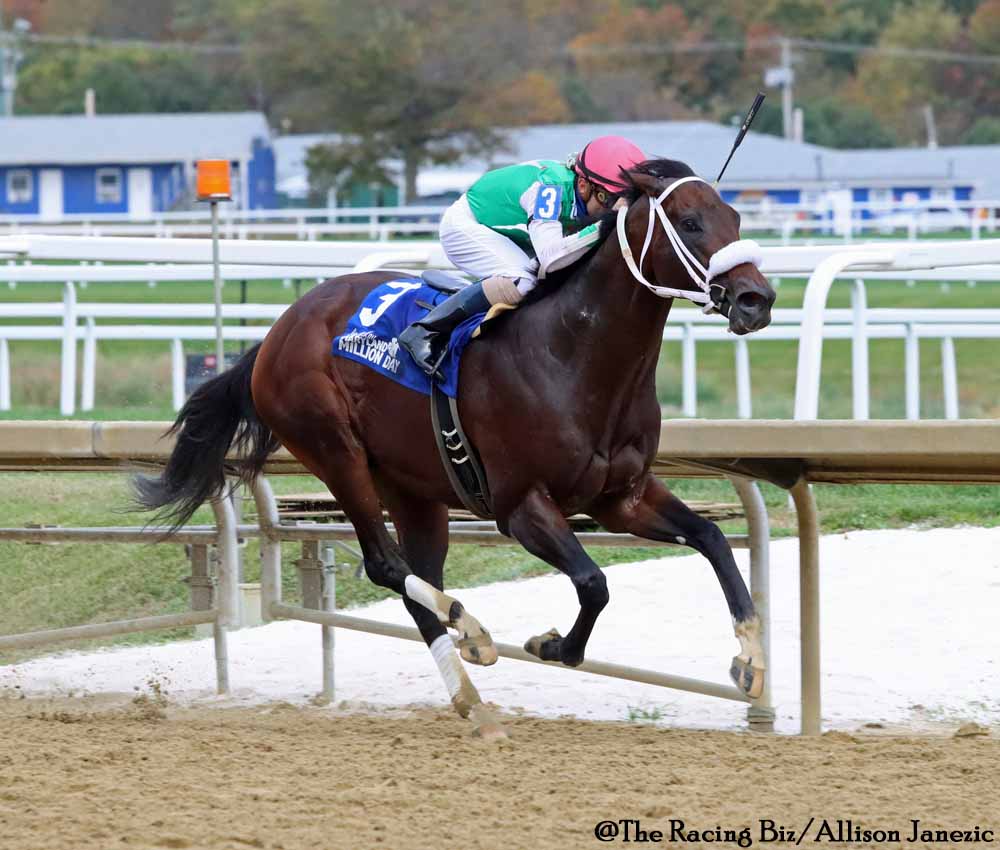 RACE 1: MAIDEN CLAIMING $16,000, 3-YEAR-OLDS, FILLIES, 6 FURLONGS
4-1-5-2
#4 Reine Secret (5/2): Ran nicely in her debut, recovering after a bad break to make a decent five-wide move before flattening out. Takes a drop from the $25,000 level and adds blinkers.
#1 Claire's Darling (2/1): Another one taking a class drop, she was most recently seen at the $40,000 level. Ran brisnet figures in the 60s in her first two starts, where she showed speed and faded. She was disappointing in her last start, where she didn't show her customary early speed and flattened out badly. Looks for a rebound here.
#5 Charliv (5/1): Another second-timer for the Mike Trombetta barn, along with Reine Secret, and another one adding blinkers for her second start. She's coming out of the same race as her stablemate, but didn't show any life there at all, trailing throughout. This is a pretty soft bunch, so she's got a shot at cashing a good-sized check as long as she improves at all second out.
RACE 2: MAIDEN CLAIMING $10,000, 3-YEAR-OLDS, 1 1/16 MILES
1-2-6-7
#1 Pat's Factor (5/2): Improved sharply second time out, making a strong move in the stretch and hanging in determinedly before fading. He stretched out from 6 1/2 furlongs to a mile in that race, but the extra distance didn't seem to be much of a problem here.
#2 Artillery (6/1): By far his best race came in his lone start around two turns around two turns, when he was third against better two back. Hot-riding Horacio Karamanos picks up the mount.
#6 Grey Giant (9/5): Made good ground off a very slow pace last out, losing by just 1 1/4 lengths. He hasn't shown much speed in any of his races, so a similarly tough trip might befall him again.
RACE 3: CLAIMING $8,000, 4-YEAR-OLDS AND UP, 5 1/2 FURLONGS
2-4-3-6
#2 Higher Purpose (8/5): Wired a similar field last Thursday, now wheels back in eight days for this spot. He has dangerous early speed, and not many challengers for the top spot early on. Wouldn't be surprising to see him go coast-to-coast again.
#4 No More Talk (4/1): His last start was a prime example of a horse rounding into form in their third start off the layoff. In contrast to two dull efforts to begin the year, he zoomed out and set the pace, before giving way. In spite of that, he ran a figure of 80, right in line with his usual form. The drop in class from the starter optional claiming level should help.
#3 Federale (4/1): Anthony Farrior claimed him out of his last race, a start where he flattened out as the favorite despite a good trip off a fast pace. Two races back, he closed for a win at the $5,000 level, with a strong figure of 85. Should bounce back first off the claim or Farrior.
RACE 4: MAIDEN CLAIMING $25,000, 3-YEAR-OLDS, 1 1/16 MILES
3-2-4-6
#3 Sir Lenny (8/5): He's hit the board in both his starts, both of which came at this level. Closed well for third last out, despite racing wide throughout. Claudio Gonzalez claimed him out of that race, and should have him ready to fire a big one.
#2 Gold Fellow (2/1): Another recent Gonzalez claim, he was eased in his last start, after running three straight figures of no worse than 65. He's had two workouts since that last race, both of which were solid. He's another one who's run good races despite getting forced wide.
#4 Always Biz (6/1): He's had a steady worktab going into his career debut, and faces a field where he doesn't really have anyone to worry about, except the Claudio Gonzalez duo. Jerry O'Dwyer is a respectable 12% with first-time starters.
RACE 5: MAIDEN CLAIMING $10,000, 4-YEAR-OLDS AND 5-YEAR-OLDS, 6 FURLONGS
1-5-4-7
#1 Distant Thunder (2/1): Dropped to this level for the first time last out, and showed boundless early speed before tiring. He's run at least a 70 in two of his three starts, which is in the range needed to win. Should be tough to catch from the inside post.
#5 Mr. Mims (9/2): Just missed at this level two starts back, then got hung wide and faded against better last out. Should enjoy the chance to race against horses at this talent level again.
#4 Hinting (5/1): Finally cuts back to a shorter distance, after fading numerous times when trying to go longer. Last out, he opened up a long lead going 1 1/8 miles, before giving way. Don't know if he can challenge Distant Thunder early on, but he should at least be near the lead.
RACE 6: ALLOWANCE OPTIONAL CLAIMING (N/W3X), 4-YEAR-OLDS AND UP, 7 FURLONGS
1-4-7-2
#1 Oxide (4/1): He's won three of his last four races, including a n/w2x win last out where he went out of his element and set the early pace. Usually, he stalks the pace, but seeing a slow tempo developing, Charlie Marquez seized the opportunity and put his mount in front. Marquez keeps the ride here,
#4 Hanalei's Houdini (6/1): Another recent Claudio Gonzalez claim, he's struggled to rediscover his peak form from last summer. He finished fourth behind Oxide in his last start, and while it's not likely he could've caught the runaway leader, he didn't do much against the rest of his rivals either. Looks for a needed rebound here.
#7 Press My Bets (9/2): He hasn't raced since an impressive n/w2x win at Parx in December, where he won in gate-to-wire style going away. He's been throwing bullets in the morning since that race, and looks like the fastest one in the field early on. Still, it's his first race off a break, and his big figure of 98 from that race is a dramatic outlier from the rest of his form.
RACE 7: MAIDEN SPECIAL WEIGHT, 3-YEAR-OLDS, 5 1/2 FURLONGS
3-4-6-2
#3 Forth (6/1): On debut, he got entangled in a brutal duel and backed up. He finished about four lengths clear of his dueling partner, which is encouraging. Could end up sliding through the cracks in the wagering.
#4 Reckless Place (5/1): Pat McBurney firster has turned in a bullet workout in two of his three most recent drills. He hits at a respectable 14% with first-timers. The board will tell the story.
#6 Billingsgate (9/2): Got some wagering action in his debut, but was hung wide and faded. His figure of 75 is the best last-out number in the field, and he'll be tough if he can improve off that mark.
RACE 8: ALLOWANCE (N/W1X), 4-YEAR-OLDS AND UP, 5 1/2 FURLONGS
10-5-12-6
#10 Kingston Pike (4/1): His last-out figure, a 92, is the best in the race by eight points. He enjoyed a great trip and drew off to beat a sharp field last out. Even the mid-80s figures he usually earns would make him very tough in here.
#5 Inside Risk (6/1): Made a good middle move in his last start, only to flatten out a bit and finish fourth. Steadily runs figures in the mid-80s, which are among the best in the race.
#12 Bourbon Street (6/1): Goes first off the claim for Anthony Farrior, and has blazing speed from one of the far outside posts. Looks to keep moving forward third off the layoff.
LATEST NEWS