Laurel Park picks and ponderings January 2, 2021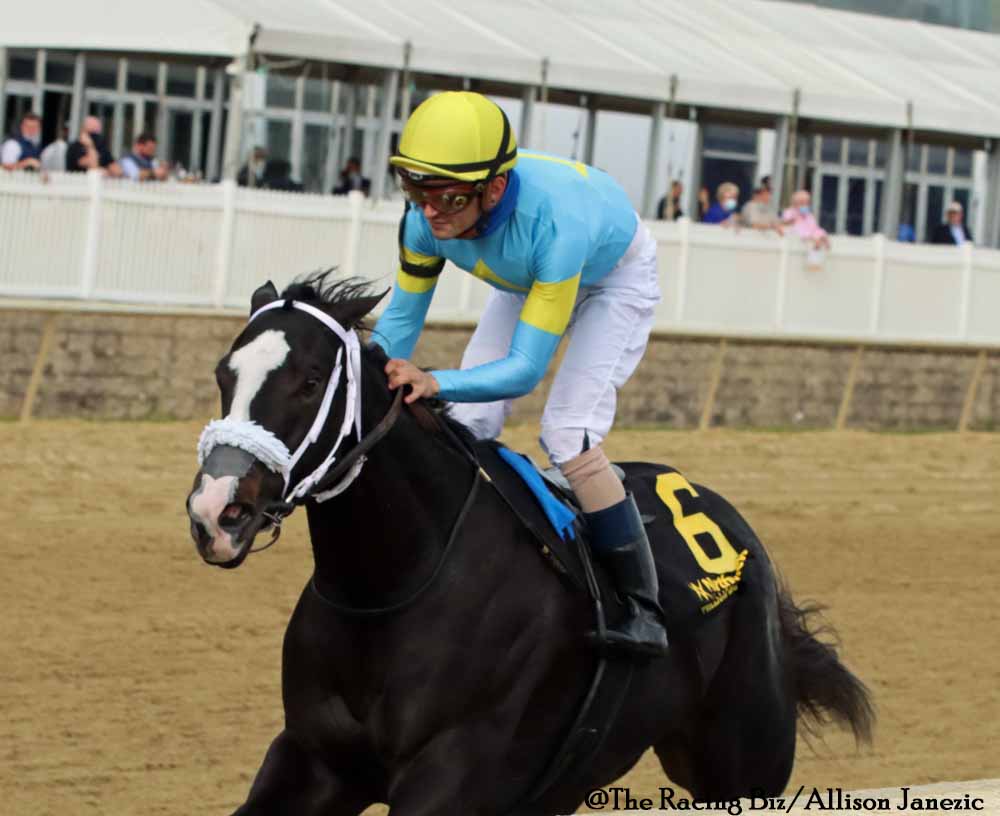 Hello Beautiful. Photo: Allison Janezic
In which we pick the races from Laurel Park each day…
Post time: 12:25 p.m.
Carryovers: Rainbow Jackpot Pick 6 — $806 Super High 5 — $0 Late Pick 5 — $0
ANALYSIS
RACE 1: MAIDEN SPECIAL WEIGHT, 3-YEAR-OLDS, 1 MILE
4-3-6-7
#4 Rippolino (7/2): He's run into some tough rivals in his last two starts. Two races back, he battled on the pace with Shackqueenking, who drew off and came back to win the Howard County Stakes. Last out, he won a photo for place, while finishing well behind the well-meant Stidham firster Manor House. As long as he can avoid another monster, he should be in good shape.
#3 Arrio (5/2): Brittany Russell horses always merit respect, but this one's in a bit tough. He's the only first-timer in the race, putting him at a disadvantage compared to his rivals. Even though he was purchased for $50,000 as a yearling, he was gelded before his debut. The board will tell the story: if he's getting action, we may have a live one.
#6 Flight Map (7/2): Exits the same race that Rippolino was in two back, against Shackqueenking. He was wide the whole way in that race, but held on well for third. Cuts back from 1 1/16 miles, and has some good workouts on his lines since that last race.
RACE 2: STARTER OPTIONAL CLAIMING $25,000, 4-YEAR-OLDS AND UP, FILLIES AND MARES, 5 1/2 FURLONGS
5-3-4-7
#5 Magical Anna (5/1): Claudio Gonzalez claimed her out of her last race, a win in a conditioned claiming race, and now steps her up in class. She has good tactical speed, a win at this level in her recent lines, and recent victories against some of her rivals in this spot. She had to battle on the pace last out, and while she managed to win, she was clearly the best horse in that race. That's not the case here, so Alex Cintron might want to rate her just off the lead.
#3 Halfinthewrapper (7/2): She's the horse Magical Anna will have to stalk and catch. That won't be an easy task, considering this one is blazingly fast. She's won three of her last four races, all of them in gate-to-wire fashion. The one time she encountered pace pressure, however, Magical Anna rallied to beat her. There's some horses who can press Halfinthewrapper in this race, but if she can outrun them, she's going to be in good shape.
#4 Foggy Dreams (6/1): In her last start, she fell behind a loose leader who wired the field, but rallied on and won a photo for place. The same thing could happen here. Even if Halfinthewrapper sneaks away, she can outkick the others and get a share of the exotics. She's hit the board in five of her last six, running a very similar race each time.
RACE 3: MAIDEN CLAIMING $25,000, 3-YEAR-OLDS, 5 1/2 FURLONGS
6-2-7-4
#6 Stretch the Truth (6/5): He almost wired a $40,000 field last out, but was caught in the last sixteenth. His brisnet figure of 76 is far and away a lifetime top. He's clearly the fastest in this weaker field early, and there's no one fast enough late to chase him down, so this looks like an easy dub. 
#2 Get Lit (7/2): Improved his figure eight points second out, closing to finish third behind a leader who ran away with it. There's an excellent chance that will happen again, but this one can still close and round out the exacta.
#7 Bobby Two Times (8/1): Dilodovico and Karamanos teamed up to finish second with a debuting 3-year-old yesterday. They'll send out another one here. This one is lightly-worked, but the workouts he has are promising. Could sneak through the cracks in the betting, and go off as a solid value play.
ANALYSIS
RACE 4: STARTER OPTIONAL CLAIMING $8,000, 4-YEAR-OLDS AND UP, 6 FURLONGS
1-3-8-2
#1 Phantom Ro (4/5): The only way he loses is if he falls down. Even then, he wouldn't be totally out of it. 
#3 Crush It (12/1): Comes back to Laurel after a disappointing try against similar at Penn National. He made what looked like a menacing move, but he flattened out. That's been his M.O. as of late: he stalks the pace and makes a promising bid, only to stop and get a piece of the minors. From another perspective, however, he's hit the board in seven of his last ten. His style is good for picking up checks, at least. He's a good horse to play underneath in an exacta or a trifecta, especially in a race like this. 
#8 Odds On (4/1): Won a Maryland-bred allowance last out after a long stretch battle. He's prevailed in two of his last three, running an 83 in each of his last seven. In his only recent loss, he was outrun by Phantom Ro. That's likely to happen again here, but he's still a serious threat to the rest.
RACE 5 – CLAIMING $16,000 (N/W2L), 4-YEAR-OLDS AND UP, 1 MILE
3-2-1-6
#3 Perpetrate (6/1): Lightly-race gelding makes his first Maryland start in more than a year, and tries a n/w2L claiming race on dirt for the first time. His first race off a long layoff two back was solid; he earned a figure of 71, not far away from his lifetime standards, against New York-bred allowance company. Since joining the Miguel Vera barn, he's turned in a sharp bullet drill at Pimlico in preparation for this spot.
#2 Company Clown (5/2): Claudio has kept this one at Parx until now, where his form has been all over the place. He ran a huge figure of 88 in a big effort two back, then was incredibly dull last out. This is his first time at this level, and his first effort beyond seven furlongs. He's got the ability to win it; the only question is if the good version of him shows up.
#1 Lasting Image (6/1): Broke his maiden in workmanlike fashion three starts back, then got in over his head in his last two. Takes a step back in class here. He's been running figures that are good enough to win at this level. Could end up being a good value play.
RACE 6: MAIDEN CLAIMING $10,000, 4 AND 5-YEAR-OLDS, 1 1/16 MILES
5-10-3-2
#5 Pardon the Pun (9/5): While it's true that he's faltered on the lead in each of his last three, it's also true that he hasn't faced a field as soft as this one in a while. This is a now-or-never moment for him. He should have no trouble getting an easy lead, and he won't have an excuse when they turn for home. 
#10 Bourbon Agogo (6/1): In contrast, this one doesn't have any early speed. However, he's shown a good closing kick in his last few, rallying on to at least finish close. An exacta with him beneath Pardon the Pun might be a good play.
#3 Blue Sky Painter (3/1): Took a nice step forward in his second start off the bench last out, earning a solid figure of 66 while finishing fourth against better. He's lightly-raced and has never lost at this level before, both positive aspects. Alex Crispin gets the mount for the first time.
ANALYSIS
RACE 7 – CLAIMING $5,000 (N/W3L), 4-YEAR-OLDS AND UP, 1 MILE
2-9-4-7
#2 Feature Act (8/1): The lightbulb has certainly turned on for him; he's won his last two starts, gobbling up ground in the stretch both times. This is tougher than any spot he's ever been in, but he's in consistently good form right now, and Kieron Magee is a sharp 21% off the claim. 
#9 Ghost on a Mission (5/2): He's also trying this level for the first time, after winning two of his last three against weaker. Has a stalk-and-pounce style that has seen him hit the exacta in his last five, and win against maiden claimers while drawing off three back. That'll enable him to get the jump on the other closers.
#4 Seattle Ric (6/1): While he'll encounter pace pressure here, it's unlikely that he'll be forced into a 23-second opening quarter, like he was last time. When he was pressed through slower fractions two back, he held well in the stretch to tie for second and earn a strong figure of 82.
RACE 8: ALLOWANCE OPTIONAL CLAIMING (N/W2X), 4-YEAR-OLDS AND UP, 6 1/2 FURLONGS
6-7-2-3
#6 Great Camanoe (9/2): He ran them off their feet in a n/w1x allowance last out, earning a figure of 91. He's unproven against these types, but he's clearly the fastest in the field early on, so he might be able to sneak away and leave them reeling. 
#7 Thundershook (5/2): Made a game rally at this level two races back, closing wide to lose against the very tough Galerio. Won five of six earlier in the year, mostly against starter allowance foes. He ran poorly next out at Parx, and has gotten some time off since that November 16 effort. Should be primed for a big effort today.
#2 Stone Courageous (4/1): Lost all chance last out when he stumbled badly and didn't get into the race. Prior to that, he earned three figures in the 90s in a row, including a gate-to-wire win three back. Should rate just off Great Camanoe, and will get first jump should he tire.
RACE 9 – CLAIMING $16,000 (N/W2L), 3-YEAR-OLDS AND UP, FILLIES AND MARES, 1 MILE
3-4-5-1
#3 Imagine Victory (7/2): Broke her maiden at third asking last out, surging for a dramatic win, with a strong figure of 72. She's the only one in the race who has never lost against winners, and has the most upside of this group.
#4 MJ's Lady (9/2): Showed some brief speed against tougher horses last out, then backed up badly. There's not much early speed in this one, so if Pimentel decides to be aggressive, he can sneak away to the front and leave them reeling.
#5 Rockstar Girl (5/1): Usually, I'm a bit leery of playing horses with a 1-for-25 record, but it's not as bad as it looks with this one. She's been competing in starter optional claiming races for a while now. Her figures in those races, which are generally in the mid-70s, are good enough to win this kind of race, but they weren't competitive against better. Now that she finally gets some class relief, she's got a much better shot to get that elusive second win.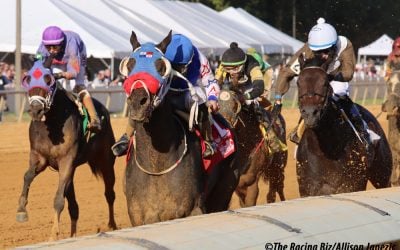 We provide full-card picks and analysis for this afternoon's races at Laurel Park.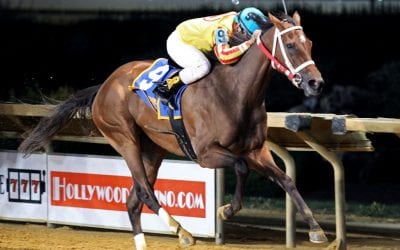 We provide picks and analysis for this evening's card at Charles Town Races.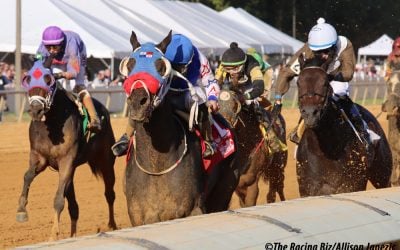 We provide full-card picks and analysis for this afternoon's races at Laurel Park.