Laurel Park picks and ponderings December 18, 2020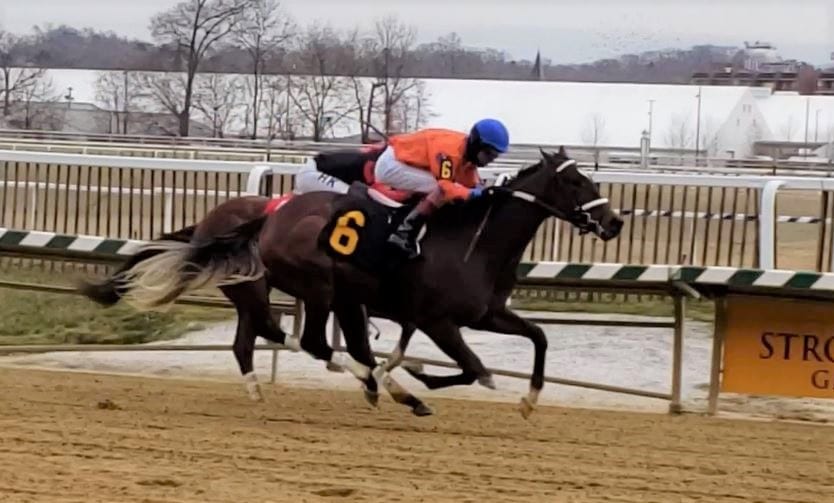 Virginia Beach. Photo: the Racing Biz
In which we pick the races from Laurel Park each day…
Post time: 12:25 p.m.
Carryovers: Rainbow Jackpot Pick 6 — $5,251 Super High 5 –$1,458 Late Pick 5 — $0
 ANALYSIS
RACE 1: CLAIMING $16,000 (N/W2L), 3-YEAR-OLDS AND UP, FILLIES AND MARES, 6 FURLONGS
4-5-1-3
#4 Villamoura (3/1): Drops to the n/w2L level for the first time, in her second try against winners. She broke her maiden in impressive gate-to-wire style two starts back, and looks fast enough to get to the front again here. Just missed third against better in her last race, with a very respectable figure of 71. She had to come from off the pace in that race. 
#5 Vics Cool Cat (2/1): Looks for a rebound off a very dull effort last time, when she began slowly and wasn't a factor. Two races back, she battled in the stretch and just missed, earning a career-best brisnet figure of 85. A race like that again would easily beat this group. She's also never lost at this level.
#1 Toma (4/1): Last out, it looked like it was finally going to be the day. She opened up a clear lead in the stretch, but stopped late. She consistently earns figures in the 70s, but hasn't yet found a field she can beat. Looks to get the trip again, can she cash in?
RACE 2: MAIDEN CLAIMING $40,000, 2-YEAR-OLDS, 6 FURLONGS
7-2-4-5
#7 Dr. Ferber (2/1): Got blown out in his last race, not only by Hello Hot Rod, but by the sharp runner-up All Threes. This one finished well clear of the rest, however, running on nicely after a wide trip. It's clear there's no one in this race at the level of those two.
#2 Swing Your Sword (7/2): Ran well on debut, chasing a well-meant first-time starter who got loose on the lead. He ran on well late, finishing well clear of the others while getting blown away by the top two. Adds blinkers here.
#4 Hemp (3/1): A stablemate of Swing Your Sword, he goes first time out for Anthony Farrior. His workouts have been strong, and Farrior is a sharp 23% with horses debuting for a tag. Should fire big at first asking.
RACE 3: CLAIMING $5,000 (N/W2L), 3-YEAR-OLDS AND UP, FILLIES AND MARES, 1 MILE
2-5-7-3
#2 Embrace a New Day (9/5): Stalked two horses who ran away and hid last out, which was her first for trainer John Robb, and ended up third. She stepped up to a $10,000 n/w2L race after getting claimed for $5,000, now she drops back to her original level. She'll have to rate behind speed horses once again, but there's lots of them in here. It's possible they end up coming back to her as they turn for home. 
#5 Lady Macho (5/2): Exits the same race as Embrace a New Day, where she was even farther off the pace than her rival, and didn't have much of a chance. Goes second off the layoff and gets blinkers off. Trainer Jerry O'Dwyer hits at 35% with that angle.
#7 Why Not You (6/1): Tries winners for the second time, and has some of the best late pace figures in the race. She doesn't have any early speed to complement it, unfortunately for her, so she strikes me more as an exotics contender.
ANALYSIS
RACE 4: ALLOWANCE (N/W1X), 3-YEAR-OLDS AND UP, 1 1/8 MILES
4-2-5-6
#4 Gentleman Joe (2/1): For much of the race last out, it looked like he was going to steal away on the lead and upset the big favorite, Zabracadabra. In the last sixteenth, that rival proved a bit too classy, and Gentleman Joe had to settle for second. He showed a new dimension in that race; usually, he stalks the pace. Alex Cintron keeps the mount after that last race. If he elects to use that speed again, he could be tough out there.
#2 Super Dancer (9/2): Finally broke his maiden in his ninth start, in a race where he was much the best and didn't have to try too hard to win. Earned some giant figures in the upper 80s/low 90s in his races just prior, after coming off a brief layoff. Interested to see how he does in his first outing against winners, in a decent allowance field.
#5 Closer Look (3/1): Handily beat a Maryland-bred bunch last out, drawing clear after rating off the pace. Two back, he lost to Air Token, who came back to win the Concern Stakes over a solid field of three-year-old sprinters. This one has some early speed of his own, and could cause problems for Gentleman Joe up front.
RACE 5 – CLAIMING $5,000, 3-YEAR-OLDS AND UP, 6 1/2 FURLONGS
5-1-2-6
#5 Jack Straight (2/1): Last out, he fell far behind two horses who stole away on the front end, and left him in the dust. This is a tricky race to figure from a pace standpoint: this one's got the best early pace figures in the field, but he's not really a front-runner by trade. There's a chance he ends up on the lead by default, which would bode very well for him. No matter what, I don't think there's anyone fast enough early to run away and hide, so he should get a more honest setup if he chooses to stalk. 
#1 Glengar (9/5): Drops back to the $5,000 level after finishing fourth against much tougher last out. He earned figures of 89 and 87 in his two races prior, which would easily beat this field. Should get a good trip rating just off the leaders on the inside.
#2 Wolfinbarger (6/1): Another candidate for the race's early leader. He tends to sit just off the pace, and although he's flattened out in his last few, those were against tougher fields than the one he'll see here. He should also get the kind of trip he wants.
RACE 6: MAIDEN CLAIMING $16,000, 3-YEAR-OLDS AND UP, 6 FURLONGS
6-5-4-1
#6 Make Us Smile (3/1): Ran a strong race in his first start off the layoff. He came from behind to finish fourth, just missing his lifetime top figure, earning a 70. Usually, he's up on the pace, but in that last race, perhaps because he was a bit rusty, he didn't show as much speed as usual, and had to show a new dimension. 
#5 More Twirl (1/1): Takes a drop from the $25,000 level, which is probably why he's such a dominant morning line favorite. He's also run some pretty consistent figures, earning a 60 in each of his last five races. Certainly worthy of respect, but he's had plenty of chances. I'm usually leery of betting horses like him at low prices, unless they're vastly superior. This guy is not; in fact, he doesn't even have the best last-out figure.
#4 Cheat Em Charlie (8/1): Goes first out for Hamilton Smith, and catches an uninspiring bunch on debut. He might need a race, considering Smith isn't that great with debuters, but if he's got any ability at all, he could run on and get a piece.
ANALYSIS
RACE 7 – CLAIMING $12,500, 3-YEAR-OLDS AND UP, 5 1/2 FURLONGS
6-1-5-8
#6 Lawn Boy (6/1): Drops from starter allowance types into open claimers. He's got some of the best figures in the field, running at least an 85 in his last two races. His late pace figures are also great, but the impact has been muted, as his competition was much better. Should pack a punch and run a big race, at a possible decent price. 
#1 Nova Boy (5/2): Another class dropper going second off the claim for John Robb. Closed well against better last out to finish third, with a very strong figure of 89. He's hit the board six times this year from nine races, without finding the winner's circle. However, this is also one of the easiest fields he's seen this season. Look for him to be well behind early, then close strongly.
#5 Drill's Li'l Man (2/1): Speedball battled on the lead last out, dueled his rival into defeat, then fought hard in the stretch and lost to the classy Divine Interventio. Here, he's the dominant speed, and could prove very tough to catch if he gets the right fractions. 
RACE 8: ALLOWANCE OPTIONAL CLAIMING (N/W2X), 3-YEAR-OLDS AND UP, FILLIES AND MARES, 6 FURLONGS
10-1-8-6
#10 Trunk of Money (4/1): A winner of three in a row, she's going to get her biggest class test yet in this spot. She ran huge last out, battling on the front end with the tough Fifteen Royals, then holding a surge of closers to win by a neck. Here, she's drawn the outside post, and there's a lot of tough speed horses drawn to her inside. It's going to be tough to outlast them, but if she does, she'll have proven herself as the real deal. 
#1 Fille d'Esprit (7/2): With all this speed, there's a chance of a pace collapse. If the front-runners melt down, this filly will be right there to take advantage. She has good tactical speed, the best late pace figures in the field, and the inside post. She's also riding a three-race winning streak coming in here, and has been working her way up the class ladder with efficacy. 
#8 Conjecture (5/1): She had been a front-runner earlier in the year, but has stalked the pace in her last two races. That paid dividends two back, as she won going away. Last out, she overtook the loose leader, but was outkicked and finished third. Her main move will come on the final turn, when the early leaders begin to fade. The question will then be: can she sustain that move?
RACE 9: CLAIMING $5,000 (CONDITIONED), 3-YEAR-OLDS AND UP, 1 1/16 MILES
7-6-2-9
#7 Gotham News (9/2): This ten-year-old veteran will race for the first time since July 16 in this spot. He's run in the 80s five straight times, and closed well for second against similar at Charles Town last out. Should get a good trip rating off the leaders, and get the jump on his rivals with virtually no early speed. The layoff is the only thing that could do him in. 
#6 Itgot Grandma (7/2): Ran well first off the layoff last out. He almost wired the field, before getting caught in the last sixteenth. There's no one who can press him early, so he should be able to sneak away to an easy, loose lead.
#2 Whirlin Curlin (5/2): Another one coming off a big race first off a break. He made a strong, wide rally last out, finishing a fast-closing second. He was claimed out of that race by Anthony Farrior, who is 26% first off the claim.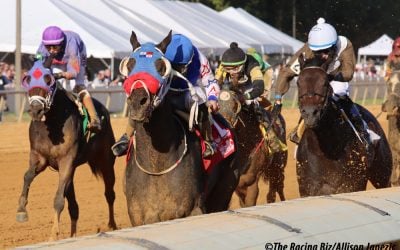 We provide full-card picks and analysis for this afternoon's races at Laurel Park.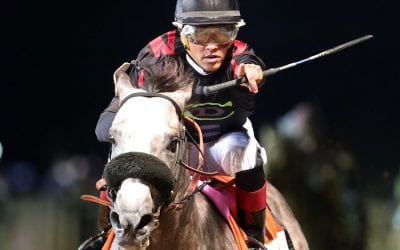 We've got Charles Town picks and preview today as the track presents its Friday card!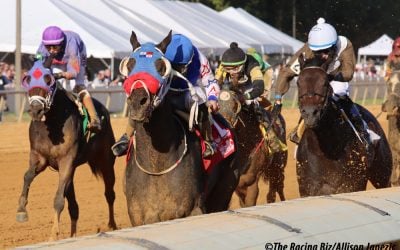 We provide full-card picks and analysis for this afternoon's races at Laurel Park.