Delaware Park: The top 5 local juveniles to race are…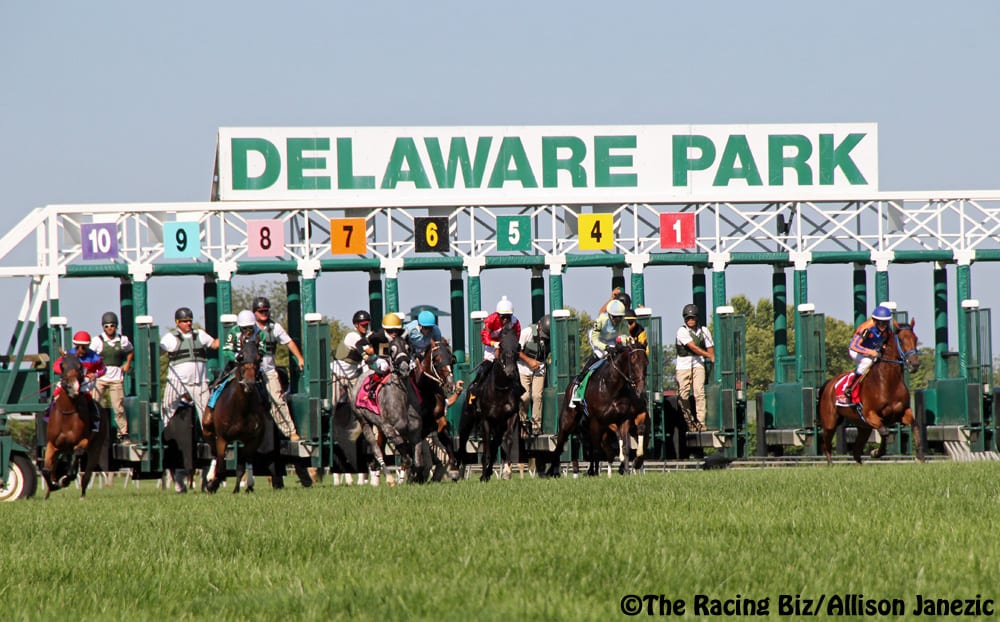 Racing at Delaware Park. Photo by Allison Janezic.
There's some history of two-year-olds breaking their maidens at Delaware Park and going on to do big things.
Back in 2005, for example, a rangy and precocious first-time starter trained by Michael Matz ran several assistant starters in circles for four or five minutes but when he finally relented and was loaded in the gate, he popped to the front at the start of a maiden special weight route on the turf and led from flagfall to finish for the first of six straight wins.
Barbaro's last win was a 6 1/2-length romp in the 2006 Kentucky Derby and, sadly, the final race he would finish. After breaking down at the start of the Preakness, and despite gallant efforts by his owners and the staff at New Bolton Center to save him, he succumbed to those injuries on January 29, 2007.
On June 26, 2004, a first-time starter trained by Tim Ritchey and ridden by Jeremy Rose named Afleet Alex won at first asking over maiden special weight company, romping home by 11 ¼ lengths. He followed that with an equally dazzling win against allowance rivals at Delaware Park, this time winning by 12, and he was off to the races.
After finishing just a length back of Giacomo in the 2005 Kentucky Derby in a race many thought he should have won, Afleet Alex avoided almost going down turning for home in the Preakness Stakes and got up off his knees to win the second leg of the Triple Crown by almost five lengths. He later added the Belmont to his resume.
And while she didn't break her maiden at Delaware Park, having previously scored at Parx Racing, it was Jaywalk's victory in the White Clay Creek Stakes last August at Delaware that helped launch her to stardom, a run culminating with a win in the Breeders' Cup Juvenile Fillies and an Eclipse Award.
This season 15 2-year-olds have scored at this historic oval in Stanton. Here are our top juvenile winners thus far this season.
1. TOMATO BILL: This $500,000 yearling purchase was one of the first juvenile winners of the meeting, winning at first asking on May 22nd. Trained by Christophe Clement, Tomato Bill came back to run second in the Grade 3 Sanford at Saratoga.
Clement says Tomato Bill is a welcome departure from most "babies" he's developed. "He makes things a lot easier because he's so smart and easily picks up what you're trying to show or teach him," the veteran horseman pointed out. "With young horses it's usually one thing or another that doesn't come together but with this colt all the things are clicking. He's a big tall horse but handles his size well and I believe he'll only get better the longer he goes."
A possible start in the Grade I Hopeful on September is among the possibilities for Tomato Bill, with an eye on the Breeders' Cup Juvenile later this fall.
2. JACK THE UMPIRE: The "mystery horse," this Bodemeister homebred's win on July 8 was over a sealed and wet strip, and the time wasn't blistering. But the way this one rallied four wide out of the turn and swept by the leaders was a totally professional performance.
Co-breeder, owner and trainer of Jack The Umpire Brett Brinkman brought his charge up from Louisiana for two reasons."First off, I wanted to get him out of the heat down here in Louisiana, course I didn't know we'd run into a history-making heat wave when we got here," Brinkman chuckled. "Then my wife is Scott Peck's daughter, and we wanted her to be able to spend some time with him, so that's why we shipped here. No big betting schemes, no great score, sorry."
Brinkman's planning on running Jack The Umpire next in the Sapling at Monmouth Park on September 1.
3. SIGHT OF HEAVEN: One of seven Anthony Pecoraro-trained juveniles to win at the meeting, Sight of Heaven just drew off and hid from her field on June 20, scoring by more than six lengths over sealed and sloppy strip. The runner-up in that race, The Minit I See You, came back in her next start to win impressively.
Sight of Heaven came back to finish third in an optional allowance sprint at Laurel and is entered in an allowance August 22 as a prep before she runs in a Delaware Certified stake on Owner's Day, September 28.
The master developer of young talent, whose stable is currently winning at a staggering 42% at the meet, says a trio of fillies, Rising Belle, Hufflepuff, and Shatter Me, have continued to train well and show signs of maturing since their first wins and look like they have a future. Hufflepuff and Shatter Me are both by sire Stay Thirsty.
4. THE MINIT I SEE U: Finished second to Sight of Heaven and then came back to win his next start, this Camejo-trained son of Star Guitar earned a high figure in his win and looked very focused and professional vying for the lead to mid stretch before pulling away late.
He's entered in the same August 22 race as Sight of Heaven.
5. HONORABLE MENTION: Boat Over the Hill, trained by Jamie Ness, won at first asking and shows potential. He ran fourth in an allowance/optional claimer at Laurel next out and is entered at Delaware August 22. Also, an old Delaware Park favorite, Steve Klesaris, uncorked an attractive Atreides filly named Lovely Brown to win her debut in a maiden turf sprint, and she looked very professional en route to that victory.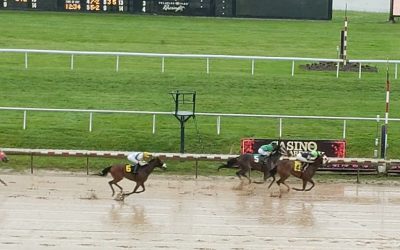 In a new Off the Pace, Mike Valiante shares 10 New Year's resolutions he offers for Delaware Park.