by Linda Dougherty
Dave Cottle lives and breathes in a world of balls, sticks, nets and green fields as the president and head coach of the Chesapeake Bayhawks of Major League Lacrosse.
Cottle, a Baltimore, Md. native who was previously the head coach of the men's lacrosse teams at both the University of Maryland and Loyola College, is also immersed in the world of pedigrees, broodmares, breeding and racing, through his association with Mark Reid's Walnut Green in West Grove, Pa.
Coach Cottle will be taking his first shot on goal at Fasig-Tipton's Saratoga Sale the night of August 5 when Hip 106, a Harlan's Holiday-Tina Dynamite, by Dynaformer filly he co-bred with homebuilder Dan Ryan of Smart Angle LLP, enters the auction ring.
"She's a very athletic filly," said Cottle, who breeds his horses under the name C-Biscuit Racing. "I've sold horses at auction before, primarily at Keeneland, but this will be my first time selling at Saratoga. It's pretty exciting."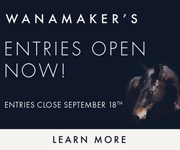 Cottle, who now lives in Annapolis, excelled as a lacrosse player before turning to coaching. At Salisbury State University in Salisbury, Md., he set numerous school and NCAA records. In 1975, during his freshman season, Cottle led the nation in scoring, and became the second player in history to surpass 100 points in a season.
As a coach, he led the University of Maryland to two Atlantic Coast Conference championships (2004-05) and was named ACC Coach of the Year in 2008.
Cottle developed his love of thoroughbred racing as a young man, accompanying his father to tracks in the mid-Atlantic region.
"My father really enjoyed the horses," he said. "We'd go to Pimlico, Laurel Park, Delaware Park, whatever track was running. We'd even go on Thanksgiving Day."
Cottle said he and his father partnered on a racehorse, the Maryland-bred Missilereef, in the mid-1990's. When his father passed away, Cottle decided to change direction and try his luck with dog racing.
"I bought some greyhounds," he said. "But I decided to get back into the horse business. I was introduced to Mark Reid, another University of Maryland guy, and his first question to me was, 'What are your goals?' I told him I wanted to have horses that could win at Saratoga and Gulfstream Park. He's taught me a lot. And I was very fortunate with the first group of horses I became involved with."
Cottle's first partnership horses with Ryan and also Rocky Mountain Stables included the multiple stakes winner Rush Now, who won two stakes for them and placed second in the Grade 2 West Virginia Derby.
Also among that first group was stakes winner Parent's Honor, who fulfilled Cottle's dream by winning at Saratoga, and All For Thee, who won the Go For Wand Stakes and placed in the Grade 2 Delaware Oaks.
Always a student of whatever game he's involved in, Cottle soon turned his attention to the breeding side of things.
"I studied the science of breeding – pedigrees and nicks," he said. "Mark (Reid) is an expert on conformation, and I learned enough about pedigrees so that we started buying broodmares. I look for mares with good pedigrees that maybe have fallen out of favor a little bit. And Mark educated me about the strengths of the Pennsylvania breeding program."
Some of Cottle's current broodmares and their 2014 foals include Charlie My Girl, an Unbridled's Song mare who has a Quality Road colt; Marieval, an El Prado (IRE) mare that produced a Malibu Moon filly; Bijou Belle, a Cryptoclearance mare who has a First Samurai filly; Adrenalin Running, an A. P. Indy mare who produced a Tiz Wonderful colt, and Ifyouprefersilver, a Silver Deputy mare who has a Sky Mesa filly.
Tina Dynamite was a "super match" to Harlan's Holiday, said Reid, who added that Cottle is a very "down-to-earth guy" and a pleasure to work with as a client.
Of the Harlan's Holiday filly being offered at Saratoga, Reid commented, "She has a lot of the Harlan's Holiday look – typey and compact, and stout with muscle."
Whether it be coaching and managing a lacrosse team, or breeding and selling his thoroughbreds, Dave Cottle is doing it on the highest levels of each individual sport.
"It's extremely difficult to make money in horse racing," said Cottle. "But I think I've gone about it the right way. And I really have to give most of the credit to Mark (Reid)."