by Teresa Genaro
This is the first in our series of Saratoga "Spa Diaries" for The Racing Biz, as we check in with various Mid-Atlantic horsemen and women who are spending the meet at the Spa.
The Dutrow stable is tucked into a shady corner of Horse Haven, not far from where racing began in Saratoga in 1863, on a farm near what would become the Oklahoma training track. A sign with a big red D emblazoned on a field of black adorns the side; horses and humans walk under the trees. It is pastoral, it is calm, and it belies the energy and activity that it takes to run a stakes-winning barn on the country's toughest circuits.

No small amount of that energy and activity comes from Kim Dutrow, who has been married to trainer Tony for 23 years and is an integral part of his racing operation, creating short lists at sales, setting up barns, and finding homes for horses when their racing careers are over.
The Dutrows are no strangers to success at Saratoga, particularly with fillies.  Touch Love won the 2001 Schuylerville. Willa On The Move won the 2003 Honorable Miss.  Rightly So won the 2010 Ballerina.  So Many Ways won the Grade 3 Schuylerville and Grade 1 Spinaway in 2012.

But it was a colt that kicked off their 2014 Saratoga season when Big Trouble, owned by Team D, won the 100th running of the Sanford Stakes on the second day of the meet.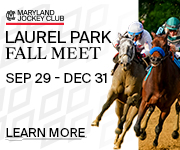 "Team D is my baby," said Kim Dutrow earlier this week. "It's really important to me, because it's made up of old-time Maryland people, people that have been with us for years."  Like the members of Team D, Tony Dutrow himself is an old-time Maryland person, having grown up there while his father, Dick, was a top trainer there.
The Dutrows have long managed partnerships under various names, but Team D, says Dutrow, is especially fitting.
"It's staying Team D," she stressed, "because it's a team of these loyal people. They've been with us for fifteen years in all kinds of partnerships."
"Mr. Akman was with Tony's dad for years with King Swan," she said with a smile. "Mr. Beatson's an old time Maryland guy, and they've been with us through good things and bad."
Alvin and Marion Akman, Howard Bender and his late wife Sondra, Arlene and Herbert Kushner, Bill Beatson. Dutrow beams when she talks about them, appreciative of the longevity of their relationship.
"They are all such loyal people," she said. "The team couldn't ask for any better.
"Team D has also brought in Keith Jones, the ex-hockey player and NBC Stanley Cup announcer, and Samantha Siegel, who is best friends with Bill Beatson."
Big Trouble was purchased by Team D for $230,000 at last year's Keeneland September yearling sale. Tony Dutrow said he loved the way the horse looked; he was a "real athlete," said Kim.
"It means so much to go to the sales and come out with a horse that can win a stake at Saratoga," she said. "It's ton of work, especially at Keeneland, but Bo Hunt, who breaks our horses, has taught me a lot about picking out horses. He's been a big part of it."
Like a lot of other stables at Saratoga, the Dutrows have brought some promising two-year-olds. Big Trouble is one of them; another is I Spent It, owned by Alex and JoAnn Lieblong, who broke his maiden at first asking at Belmont earlier this month.
The Pennsylvania-bred Today's Agenda, by Monba out of the Pine Bluff mare Alison's winner, was purchased by the Lieblongs for $180,000 in Ocala in March and will make his first start on Saturday at Saratoga.
"I'm telling you to bet on him," Kim said. "I also like a filly named More Than This. She's going to be a while, but she's one of my favorites."
She mentioned a Lieblong Scat Daddy two-year-old named Burdines, and Cara Marie, an Unbridled's Song filly, the latter a $460,000 yearling purchase. The Dutrows' current stock is a long way from the $1,400 horses they bought when they started out.
Some of the horses are at the Dutrows' Fair Hill barn, some at Saratoga in that shady spot under the trees, a spot that is meaningful to Kim, but not for its location.
"It was Marjorie Cordero's barn," she said. Cordero was a jockey, trainer, and agent; married to Angel Cordero Jr., she was killed in a hit-and-run accident near her Long Island home.
"I'm godmother to her baby," said Dutrow, "and she's how I got started on the racetrack. I'm really happy to be in her barn."
(Featured image, of now-retired Dutrow runner Gracer, by Jim McCue, Maryland Jockey Club.)