by Teresa Genaro
Frigid in New York. Balmy in Florida. Warm, cold, rain, shine, north, south, Aqueduct, Gulfstream.
On the first weekend of 2014, racing interests with Mid-Atlantic connections were kind of like the U.S. Postal Service: nothing kept them from their appointed rounds, and several kicked off the new year with a trip to the winner's circle.
An unexpected escape from the wintry north took me to south Florida, but even when I wasn't looking for them, reminders of the Mid-Atlantic kept turning up.
Last Thursday, the advance for Saturday's Busanda Stakes at Aqueduct got my attention when it dropped into my inbox during a trek down the Florida Turnpike. (I was a passenger, not driving.)
"Camille Claudel?" I thought, looking at the entrants. "There's a horse named after a French sculptress?"
I recalled loving the eponymous 1988 movie starring Isabelle Adjani. But why, I wondered, did Sycamore Racing name its filly after the temperamental artist who had a tempestuous affair with Auguste Rodin?
If anyone knew, it would be Twitter. Or more accurately, the filly's trainer on Twitter, Maryland-based Francis Abbott III, aka @f_abbottIII.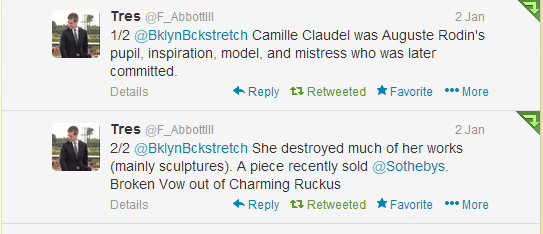 Broken Vow-Charming Ruckus.  That's some clever pedigree naming right there, with bonus points for the artistic allusion.
Added Abbott, "Camille is not so much crazy as she is independent & strong willed. A very 'feel good' type of filly."
Alas, Camille Claudel, who had broken her maiden at Laurel by 19—yes, that's right, 19 lengths—was sixth in her first stakes attempt, prompting Abbott to add this update:
Asked a lot of Camille Claudel in Busanda S; 1st time against winners, 1st extended ship & chilly receiving barn. She'll be back! On to FL!

— Tres (@F_AbbottIII) January 4, 2014
Lucky Camille. Lucky Francis.
Just about an hour after the Busanda was run, the Mid-Atlantic made its presence known again at snowy Aqueduct when the Virginia-bred Noble Moon won the Grade 2 Jerome. Bred by the Estate of Edward P. Evans, Noble Moon is owned by New York's Treadway Racing Stable and trained by Belmont-based Leah Gyarmati.  The colt's 2 ½-length victory has put him on the Derby trail; the DRF's David Grening reported that Gyarmati will point him to the Wood Memorial, with a prep in either the Withers in February or the Gotham (won in 1973 by a certain other well-known Virginia-bred) in March.
A thousand miles south, about 50 degrees warmer, and a little more than an hour later, on an afternoon that had grown so dark that the finish line lights had to be called into action, another Virginia-bred, New Jersey-based Just Call Kenny, was the upset winner of the $100,000 Spectacular Bid, a race he wasn't even supposed to run in.
"There was an allowance race scheduled for today," said trainer Patrick McBurney, "and we wanted to get a sprint allowance into him before stretching him out to a mile. When the allowance didn't fill, the racing office said this race is here, and we went in. It worked out well."
While Noble Moon was expected to win the Jerome—he went off as the odds-on favorite—Just Call Kenny looked an outsider to the betting public, except to those smart enough to bet him at almost 20-1. (I was not among them.)
Just Call Kenny broke his maiden at Monmouth in August, then was second at Laurel in October. McBurney's not sure where he'll run next.
"We were thinking of going into a one-other-than allowance going a mile next time," he said. "Now we'll have to come up with a new plan."
The current plan is working just fine for another mid-Atlantic denizen, jockey Jersey Joe Bravo, who took two of Gulfstream's three Saturday stakes.  He upset the the Spectacular Bid on Just Call Kenny after taking the Marshua's River with Naples Bay in her career finale.
Currently 6th in the Gulfstream jockey standings by earnings and 11th by wins, Bravo ended the Monmouth meet in fourth place in that jockey colony. On Sunday, Bravo added two more wins to his meet total.
As Bravo rode his last winner of the weekend at Gulfstream on Sunday, I was at 35,000 feet, finally airborne after a three-hour delay caused when JFK airport closed after a plane slid off a runway described as a "skating rink." The airlines might have had a hard time taking care of business, but at Aqueduct and Gulfstream, despite snow and rain and heat and gloom of night, Mid-Atlantic couriers had no trouble with the swift completion of their appointed rounds.