LAUREL PARK PICKS AND PONDERINGS FEB. 7, 2021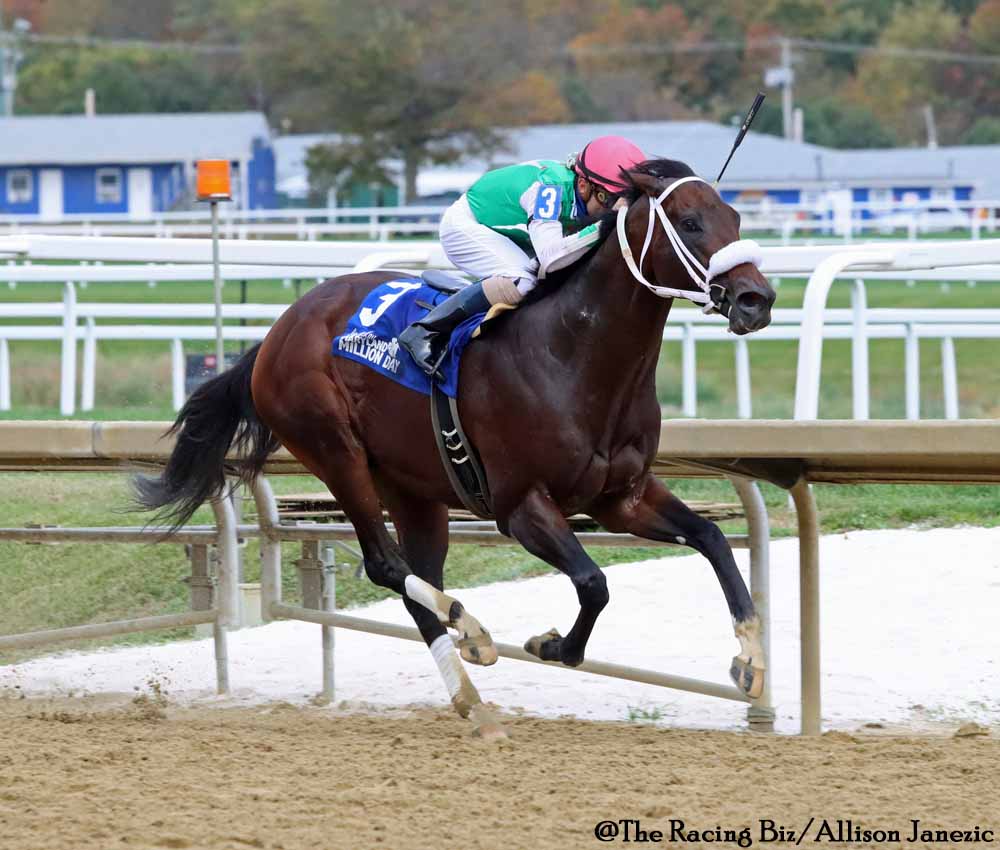 RACE 1: MAIDEN CLAIMING $16,000, 4-YEAR-OLDS AND 5-YEAR-OLDS, FILLIES AND MARES, 7 FURLONGS
5-6-4-3
#5 Steely Band (7/2): She had been struggling since returning off a brief layoff, but improved sharply in her last start, with a second-place finish at this level. She's closed well going a bit longer before, so going from six to seven furlongs shouldn't be too big an impediment.
#6 Miss Philly Dilly (2/1): Might have been the best horse both times she raced for $16,000, but had some trouble each time and just missed. Her last race was very dull, but it was going longer than she likes, and she's had time off since that start.
#4 Sand in My Shoes (7/2): She's been on the pace in her last few, and while she's run big brisnet figures, she's weakened in the stretch. This time, she's going to have the pace advantage if she wants it, with the fastest early pace numbers in the group.
RACE 2: CLAIMING $10,000 (N/W3L), 4-YEAR-OLDS AND UP, 5 1/2 FURLONGS
5-6-4-3
#5 Pyser's Orb (5/1): Tried to run with Workin on a Dream last out, but couldn't do it and backed up. That one came back to cross the wire first in a starter optional claiming race yesterday, but was disqualified. He was in fine form at Prairie Meadows last year, running figures as high as 92. Dropping in class and going third off the layoff, he looks tough.
#6 Redacted Report (10/1): Showed lots of guts in first start off a long layoff last out. He was pressed throughout, sent his presser into submission, then held off a perfect-trip rival for the win. Granted, that was in a n/w2L race, but he still needed lots of heart to win it, and he should take a step forward second off the bench.
#4 Justice of War (7/2): Made a big move and just missed in his local debut. Another one going third off the layoff, and first off the claim for Jose Magana from Linda Rice. Will be interested to see how he does switching barns.
RACE 3: MAIDEN CLAIMING $40,000, 4-YEAR-OLDS AND 5-YEAR-OLDS, 1 1/16 MILES
3-5-6-4
#3 American Piper (6/1): Showed early speed in his last race at this level, but backed up after about three-quarters. Once again draws a spot towards the inside, faces a field full of chronic losers, and gets Alex Crispin in the saddle. Notably, Crispin jumps off a Claudio Gonzalez horse for this mount.
#5 Galilean Moon (3/1): May very well have won last out if Acosta didn't drop his whip. As it were, he battled and lost by a neck, for his third consecutive improving figure. He was close to a slow pace in that race. Usually, he sits far behind and has too much to do. Acosta might want to keep the lessons of that last race in mind.
#6 Zuzudini (8/1): New York shipper makes his second start off a long break. Last out, he was completely flat in this level at Aqueduct. Earlier in his career, he steadily ran figures in the 80s. He's a leap of faith play, to be sure, but you'll get the right price.
RACE 4: MAIDEN CLAIMING $10,000, 3-YEAR-OLDS, FILLIES, 1 MILE
7-6-4-5
#7 Used to be Fun (3/1): She's taken dramatic steps forward in each of her three starts. Last out, she was pressed on the pace, and held on for third. I'd feel better if she was still sprinting, but a longer distance against this field shouldn't be too much trouble.
#6 Cue the Band (7/2): Another one coming off a career-best race. She sat the trip off Used to Be Fun last out, encountered some traffic problems, but closed well to overtake that rival and finish second. That was the first time she's really shown a closing punch; she'll hope to keep showing improvement.
#4 Acadian Girl (5/2): Emanuel Geralis claimed her out of her last start; he's 16% with that angle. He gave her some time off since that last race; now she comes back. She's run figures in the upper 50s pretty steadily over her last few races. If the aforementioned two regress, that could be her chance to shine.
RACE 5: STARTER OPTIONAL CLAIMING $8,000, 4-YEAR-OLDS AND UP, 7 FURLONGS
2-4-5-1
#2 The Walk (7/2): It's true that he got an easy trip last out, rating off a blazing fast pace. However, it wasn't as easy as it looks, as his rivals held in well despite setting that brutal tempo. One of them, To the Front, came back to win his next start. This guy's going second off a long break, and should sit just off the lead once again.
#4 Big Boots (3/1): This gelding's found his best form as of late. He's won three of his last four, with his only defeat in a very salty starter allowance field at Charles Town two races back. He was claimed away from Richard Sillaman in his last start; now goes for the barn of Robert Key.
#5 Glengar (9/2): He was claimed for the second straight last time, as Dale Bennett plucked him out of the Anthony Farrior barn. He won three of his prior four, but disappointed after a wide trip last out, finishing behind Big Boots. The price will be right if you still believe.
RACE 6: MAIDEN SPECIAL WEIGHT, 3-YEAR-OLDS, FILLIES, 7 FURLONGS
2-1-7-4
#2 Gravity's Rainbow (2/1): Brittany Russell has sent out many well-meant 2 and 3-year-olds over the last few months; this is yet another. She's had a string of five-furlong workouts in preparation for this race. None of them have been awe-inspiring, but it's not a strong field, and this barn fires with their debuters. Watch the board.
#1 Likely Choice (7/2): Improved her figure eight points second time out, finishing an even third against similar. Gets blinkers for the first time.
#7 Door Buster (7/2): Ran two good figures in the low 70s to begin her career, then got destroyed by Little Huntress, finishing second by fourteen lengths. I don't think Gravity's Rainbow is as good as her stablemate, and this one has shown good tactical speed. Worth another shot.
RACE 7: ALLOWANCE OPTIONAL CLAIMING (N/W2X), 4-YEAR-OLDS AND UP, 7 FURLONGS
1-6-4-2
#1 Oxide (7/2): Tried some top Maryland-breds in the Jennings Handicap last out, and found that spot a bit too ambitious. Ran some gutsy races to clear some conditions in his races prior, with figures in the low 90s. That would probably be good enough to win this one.
#6 Hanalei's Houdini (5/1): Went on a nice little run last summer, but hasn't quite been the same since returning from a break. He earned a figure of 94 in the Jennings last out, which was about what he was earning over the summer, so maybe he's getting back to his old self.
#4 Fed Funds (4/1): New York shipper came from way downtown to win a n/w1x race two back. Last time, he ran a big figure of 96, but didn't have enough early speed to be a serious contender. Crispin gets the mount for his return to the circuit. Can he push him home?
RACE 8: ALLOWANCE N/W1X), 4-YEAR-OLDS AND UP, FILLIES AND MARES, 5 1/2 FURLONGS
2-3-4-1
#2 Vics Cool Cat (7/2): She went gate-to-wire in each of her last two races, and has the perfect post to try and do it again. It's also her third race off the layoff.
#3 Indy Takes Charge (9/2): Finished second in three races in a row at this level last year, then showed little after getting action in her first race back. That performance might scare some backers away, but she's had good works since that December 31 race, and should fire a big one here.
#4 Map of America (9/5): Another one who will likely show speed. She's been getting run down in her last few races, but she hasn't gone this short since last August. Will it play more to her favor?
RACE 9: MAIDEN CLAIMING $10,000, 4-YEAR-OLDS AND 5-YEAR-OLDS, 1 1/8 MILES
2-3-4-5
#2 Brightwood (2/1): He's improved in each dirt race, surging and just missing last out. He had a rough trip in that spot, as well. This will be his first start since November 13.
#3 Orbonthebayou (6/1): Stretches back out from six furlongs, and goes third off the layoff. He's shown little in sprints so far, but he's never gone long on dirt before. Will he like it?
#4 Mo American (9/2): He doesn't have a lick of early speed, but has churned on to get checks in his last few. Looks like a good underneath candidate, in a race well-suited for plodders.
LATEST NEWS