by Frank Vespe
Put this name in your stable mail: Lady Sabelia.
Six weeks ago, she was just another maiden.  Now she's a stake winner, and you can't help but wonder just exactly how high she can go.
For on a day when Laurel Park saluted the troops and celebrated the city in which it resides, in which its four stakes included the hard-hitting Japan Racing Association and a City of Laurel Stakes with no fewer than three graded winners, it was this unheralded filly out of the Robin Graham barn who stole the show with a showy victory in Saturday's Safely Kept Stakes for three year-old fillies.

Sent off at 7-1,  the daughter of Majestic Warrior out of the winning Citidancer mare Terra Maria sat a relaxed trip off the speed of favored Crazy About Me, who slugged it out on the lead with longshot Sunlit City.  Those two set zippy early fractions — 22 2/5 seconds for the quarter, 45 1/5 for the half.  And when Horacio Karamanos, aboard Lady Sabelia, pushed the button midway around the turn, she responded readily, grabbed the lead, and was never threatened en route to a 1 3/4 length victory.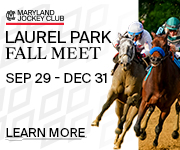 As fast as Lady Sabelia is, however, it took her a while to get here.
She debuted in October of her two year-old season for owner-breeder Mrs. Frank Wright, and she ran well enough in three juvenile starts — including a second and a third — without breaking her maiden.  And then she was gone — no starts from late December of last year until October 2.
"Her shins were bothering her last year," explained Graham.  "We just obviously didn't want to have it be this long.  But it just took this much time to get her shins right."
[boxify cols_use ="5″ cols ="5″ position ="left" order ="none" box_spacing ="5″ padding ="5″ border_width ="2″ border_color ="blue" border_style ="solid" height ="60″]
[/boxify] She returned, shins healed and blinkers added.  And then she absolutely obliterated a maiden field, winning by nearly 13 lengths in a time just a tick off the course record for 5 1/2 furlongs.
"We don't ever look too far ahead," said Graham, smiling.  "You wait until you break your maiden, then see what's coming."
What was coming should have been a big challenge: stretching out from a short sprint to a 7 furlong test while stepping up from maidens to a field that included two stakes winners, the graded stakes placed Mr. Hall's Opus, and Crazy About Me, winner of five straight, all by wide margins.  No one would  have blamed Lady Sabelia if she'd run well but tired late.
Never mind that, though.  "She's running freakishly again today," said track announcer Dave Rodman, and that descriptor's probably as good as any.
She did get a bit tired late, and the closers, provided a very fast pace to run into, did close; Flattering Bea and Mr. Hall's Opus, 11th and 10th after a half-mile, finished second and fourth, respectively.  But none was ever any threat to catch Lady Sabelia.
"At the beginning of the stretch, I got a lot of horse," said rider Horacio Karamanos, ebullient after the win.  "She's got to be tired, first time going 7/8ths of a mile.  But she really tried hard to the wire."
"She's a lot of class," added Graham.  "She had to get a little bit tired; it was a huge step up for her."
Huge, perhaps, but not too huge.
Small enough, in fact, that she aced the test against good company and gave reason to believe she could do more.  For one thing, she showed a dimension today that she hadn't needed in breaking her maiden: the ability to stalk and pounce.  For another, she had every reason to tire after the fast pace the fillies set; by contrast, a good group of three year-old boys, going the same distance in the City of Laurel Stakes two races later, took nearly two seconds longer to get the half-mile.
Yet Graham wasn't surprised.  "She's never been rank and ridiculous about any of it – she's been real nice about it," the trainer noted.  "That's one of the reasons we weren't afraid to step up to 7 furlongs, because she doesn't get rank and silly about it."
As for the future, Graham, laughing when it was pointed out that the filly remains eligible for a second-level allowance, was coy.  "We'll see what comes up," she said.