Delaware Park picks and analysis: September 9, 2023
Joe Parisi

September 9, 2023
Live racing at Delaware Park kicks off May 24 and runs through late October.
Once again this year, we will have Delaware Park picks and analysis for every day of live racing at the venerable track. Today's card features 10 races, and first post is 12:30 EDT.
Today's carryovers: None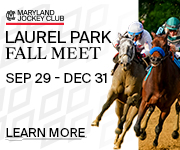 Race #1 Picks: 6-7-4-8
In this $20,000 maiden claiming race for two-year-old fillies at six furlongs, #6 Beach Island (9-2) flashed early speed in her debut when she was the co-leader at the quarter pole before running evenly in the stretch. That race set her up for an improved performance today, and we think she will fire. #7 Amorica (5-2) is moving back to a maiden claiming sprint after running a maiden route in a race that was taken off the turf. She fits well here and is a top contender. #4 Grace Reformed (6-1) showed early speed in the slop at Monmouth and could show improvement with a dry track. One to consider.
Race #2 Picks: 5-3-2-4
In this optional claiming/starter allowance race at six furlongs, #5 Clem Labine (5-2) got off to a terrible start against much better at Saratoga in last. He did show a little late kick, and we are looking for big improvement. Jockey Isaac Castillo will be on his first mount of the Delaware meet. #3 My Harbors Dream (7-2) is another David Jacobson trained horse. He won his only start here at Delaware which was sandwiched between two optional claiming races at Saratoga. He looks like he fits well here. #2 Chief Ron (8-1) is a horse for the course who has been in the top three in nine of his ten lifetime starts at Delaware Park.
Race #3 Picks: 5-8-11-7 (Dirt Picks: 8-4-6-12)
In this $16,000 maiden claiming race for fillies and mares at one mile and 70 yards on the turf, #5 Hopeful Cure (12-1) has run well in both of her Delaware turf starts before struggling at Colonial Downs. We are expecting a good effort now that she has some experience under her belt. #8 Fire At Midnight (6-1) just missed last time, running a 53 speed rating. If she repeats that performance, she might take the top spot today. If #11 Jaylee (10-1) draws in, she has a chance. She has the highest speed figure on the turf of all the horses in this race, and if she can repeat that she will be formidable.
CHECK OUT THE LATEST OFF TO THE RACES RADIO!
Race #4 Picks: 5-7-6-4
In this $57,000 maiden race at 5 ½ furlongs, #5 Childers (2-1) will be making his first start at Delaware after just missing at Laurel and Colonial Downs. Joe Rocco, Jr. will be on top for the first time at Delaware this year. #7 Legendaire (4-1) has been away since June when he had a good race at Parx. He has several recent bullet works here at Delaware and could be ready to roll.  #6 Neuschwanstein (4-1) has two good races at Laurel and is now making the move to Delaware. Keri Brion-trained horses have won at 4% in 32 attempts when the blinkers go on.
Race #5 Picks: 4-9-8-2
In this $58,000 first level allowance race at one mile and 70 yards on the turf, #4 Curly Larry and Moe (2-1) will be making his second start after a break and just missed by a nose last time. This three-year-old should improve off that effort, and if he does, he should win here barring difficult circumstances.  #9 Twist 'n Twirl (5-1) has been away since June and only has two races this year. While we don't like the inconsistent starting record, he did race well here and should be in the mix. #8 Opposites Attract (5-2) has two good races at Laurel where he closed, but he will need to get started sooner if he wants to win today.
Joe's Notes
It's the 31st annual Owners Day, featuring enhanced purses and the Governors Day and Rosenberger Memorial…
Jockey Angel Arroyo, unseated at the start of race five, was uninjured. "Everything is good," agent Jose Garcia said on Twitter….
Race #6 Picks: 2-1-5-9
In this $8000 starter allowance at one mile and 70 yards, #2 Exit Right (2-1) has been in excellent form and won a recent Delaware Park start easily. He has the top speed figures and seldom runs a bad race. We think he will win today to make it two straight. #1 Winter's Ghost (3-1) has run well in both his starts at Delaware on muddy and wet-fast tracks. It will be interesting to see how he runs if the track is dry. He fits well here and should be considered. #5 Flat Out Flying (5-1) should be in the mix but looks a notch below the top two today. He is a closer and could surprise if the speed falters.
Race #7 Picks: 1-7-6-3 (Dirt Picks: 5-11-10-6)
This $57,000 maiden race at 1 1/16 miles on the turf is loaded with plodders. #1 Hay Chief (8-1) has run several decent turf routes at Laurel, and a repeat of those efforts may be all that is needed to beat this field. He will be running late, and the question is whether there will be any speed for him to run at? If he can just remain in striking distance, he has a good chance to clear this field. #7 Armani's Tiger (3-1) ran ninth in the same race as Hay Chief when he went wide. If Jaime Rodriquez can keep him under control, he has a chance today. #6 It's My Time (6-1) is a first-time starter that has been working well and won't have to do anything special to beat this group.
#8 Picks: 5-4-7-6 
The $100,000 DTHA Governors Day Handicap at one mile and 70 yards, restricted to horses that have started at Delaware during the 2023 meet, is a wide-open affair with many possibilities. #5 Yodel E.A. Who (4-1) was very consistent until struggling in a few races recently.  He did not run well in his last race here but has won two of three lifetime at Delaware. He looks like a top contender. #4 No Sabe Nada (2-1) won going away in last to beat Irish Cork. Has won five of nine at Delaware and is a horse for the course. He is at the top of his game and is another top contender.  #7 Ardenwood (8-1) is going for two straight and three of his last four. He loses Kevin Gomez to No Sabe Nada but picks up Joe Rocco, Jr. He looks like he will be in the mix.
Race #9 Picks: 8-4-5-9
In this $100,000 Rosenberger Memorial is a starter allowance race restricted to fillies and mares that have started at Delaware during the 2023 meet at 1 1/16 miles on the turf, #8 Thisnameisokay (4-1) is very consistent on the turf and has won three of four at Delaware. She is able to run on the pace, which is an advantage here. We think this race sets up well for her and we have her on top. #4 Uncorked (5-2) has been excellent on the turf since coming over from Australia for Brittany Russell, and that should continue today. She is a top contender. #5 Downtown Katie (2-1) only has one win this year but is always close and has been facing tough competition. She was placed second through a disqualification in last and will be running late looking to pass tiring horses.
Race #10 Picks: 5-4-7-9
In this $10,000 maiden claiming race at one mile, #5 Run Rocky Run (4-1) has run well in his last two. John Robb has won at 25% when going from sprints to routes in 32 attempts.  This trainer-jockey combination has a 23% winning percentage in 22 attempts at Delaware for $2.45 ROI in 2022-2023.  #4 Curteis (3-1) has run well recently and is now dropping to $10,000 claimers. He should be able to compete for the win at this level. #7 Double O Otto (6-1) experimented on the turf and is now moving back to dirt where he has some decent races that were moved off the turf this summer. One to consider.
LATEST NEWS