LAUREL PARK PICKS AND PONDERINGS: april 1, 2023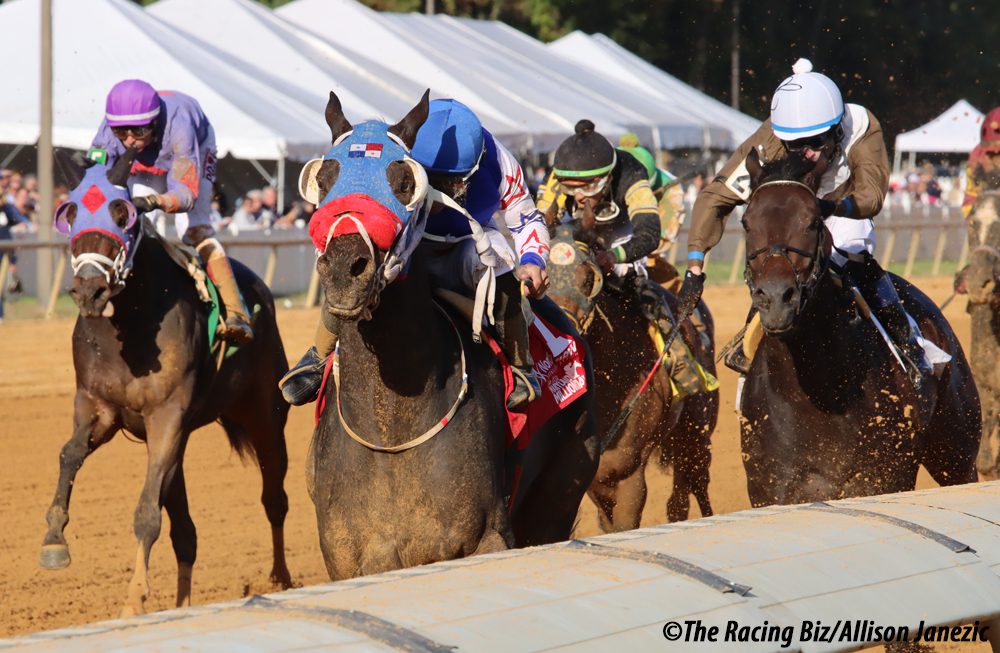 RACE 1: CLAIMING $16,000 (N/W2L), 3-YEAR-OLDS AND UP, FILLIES AND MARES, 6 FURLONGS
2-1-3-5
Jamie Ness and Jaime Rodriguez won the training and riding titles at the Laurel winter meet, respectively, and now they'll try to start the spring meet on a winning note with #2 Holy Delite (2-1). She broke her maiden last out in commanding fashion, breaking on top and drawing off to win by ten lengths. She's run back-to-back career-best brisnet figures since joining the Ness barn earlier this year, and should be tough to beat here. #1 Misty Mauve (5-2) goes second off a long layoff and plunges in class for Graham Motion. She raced wide throughout and faded first off the break last out, but still ran a 74, a solid figure for this condition. #3 Tap N Glo (7-2) sat the trip off the pace to break her maiden two starts back, and now takes a slight drop in class first off the claim by Richard Sillaman.
RACE 2: MAIDEN CLAIMING $12,500, 3-YEAR-OLDS, 1 MILE
5-4-2-3
#5 Irish Warlock (8-1) was well-bet on debut, going off at 5-1 as the lone first-time starter in the field. He was bumped at the start, hard enough to merit the disqualification of the bumper, Spectrier, but he managed to recover and get up for third. Spectrier came back to win his next start at this condition. #4 Distant Fire (3-1) was second to Spectrier in his last start after battling on the lead and sending his sparring partner to an 11-length defeat. He came from off the pace in his prior race and got third. #2 Real Rambo (5-2) didn't do too much around two turns last out after showing some mild speed. He closed well on debut but had no running room. We'll see what strategy Jevian Toledo employs here.
RACE 3: CLAIMING $8,000, 3-YEAR-OLDS AND UP, FILLIES AND MARES, 6 FURLONGS
7-2-5-1
#7 Shackleford County (5-2) has won three in a row, with her last two wins coming after determined stretch battles. She's cutting back from a mile; she's run an 82 and an 84 in her last two starts at this distance. #2 Lady Jean (2-1) overcame a wide trip near the pace to hold on for the win. She'll be able to sit off the pace towards the rail and get a much more ground-saving trip this time. #5 Backstreet Affair (4-1) has won two in a row against softer rivals. In her last start, she battled for the lead early, checked out of it on the turn, but regrouped and got up to score. That said, she might have a harder time doing something like that against these types.
RACE 4: MAIDEN CLAIMING $12,500, 3, 4, AND 5-YEAR-OLDS, 6 FURLONGS
3-2-7-6
#3 Notimelikepresent (2-1) made a nice re-bid for the front in his last start, and although he was outkicked by the strong kick of Espresso Lungo, he held clear of the rest and finished second. There's not much speed in this race, so he could find himself in an advantageous pace scenario. #2 Here and Nofurther (7-2) ran in the 70s in his first three local starts, then saw his figures decline in his last two starts when he was bothered at the break. With a clean start, he has a chance to improve. #7 Don Bernardo (5-1) closed strongly in his final two starts of the Finger Lakes season last year, but might need a race as he gets set for his local debut.
RACE 5: STARTER OPTIONAL CLAIMING $30,000, 3-YEAR-OLDS AND UP, 1 1/16 MILES
2-7-8-5
#2 Dolice Vita (4-1) won three races in a row, all of them at this distance, before getting beaten in a photo finish last out. He should clear to the rail and the lead from his post and take them as long as he can. #7 Semper Fi (5-2) came from just off the pace to win going a mile last out, in his first non-sprint start in a while. He's never gone this far before, but he's in improving form and shouldn't have much trouble here. #8 Rustys Gfivefifty (7-2) battled hard on the rail and got up to win last out, defeating Dolice Vita with a career-best 93. While his figures are among the best in the field, he's been the beneficiary of some fortunate draws as of late, and now has to deal with the outside post.
RACE 6: MAIDEN SPECIAL WEIGHT, 3-YEAR-OLDS, FILLIES, 7 FURLONGS
5-6-9-4
#5 Ginger Girl (4-1) was well-bet on debut, going off at 4-1 as one of two first-timers in the field. After a slow break, she rated off early leader Mystic Seaport, and while she couldn't catch that rival late, she ran on well and missed by just half a length. She's going first off the claim by Joanne Shankle and has worked well since then. #6 Hidewright Away (5-1) battled on the pace while wide and pulled clear late last out, but got run down by Six the Hard Way, who came back to win an allowance optional claiming race last Saturday. This one gets a rider upgrade to Jeiron Barbosa. #9 She Got the Munni (6-1) closed well for fourth off a rough break and looks interesting for the underneath spots at a price.
RACE 7: STARTER ALLOWANCE $5,000, 3-YEAR-OLDS AND UP, FILLIES AND MARES, 5 1/2 FURLONGS
RACE 8: STARTER OPTIONAL CLAIMING $30,000, 3-YEAR-OLDS AND UP, FILLIES AND MARES, 1 1/16 MILES
1-7-4-6
#1 Acadian Girl (5-2) couldn't make the front in either of her last two races against better, and as such turned in sub-par efforts. Here, she's taking a class drop and has an advantageous post. As such, she should get the trip she wants. #7 Dotada (7-2) has run in the 80s in her last three starts and won at this level two starts ago, albeit against just three rivals. #4 Hashtag Lucky (3-1) also has early speed and is rounding back into top form, but runs the risk of a tough trip if Acadian Girl is hard-sent for the front.
RACE 9: MAIDEN CLAIMING $30,000, 3, 4, AND 5-YEAR-OLDS, 6 FURLONGS
6-4-2-5
#6 Luv Ya Bye Bye (7-2) crossed the wire first two starts back, but was disqualified for interference at the start. Next out, he improved to a 76 but flattened out following a wide trip. He should keep getting better third off the layoff. #4 Margie's Fun Son (15-1) has run no worse than a 71 in two career starts and drops for a tag for the first time. He's racing for the first time since January 27 and could close for a share. #2 Union League (8-1) ran an 84 two starts ago, but showed little in his other two dirt races. He's going first off the claim by Richard Sillaman and has had some time to regroup since a dull race in early January.
LATEST NEWS