LAUREL PARK PICKS AND PONDERINGS: MARCh 31, 2023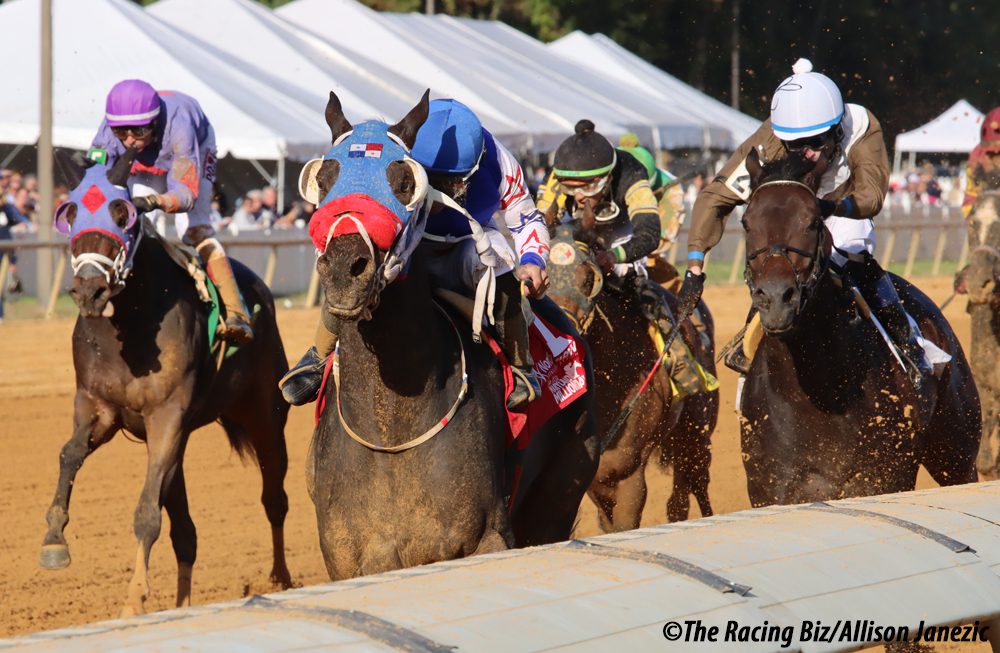 RACE 1: MAIDEN CLAIMING $30,000, 3-YEAR-OLDS, 1 1/16 MILES
1-7-6-4
There's eight races on the card as we wrap up the winter meet. #1 Occasional Moon (3-1) returned first off a six-month layoff last out and ran a solid brisnet figure of 74 after a wide trip. He should improve further second off the layoff. #7 Cloud Music (1-1) ships from New York for James Chapman, who will saddle stakes winner Drew's Gold later in the card. He's been on or near the pace in all three of his starts despite rough breaks, and has run exactly a 69 every time. He's dangerous, but might not be worth the price. #6 Maryland Moon (6-1) closed well for third in his first start going a mile or longer last out. Now he'll add blinkers and get Jaime Rodriguez in the saddle for the first time.
RACE 2: STARTER ALLOWANCE $5,000, 4-YEAR-OLDS AND UP, 5 1/2 FURLONGS
3–1-6-2
#3 Top Boss (7-5) has figures that tower over those of the rest. He's run at least an 87 in each of his last three starts, a mark the rest of these seldom achieve. He chased the free-wheeling Pit Stop Man in his last start but held second, and he won't have to deal with a rival anywhere that tough here. #1 The Cairo Kid (9-2) was fifth that day behind Top Boss, and had no late punch after stalking the pace. He's shown peeks of promise, including a defeat of Top Boss three starts back, but his last race is nonetheless cause for pause. #6 Great Go Go (9-2) fought hard on the lead to beat an open claiming field last out. While it was an impressive effort, a similar performance might be tougher against these.
RACE 3: MAIDEN SPECIAL WEIGHT, 3-YEAR-OLDS, 1 1/16 MILES
5-4-1-2
Bet you never thought you'd see this: a $300,000 Repole/St. Elias purchase making their debut in Maryland. #5 Run For Your Life (2-1) joined Brittany Russell's string at Laurel in late January and has worked well, including a bullet drill two starts back and a sharp four-furlong workout in 49 1/5 seconds on March 19. Repole got his first winner at Laurel a few weeks ago with Assume Nothing and was second with Be Better two Fridays ago. This one is the lone firster in the field, but his ceiling is very high and has to be respected. #4 Vax a Nation (3-1) has finished second four times in a row. Most recently, he was beaten by odds-on choice Uncle Jake, but finished well-clear of the others after a wide trip. Even if Run For Your Life blows them away, this one should be better than the others. #1 Dover Bluff (3-1) has run no worse than a 75 in two career starts and now adds blinkers.
RACE 4: ALLOWANCE (N/W1X), 4-YEAR-OLDS AND UP, 1 MILE
7-8-3-2
With the 8-race card, this race begins the late pick 5. #7 Brilliant Ice (5-2) was no match for better in the Not For Love Stakes, but closed with a frantic rally to win against Maryland-breds at this condition two starts ago. He's run no worse than an 89 in his last five starts. #8 Tate (2-1) led most of the way last out, but was caught in the last few strides by Jardani, who had hit the board against similar in his prior two starts. This one could get away to an easy lead. #3 Union Fleet (4-1) was third behind Tate last out and is in improving form. He didn't get much of a pace to close into that day, and will try to stay somewhat close to the lead to avoid getting pace-compromised.
RACE 5: CLAIMING $20,000, 3-YEAR-OLDS, FILLIES, 7 FURLONGS
1-7-5-3
Both halves of the Jamie Ness entry are imposing. I'll take #1 Goldieness (5-2) as my preferred half. She came from just off the pace to break her maiden last out on Feb. 10. Since then, numerous horses from that race have come back to win. She's had some great recent workouts and should be tough to beat. #7 She'll Make Waves (3-1) broke her maiden in impressive style on debut, then fought hard in the stretch to beat a field like this last out. I thought Jerry Robb might want to step her up in class off that win, but he's sticking to what works. She'll have to be hard-sent for the lead from the outside, but might be fast enough to clear. #5 Blowthruyelowlites (9-2) didn't do much in her first start off a brief layoff last out, but showed potential last fall and is eligible for a rebound.
RACE 6: CLAIMING $10,000 (N/W3L), 4-YEAR-OLDS AND UP, 1 MILE
4-3-5-8
#4 Branco Maria (4-1) and #3 Never Change (9-5) finished heads apart at this level last out on March 11. Both of them sat near the pace and made solid late moves, but both got outkicked by stretch-running longshot Cash Kid. They've run similar figures in their last few, and while it's hard to go against the Ness/Rodriguez combination with Never Change, Branco Maria will almost certainly provide the better value. #5 Total Effort (9-2) battled gamely to win a n/w2L race two starts ago and drops in class off a visually impressive race against better n/w3L types. However, the 76 he earned that day fits in with these.
RACE 7: ALLOWANCE OPTIONAL CLAIMING (OPEN), 3-YEAR-OLDS, 6 FURLONGS
RACE 8: MAIDEN CLAIMING $12,500, 3-YEAR-OLDS, 5 1/2 FURLONGS
2-3-8-6
#2 Bubba Chrome (6-1) was second at this level twice earlier in the year, and has run no worse than a 58 in his last four starts. He was flat as he favorite last out and will try to rebound here. #3 Strong Finish (1-1) makes his first start for Brittany Russell. He's raced just once, an off-the-board finish at Belmont Park last July. The class lines are impressive, but considering he hasn't raced in so long and will be a ridiculously low price, I'm inclined to take a shot against. #8 Great Googlymoogly (7-2) goes first out for Phil Capuano, who is 3-for-7 with first-time starters at the meet, and has shown a solid worktab since beginning serious preparations in mid-January.
LATEST NEWS