LAUREL PARK PICKS AND PONDERINGS: MARCh 24, 2023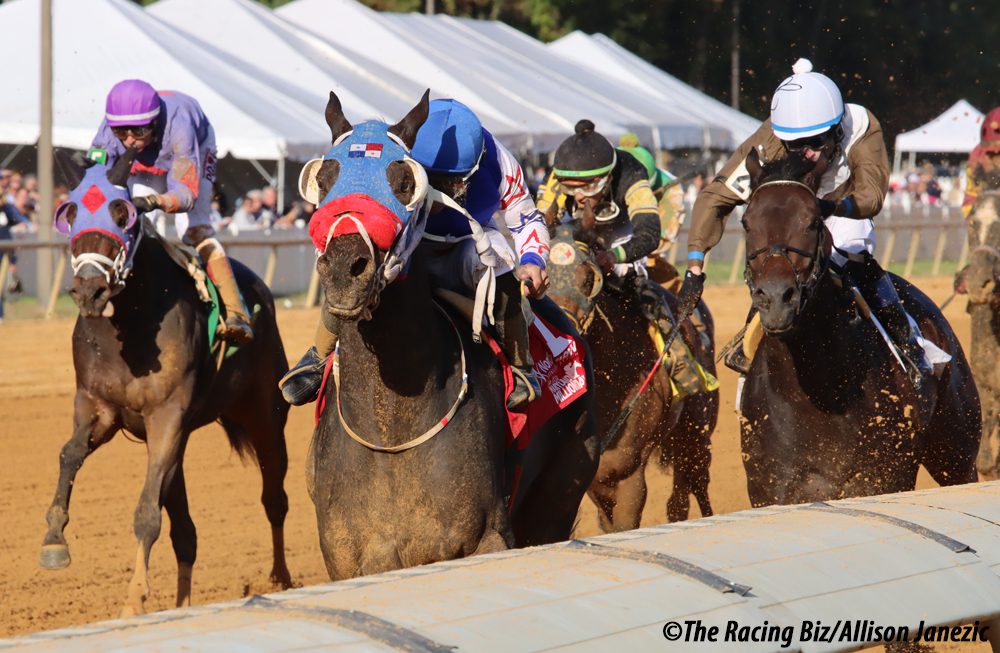 RACE 1: CLAIMING $10,000 (N/W2L), 4-YEAR-OLDS AND UP, 1 MILE
1-7-5-4
#1 Icy Minister (7-5) has closed well in three straight starts against better. While I'm usually not big on taking low odds on horses who are 1-for-19, he's much better than anyone else in this race, so it's kind of a "now-or-never" spot for him. #7 Born for Victory (8-1) stopped badly after a wide trip in his most recent. He's going third off the layoff and is one of the lighter-raced horses in the field. In a race without much speed, he could find himself on the front end if Axel Concepcion is aggressive enough. #5 Love Machine (4-1) just missed at this condition three starts ago, and now returns to this class level after showing little against better last out. A mile might be too short for him, but he could at least rally for an underneath spot.
RACE 2: CLAIMING $5,000, 4-YEAR-OLDS AND UP, 1 MILE
3–5-2-7
Kieron Magee has them surrounded in this race. Both of his entries tower over the others. He claimed #3 Hot N Spicy Love (9-5) three starts ago and sent him out to an impressive victory at this level last out, where he came from behind and kicked away. #5 Honor the Fleet (8-5), the other Magee trainee, has not kicked on near the pace in his last few, although those races were against better rivals. He ran brisnet figures in the 80s consistently towards the end of last year, including a stretch where he won four times in seven starts, and will try to find that form again here. #2 Camp Pendleton (7-2) chased down a loose leader in his last start, but couldn't hold off Ekati's Verve's late rally and settled for second. The same scenario could play out here: he sits near the pace, collars the early leaders, and holds on for a minor share when Hot N Spicy Love wolfs them down.
RACE 3: MAIDEN CLAIMING $30,000, 3-YEAR-OLDS, 6 FURLONGS
8-7-5-3
#8 Mr. Houghton (9-5) ran a 76 when fourth on debut last out, which is easily the best figure anyone in here has ever run. He adds blinkers second time out and has a sharp recent bullet workout, going four furlongs in 48 1/5 seconds at Pimlico on March 19. #7 Dr. Snyder (9-2) exits the same race as Mr. Houghton. He flashed early speed and faded to finish sixth, although he ran a much-improved 70 second time out. Can he keep the forward momentum going here? #5 Trophy Room (7-2) races for the first time since October 1. That day, he chased a loose leader, but held clear of the others and finished second with a career-best 68. He's been on the worktab for a while now; we'll see if he can take the necessary step forward in his 3-year-old debut.
RACE 4: ALLOWANCE (N/W1X), 4-YEAR-OLDS AND UP, MD-BRED/SIRED, 6 FURLONGS
2-3-4-6
#2 Berks (5-2) and #3 Rominski (9-5) are both are coming out of the same race on March 4. That day, Berks sat a great trip off the pace and got up, while Rominski was right up on a hot pace, moved to engage an ultimately well-beaten leader, and held on for second behind Berks's late kick. There's a chance Rominski once again gets caught up in a fast pace, which would set it up nicely for Berks. I gave Berks the edge, as I think he'll go off at a slightly higher price, but it's going to be a race-time decision as to who to bet to win. #4 Seven on the Rocks (8-1) makes his 2022 debut here. He ran some promising races last year, including a narrow defeat to future stakes winner Alottahope last May. He took some time off over the summer and was in ascending form all fall long. He could shake up the exotics at a good price.
RACE 5: STARTER OPTIONAL CLAIMING $20,000, 4-YEAR-OLDS AND UP, FILLIES AND MARES, 5 1/2 FURLONGS
4-7-2-1
#4 A Girl Named Jac (2-1) has shown plenty of tenacity in her recent starts, winning two of her last three starts after fighting near the early pace. She'll have to deal with speed from her outside, but she's shown the heart needed to fend them off. #7 Tam Char (3-1) is one of those prospective speeds. She's run in the 80s in her last two starts, and was a solid third after a wide trip last out. While she runs the risk of getting caught wide again, she's in career-best form and should be able to hang around late. #2 Timely Tradition (6-1) ships from Penn National. She improved to an 81 last out after a run of disappointing finishes. She'll sit near the leaders and try to pounce on the turn.
RACE 6: MAIDEN CLAIMING $20,000, 3-YEAR-OLDS, FILLIES, 5 1/2 FURLONGS
2-3-1-7
#2 Free Admission (9-5) showed promise last summer, but stopped badly on the lead at Pimlico last September (in the same race where future Maryland-bred champion Malibu Moonshine broke her maiden), and has not been seen since. She returned to the worktab on New Year's Eve and has looked better and better in the mornings since then. She's found a soft field in her return to the races and should handle them even first off the long break. #3 Winds of Fortune (6-1) has two straight bullet workouts under her belt for Mike Trombetta and looks like the best of the six firsters in here. If she shows anything at all on debut, she should contend. #1 Out of Luck (8-1) had some traffic in her debut last out but got up for fourth once she found some clear sailing. With the rail in a big field, she might find herself in trouble once again, but on the other hand, she should improve second time out.
RACE 7: CLAIMING $20,000, 3-YEAR-OLDS, 1 1/16 MILES
RACE 8: ALLOWANCE OPTIONAL CLAIMING (N/W3X), 4-YEAR-OLDS AND UP, FILLIES AND MARES, 7 FURLONGS
3-5-2-4
#3 Beneath the Stars (5-2) went gate-to-wire to win against n/w2x types two starts back, and got caught on the wire by the promising Fuhgeddaboudit last out. She was claimed out of that race by Lynn Cash, and although this is a step up in class on paper, it's not that much tougher of a field than the ones she's been seeing. If she can't last through a likely hot pace, #5 Moody Woman (7-5), most recently third in the Barbara Fritchie Stakes, will pick up the pieces. She's a deep closer who has hit the board in five of her last six, most of them against better rivals than what she'll see here. #2 Deco Strong (7-2) was no factor after a wide trip in the Penn's Landing Stakes at Parx last out, but will also take advantage of a fast pace and class relief.
RACE 9: MAIDEN CLAIMING $30,000, 4 AND 5-YEAR-OLDS, 1 MILE
3-7-5-1
#3 Your Analysis (1-1) runs in the 80s routinely, while the rest of his rivals have broken that mark just one time between them. He was vet-scratched last month but has some good workouts since then. He should come from off the pace and easily stroll to victory from there. #7 Hay Diddle Diddle (3-1) was third in a productive maiden claiming race last out, but hasn't raced since that January 28 effort. If Your Analysis doesn't fire for whatever reason, this one is the most likely alternative. #5 Succeed (7-2) has come from off the pace in his last two starts after being a front-runner for the early part of his career. He overcame a wide trip to just miss at Mahoning Valley last out.
LATEST NEWS