LAUREL PARK PICKS AND PONDERINGS: march 18, 2023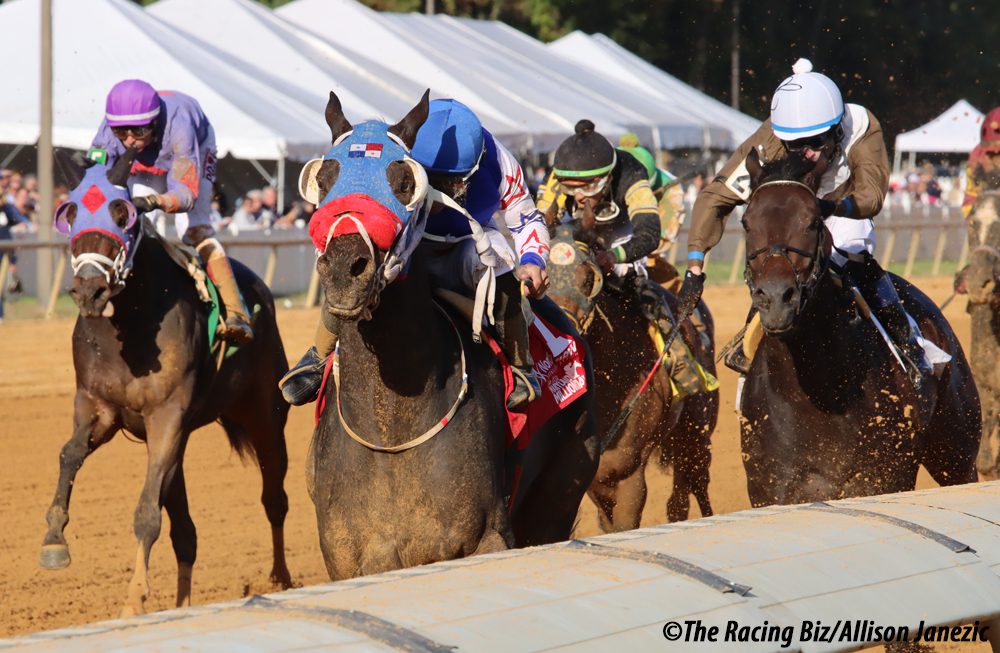 RACE 1: CLAIMING $25,000 (N/W2L), 4-YEAR-OLDS AND UP, 1 MILE
3-7-6-4
It's Pot o'Gold day at Laurel today! There's five stakes races on tap as part of a solid 10-race card. Will we find any luck with our selections? We'll see! #3 His Royal G (10-1) is one of the lighter-raced horses in here, having lost against winners on dirt just twice. He showed some promise last spring at Delaware Park, but since then has struggled to stay on the track, with just two starts since last July. Last out, in his first start off a long layoff, he was well-bet and showed speed before steadying out of it. He has lots of upside and will be a good price. #7 Icy Minister (9-5) cuts back around one turn and is a closer who will take full advantage of the long one-turn mile stretch. He rallied wide last out and missed by less than a length to a front-running rival who saved ground. #6 Federal Offense (9-2) is one of the main speeds in the field and is improving form.
RACE 2: STARTER ALLOWANCE $5,000, 4-YEAR-OLDS AND UP, FILLIES AND MARES, 1 MILE
7-6-5-4
#7 Watch Your Tone (8-5) has a giant brisnet figure edge over the rest of these. She's run at least an 83 in each of her last four starts, while only one of her rivals has hit that mark once at any point within their last four. As long as she runs her race, she's going to be very tough to beat. #6 Shackleford County (3-1) is the aforementioned rival who crossed the 84 mark, doing so three starts back in a game runner-up finish. She hasn't missed the board in her last eight starts and has potent early speed, but the distance is a question mark. Her recent good form has been at six furlongs or shorter, however, she's unplaced in three starts at a mile. #5 Sheknowsthedrill (20-1) won around two turns last out, albeit against softer rivals, and could close for a slice at a good price.
RACE 3: ALLOWANCE (N/W1X), 4-YEAR-OLDS AND UP, FILLIES AND MARES, MD-BRED/SIRED, 1 1/16 MILES
6-7-4-1
Unlike many of her chief rivals, #6 Gamestonks (5-2) has recent good form around two turns. She came from off the pace to win her 2023 debut three starts back, and was solid-closing third last out. She's improved her figure in each of her last three starts, peaking at an 83 last out. #7 She Is Wisky (2-1) chased the free-wheeling Mit Mazel last out and finished a clear-cut second. Third-place finisher Dry Well came back to win her next start and was second, ahead of Gamestonks, in the race after that. However, She Is Wisky was third behind Gamestonks around two turns two starts ago, and while she has run some good races at a route, those were almost a year ago. #4 I'm Gittin There (7-2) has run no worse than an 86 in her last three starts but is an unknown at this distance.
RACE 4: ALLOWANCE OPTIONAL CLAIMING (N/W2X), 4-YEAR-OLDS AND UP, 6 FURLONGS
8-3-4-6
Three of the four horses who raced at this level on March 4 are back for more here, including the winner of that race, #8 Going to the Lead (7-2). He stalked the pace and made a solid grinding move for the victory, relishing the class drop. He hasn't run worse than an 86 in his last four starts and should once again make a solid late move. #3 Cees Get Degrees (5-2) ships from New York for David Jacobson. He was in very sharp form earlier this year, but has stopped after racing near the lead in his last two starts. He's got a lot of potential, but he'll have to deal with speed in here, and this isn't that big of a class drop from the company he's kept at Aqueduct. If the precocious #4 H P Moon (3-1) did not take a big step back second off the layoff last out, he would've beaten Going to the Lead easily. However, he couldn't draw off after opening up at the top of the stretch and got run down. It's encouraging that he's coming back quickly third off the layoff, so I'm open to the thought of him bouncing back.
RACE 5: CONNIVER STAKES, 4-YEAR-OLDS AND UP, FILLIES AND MARES, MD-BRED/SIRED, 7 FURLONGS
3-1-8-5
The first stakes race of the day is named for the champion Maryland-bred mare of the late 1940s. I've had this race penciled in as a potential spot for #3 Response Time (8-5) for a while, and I think she'll be tough to beat. She's found her best self as a now-5-year-old, having hit the exacta in her last six starts with ins in three of her last four. Last out, she stepped up to open allowance company, and stalked the pace before kicking away impressively under a drive. From here, you have to figure open stakes will be next. #1 Award Wanted (2-1) is also in top form. She rallied up the rail to win the Geisha Stakes going away two starts back, and proved that race was no fluke with a strong second-place effort behind Hybrid Eclipse in the Nellie Morse Stakes last out. She's proven going both short and long, so I'm not concerned about the cutback from two turns. #8 Summer Odds (20-1) flew late and got up for second last out behind Fuhgeddaboudit, who won her third race in a row on Sunday. She's going third off the layoff here and is interesting at least for the exotics.
RACE 6: NOT FOR LOVE STAKES, 4-YEAR-OLDS AND UP, MD-BRED/SIRED, 6 FURLONGS
6-5-10-7
The 13-time leading sire in Maryland is honored with this race. Note two horses in here, Alwaysinahurry and Backnthewoods, are cross-entered tomorrow. I've also been waiting for #6 Al Loves Josie (3-1) to re-appear in stakes company, and now he's back. He's run big races in each of his last two starts, going gate-to-wire to win two races ago after clearing from the outside post, then stalking the pace and drawing off last out even though Xavier Perez dropped the whip. That race was important, as it demonstrated he doesn't have to get to the lead. He can sit off a hot pace and pounce. #5 Eastern Bay (8-5) commands plenty of respect, having won the General George Stakes two starts ago to earn millionaire status. He finished fourth in the Tom Fool Handicap at Aqueduct last out, but he didn't run a bad figure; he might've just been in a bit over his head. This is, of course, a softer field, but he'll be a very low price and if Al Loves Josie gets the jump, that one could prove tough to catch. #10 Breezy Gust (9-2) overcame a bad start to finish a game second at Parx last out behind stakes-winning Witty. This one should also sit a nice trip.
RACE 7: HARRISON JOHNSON MEMORIAL STAKES, 4-YEAR-OLDS AND UP, 1 MILE
RACE 8: BEYOND THE WIRE STAKES, 3-YEAR-OLDS, FILLIES, 1 MILE
3-1-4-7
This race is named for the aftercare organization based in Maryland. #3 Lady Lowery (2-1) closed sharply for second on debut at Turfway Park, then broke her maiden going away next out. She hasn't run worse than an 85 in her two career starts, and if she can handle the stretch-out from 6 1/2 furlongs, she'll be tough. #1 Pharoahs Baby Gyal (5-2) cruised on the lead to an impressive victory last out. She's drawn a good post, and if she can outrun Cairo Sugar for the lead early on, she'll be in good shape. #4 Happy Clouds (9-2) is stretching out for the Anthony Farrior/Arnaldo Bocachica dream team. She hasn't run worse than an 84 in her last three starts, and has just missed to some solid horses, including stakes winner Tappin Josie two races back. Her only start beyond six furlongs, at Churchill Downs last September, was a dud, but she's moved forward since then, and she has a shot if she can indeed handle this distance.
RACE 9: PRIVATE TERMS STAKES, 3-YEAR-OLDS, 1 1/16 MILES
3-4-8-5
3-year-old males will go two turns in this contest named for the Mid Atlantic-based 1988 Kentucky Derby favorite who won eight stakes races in his career. There's two Triple Crown nominees in here, one of which is Sycamore Hall homebred #3 Circling the Drain (6-1). He's won twice around two turns, including a workman-like win last out where he raced wide throughout and ground his way to victory with a solid 89. He'll add blinkers here for Brittany Russell, as he got a bit lazy once he struck the front. He should go off at a good price. #4 Howgreatisnate (4-1) started his career 4-for-4 at Delaware Park and Parx, including a pair of stakes wins, then stumbled and lost the jockey in the Gotham Stakes. Toss out that race, and he's been in solid form and has great tactical speed, but he also hasn't run a "real" race since early December. He has potential but also some question marks. #8 Coffeewithchris (7-2) is a two-time stakes winner on this track, and answered some distance questions last out with a one-turn mile win in the Miracle Wood Stakes last out. He might get caught wide here with the short run into the first turn, but he's got a shot if he duplicates his one-turn form.
RACE 10: CLAIMING $10,000 (N/W3L), 4-YEAR-OLDS AND UP, FILLIES AND MARES, 6 FURLONGS
6-4-5-3
#6 Queen of Class (8-5) steps up to this level off a determined win against n/w2L foes last out. She's run an 80 in back-to-back starts, something only one of her rivals has done at any point in their lives. #4 Backstreet Affair (7-5) also cleared her n/w2L condition last out with a front-running effort. Her ceiling isn't quite as high as Queen of Class's, however, and she might have to deal with pace pressure from her inside. #5 Notion Interruptus (20-1) has solid late pace figures and can get up for a slice. Beyond the top two, the rest of these are very uninspiring, so she's worth a key in the trifecta or superfecta.
LATEST NEWS