LAUREL PARK PICKS AND PONDERINGS: MARCh 10, 2023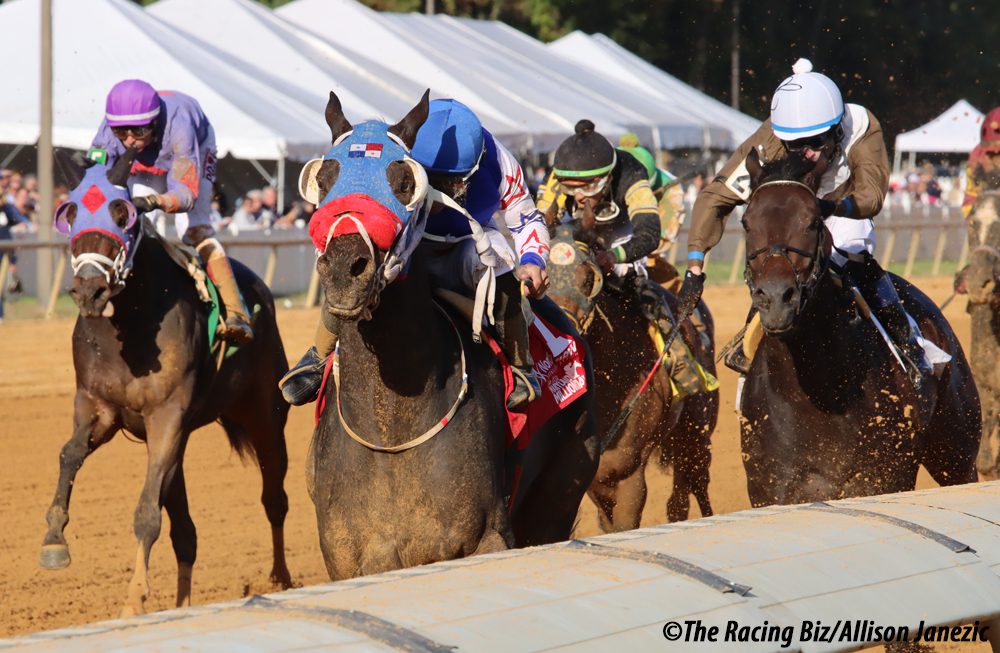 RACE 1: MAIDEN SPECIAL WEIGHT, 3-YEAR-OLDS, 1 MILE
4-6-5-2
#4 Uncle Jake (3-5), a former member of Bob Baffert's Army of the Apocalypse in southern California, ships cross-country and makes his local debut for Brittany Russell. He ran a brisnet figure of 83 on debut at Santa Anita Park, and has worked well since shipping here in mid-February. His back-class will make him an impossibly low price to bet to win, but he nonetheless looms as a tough one to beat. #6 Vax a Nation (3-1) has finished second three times in a row with figures in the mid/upper-70s every time, although he was never a serious threat late. He's a consistent sort, but he'll have to improve a few points or hope Uncle Jake regresses, and I'm not sure where the former will come from. #5 Millbank Man (20-1) closed for second on debut at Charles Town. The way he ran late at seven furlongs suggests that a mile won't be a problem, and he should go off at a great price.
RACE 2: CLAIMING $40,000, 3-YEAR-OLDS, 1 MILE
7-1A-4-2
#7 Uncaptured Storm (8-5) had run in the 80s in back-to-back starts, including an impressive win two starts ago when he came up the rail and drew away. His usual race wins this without much trouble. #1A Chelonian (3-1) held third last out after getting outkicked by Uncaptured Storm. In his prior starts, he showed speed and held well around two turns, and looks like the main speed threat in this one. #4 R B's the Boss (5-2) hasn't missed the board in seven career races but stretches out beyond 6 1/2 furlongs for the first time. He'll get a great trip stalking the leaders; it's just a matter of if he can hang around late.
RACE 3: MAIDEN SPECIAL WEIGHT, 3-YEAR-OLDS, FILLIES, 5 1/2 FURLONGS
1-8-9-2
Six of the nine entries in here are first-time starters, so I'll look towards someone with experience. #1 Wonder Girl (3-1) ships down from New York for Bob Klesaris off a much-improved second-time out effort. She showed speed and was in contention most of the way, and although she faded late, she ran a 78, representing a 13-point improvement from her debut. As long as none of the first-time starters run huge at first asking, this one will be tough to beat. #8 Goodgirl Badhabits (5-2) sold for $135,000 as a yearling at Keeneland in September 2021 and goes first out for Brittany Russell. This filly is a sibling to five winners, including Dazzling Gem, a grade 1 winner in Puerto Rico and graded stakes-placed on the mainland. She's had some sharp recent workouts and should be ready to go at first asking. Russell saddled her first debut winner of the year last Friday. #9 Italian War Cry (6-1) was bumped at the start in her debut last July and wasn't a factor thereafter. She hasn't raced since then, but has an exceptionally good worktab. She's also getting lasix for the first time.
RACE 4: STARTER OPTIONAL CLAIMING $30,000, 4-YEAR-OLDS AND UP, FILLIES AND MARES, 1 MILE
1-2-8-3
It's been a while since we've had a five-figure rainbow pick 6 carryover around here. That sequence starts here. #1 Watch Your Tone (5-1) and #2 Flashndynamite (4-1) have very similar form. They each have tactical speed, they've both run figures in the 80s in each of their last four starts, and they're both dropping from slightly better company. I give the edge to Watch Your Tone, as she's going third off the layoff and has a bit of a higher ceiling. Really, though, when it comes to deciding to who to bet on, it could come down to a matter of who goes off at a higher price. #8 Gamestonks (4-1) goes first off a two-month break and has solid closing speed. She rallied for the win two starts back and should once again be heard from late.
RACE 5: MAIDEN CLAIMING $30,000, 3-YEAR-OLDS, 1 MILE
5-3-1-2
#5 Stellwagen Banker (6-1) ran huge in his most recent start. He dueled on the lead and sent his sparring partner to a double digit-length defeat. However, he held well in the stretch and lost only to a rival who came from well off the hot pace. He's never gone a mile before, but if he can avoid getting caught in another tussle, he should be able to last. #3 Maryland Moon (6-1) was well-bet first off a long layoff last out, and although he was visually unimpressive, he ran a 69, easily a career-best figure. He looks interesting second time out this year. #1 Home School (7-2) has finished in the superfecta in every start since joining the Lynn Cash barn in late October, but hasn't won and hasn't run beyond the same upper-60s/low-70s range of figures. That said, he's dropping into a spot where those numbers are in the upper echelon, so it's possible this is in fact a field he can beat.
RACE 6: ALLOWANCE OPTIONAL CLAIMING (N/W1X), 3-YEAR-OLDS, FILLIES, 1 MILE
3-1-9-5
#3 Fast Tracked (7-2), a half-sister to Malibu Beauty and a daughter of Maryland broodmare of the year Slow and Steady, is taking just a bit of a drop in class. She last raced in the Suncoast Stakes, where she had to face the likes of Julia Shining and Wonder Wheel. Unsurprisingly, Fast Tracked was no match for those, but she has a solid resume of her own. She showed a lot of heart to break her maiden on debut, then rallied well for second in the Maryland Juvenile Filly Stakes. This kind of spot looks perfect for her. #1 Balpool (5-2) overcame a wide trip to break her maiden in determined fashion at Aqueduct last out. She's one of two in here who has already won at a mile. Rob Atras has won with his last three Maryland shippers. #9 Crypto Mama (6-1) also ships down from New York, in her case for Kelly Breen. She set the pace and finished third last out behind Shidabhuth, who returned to win the Busher Stakes in her next start. This one is likely to set the early pace.
RACE 7: MAIDEN SPECIAL WEIGHT, 3-YEAR-OLDS, FILLIES, 5 1/2 FURLONGS
RACE 8: ALLOWANCE (N/W1X), 4-YEAR-OLDS AND UP, 1 1/16 MILES
2-4-3-5
#2 Jardani (8-5) has faced better rivals in his last few starts. He chased Doppelganger down the stretch and got third two starts back, then almost caught noted speed-and-fade type Nostalgic Run last out, after that rival opened up a long lead. There's no one in here as good as either of those rivals, and he's the only one in the field who has run at least an 88 in each of his last three starts. #4 Tate (3-1) races first off the claim by Anthony Farrior. After racking up plenty of runner-up finishes last year, he's slowly broken out of it as of late, with wins in two of his last five starts. #3 Trash Talkin Larry (10-1) has raced wide throughout in a lot of his recent starts, but is breaking from the rail here and should save more ground. Without much speed signed on, he could find himself on the front end, in contrast to most of his usual races, where he's stalked the pace.
RACE 9: MAIDEN CLAIMING $12,500, 3-YEAR-OLDS, 7 FURLONGS
7-6-8-1
#7 Spectrier (5-2) has crossed the wire second in his last two starts with ascending figures each time. Last out, he rated off the pace and pounced. There's only one other serious speed horse in the field, and he's stopped badly late in his last two starts. We'll see if Spectrier decides to challenge him early or wait for him to fade. #6 Distant Fire (7-2) went off favored on debut despite drawing the 12-post, and closed well to get third. Some improvement second time out would make him especially tough. #8 Real Rambo (9-5) takes a big drop in class for Brittany Russell and cuts back around one turn. He's intriguing, but might go off at a bit too low a price for my liking, considering his rivals.
LATEST NEWS