LAUREL PARK PICKS AND PONDERINGS: JAN. 23, 2022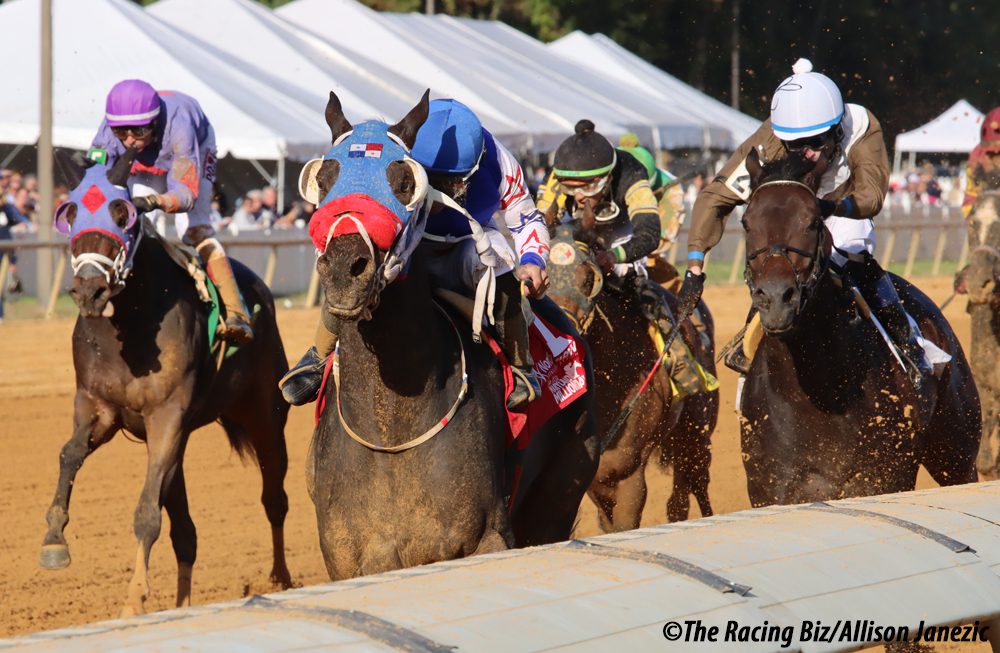 RACE 1: MAIDEN SPECIAL WEIGHT, 3-YEAR-OLDS, FILLIES, 5 1/2 FURLONGS
3-5-6-2
#3 All Worked Up (5/2) was well-bet on debut at Pimlico in July, and showed speed before fading to fifth. This is her first start since then. The winner of that race, Petition Prayer, came back to win an allowance race at Colonial Downs. The runner-up, Murph, won the Small Wonder Stakes at Delaware Park in September. This one should get better with maturity. #5 Regina (3/1) ships down from Belmont Park for Linda Rice, perhaps in search of a soft spot to debut in. The workouts are respectable, but she'll likely get attention because of her connections. #6 Qpidscarizmatkqtee (7/2) attracted attention on twitter earlier this week for her unusual name (pronounced "Cupid's Charismatic Cutie"). She was working well in the spring, was stopped on, then came back to the tab in November and has been putting in good works since. Mike Trombetta isn't great with firsters, but this a soft enough field that she should get a piece if she races even marginally well.
RACE 2: CLAIMING $16,000, 3-YEAR-OLDS, 1 1/16 MILES
1-3-6-4
#1 Rustys Gfivefifty (7/5) has run his best races around two turns. He crushed the field to break his maiden at a mile at Delaware Park, then finished a solid second in his first try at 1 1/16 miles. He should enjoy stretching back out. #3 Krug (7/2) went gate-to-wire around a one-turn mile last out, with an impressive brisnet figure of 77. Looks like the main speed threat here again. #6 Prince of Portland (5/2) is the only two-time winner in the field. He stalked the pace and drew off impressively last out, and was claimed out of that race by Kieron Magee.
RACE 3: MAIDEN CLAIMING $10,000, 3-YEAR-OLDS, FILLIES, 5 1/2 FURLONGS
4-10-7-3
#4 Kymmies Chardonnay (9/5) has burned a lot of money against better lately, but she's had to deal with pace pressure every time and has hung in admirably. I'm willing to give her one more shot, as I don't think there's much quality speed in here. Pace pressure may come in the form of #10 Dial Me Maybe (3/1), who has prompted the pace and hung on to finish second in each of her last two starts. She flattened out going this distance last out, but matched her career-best mark with a 68. #7 Monarch Beach (6/1) goes first out for Anthony Farrior, and put in a decent workout from the gate last Sunday after missing more than a month on the tab.
RACE 4: ALLOWANCE OPTIONAL CLAIMING (N/W1X), 3-YEAR-OLDS, 1 1/16 MILES
1-2-5-6
#1 Joe (7/5) made waves last out when he won the Maryland Juvenile Championship with a dramatic rush from the back of the pack. Alottahope, who finished second in that race, won a race similar to this one next out. #2 Mr. Mox (2/1) stalked the pace and drew clear in that race, but flattened out and finished fourth behind Joe. He'll likely be on or near the lead once again; we'll see if he can sustain his speed. #5 Natagar (7/2) ran on well in the stretch last out and second with a career-best figure of 83. Should close for a piece.
RACE 5: MAIDEN CLAIMING $10,000, 3-YEAR-OLDS, 7 FURLONGS
7-5-10-1
#7 Gatorater (7/2) ships up from Florida after two visually unimpressive starts on the Tapeta. He raced better in his one-turn start, closing decent ground on debut, so the cutback in distance should help. #5 Auction Kingdom (7/2) has hit the board against better twice and should grind well enough for a piece once again. #10 Red Mesa (5/2) has run in the 60s in both of his starts, and raced wide both times. He'll try to save more ground here, but it might not be easy with a rough draw.
RACE 6: STARTER OPTIONAL CLAIMING $16,000, 4-YEAR-OLDS AND UP, 1 MILE
3-9-2-1A
#3 Rough Sea (9/2) has improved dramatically in his recent starts and just missed his career-best mark with a 93 last out. His closing kick is especially potent around the one-turn mile. #9 Direct Order (8/1) ships down from Aqueduct, where he was wide all the way last time and stopped. He just missed against similar two back when he got a more honest trip. #2 Hot N Spicy Love (6/1) has abundant early speed and has a big chance to go gate-to-wire.
RACE 7: MAIDEN CLAIMING $40,000, 3-YEAR-OLDS, 6 FURLONGS
3-5-1-7
#3 Sagrada Ray (7/2) was well-bet in his debut, but faded after getting caught in tight at the start. Should improve a bit second time out. #5 Must Be Love (3/1) is one of two Dale Capuano firsters in the field. Him and his stablemate have similar profiles, but I'll give Must Be Love the edge due to some slightly faster recent times and the fact that Jorge Ruiz was named on him. #1 Money Room (5/1) ran on strongly late to get second last out, with a figure of 74, far and away a lifetime-best mark. Not sure how well his closing style will play at the shorter distance, but he's at least worth a look.
RACE 8: CLAIMING $10,000, 3-YEAR-OLDS, FILLIES,
6-2-3-8
#6 Shemademelucky (2/1) sat the trip and cruised to an impressive maiden win last out. Jerry Robb has been on fire to start the meet. #2 Chica Rabiosa (9/5) ran a gutsy race on the lead last out and got caught late. Charlie Marquez gets the mount for the first time and should have her forwardly placed once again. #3 Syklar's Lady (8/1) showed speed and faded in her first start against winners last out but now gets some class relief.
RACE 9: ALLOWANCE (N/W1X), 4-YEAR-OLDS AND UP, MD-BRED, 6 1/2 FURLONGS
6-4-1-5
#6 Hunter Joe (2/1) took a big step up in class to the n/w2x level last out and closed well after showing no early speed. Should find this a friendlier field. #4 Going to the Lead (9/5) has just missed against similar in his last two starts and adds blinkers for his 2022 debut. He lived up to his name earlier last year, but now he tends to rate off the pace and wait to pounce. #1 Rising Perry (6/1) is stepping up from the n/w3L level but has consistently run in the mid-80s.
RACE 10: MAIDEN CLAIMING $10,000, 4 AND 5-YEAR-OLDS, 1 1/16 MILES
5-1-7-2
#5 Ian Dunross (7/2) improved in a big way second time out, closing well for fourth on the grass at the Meadowlands with a career-best mark of 71. Hasn't raced since October 1, but he's been working well at Belmont since then and shouldn't have much trouble with these if he runs his race. #1 Transfer the Funds (5/1) doesn't have enough early speed to pose a serious win threat but has great late pace figures. #7 One Most Wanted (7/5) has been knocking on the door, with runner-up finishes in each of his last two dirt starts. However, it's hard to take low odds on a horse ridden by Alex Crispin, who has struggled for a while.
LATEST NEWS