LAUREL PARK PICKS AND PONDERINGS: JAN. 22, 2022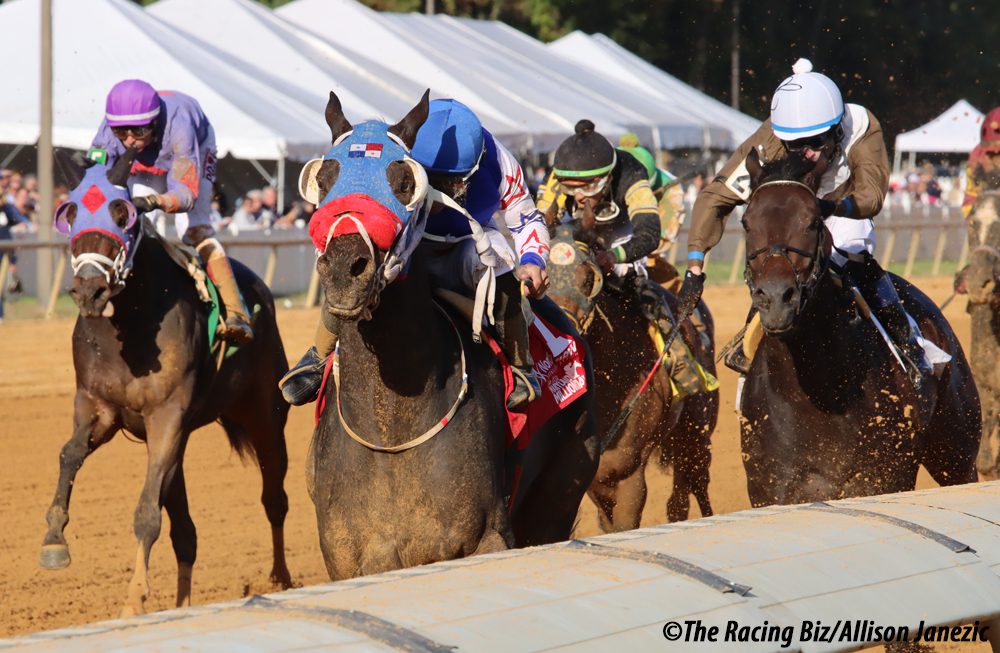 RACE 1: CLAIMING $5,000 (N/W3L), 4-YEAR-OLDS AND UP, 1 MILE
4-1A-6-7
I had a very good day yesterday, with four on-top winners. Let's see if the momentum continues today. #4 Voltamour (7/2) is a bit of an unusual case. He's only crossed the wire first once, but broke his maiden months after the fact thanks to a disqualification. He ran a decent race in his first try at the level going two turns last out, but he looks better suited to one turn. I prefer #1A Daper's Drink (7/2) to his entrymate. He crushed a n/w2L field two races back, and pressed the pace while wide before tiring last out. Should have a better chance with a better trip. He'll break from post six in this nine-horse field, as opposed to last time, when he left from post eleven. #6 Straight Up Guy (6/1) struggled against better in the fall, and has since been given some time off. He's shown a decent kick in the past, and now enjoys some class relief.
RACE 2: STARTER ALLOWANCE $5,000, 4-YEAR-OLDS AND UP, FILLIES AND MARES, 5 1/2 FURLONGS
4-2-7-6
This is an exceptionally difficult race to figure. All seven horses in it are pacesetters, and all will likely be sent to the early lead. As such, it's a matter of figuring out who doesn't necessarily need the lead, and has the option to take back if necessary. In my mind, that horse is #4 Blue Sky Venezuela (5/1), She sat just off the pace and kicked away to win against similar at Penn National two races back. Linda Albert claimed her out of her last start. We'll see how Charlie Marquez decides to use her. #2 Dilly Dilly Philly (3/1) has won two of her last three at Parx for Jamie Ness. He's off to a slow start at the winter meet, with just one winner from 13 starters going into today. However, she'll likely enjoy a good trip, either setting the pace on the rail or rating right off the leader in the two-path. #7 Always Talking (7/2) doesn't have a great draw, but the best early pace figures in the race. She could outrun them all and cross to the rail before they complete the opening eighth.
RACE 3: CLAIMING $5,000 (N/W3L), 4-YEAR-OLDS AND UP, FILLIES AND MARES, 1 MILE
2-4-1-8
#2 Miss Moreno (8/5) has early speed and drops from the $16,000 n/w3L level. This is her first start at this condition for this low of a price. She doesn't have much stamina, but she'll likely be on the lead and will hope no one is fast enough to catch her. #4 Betcha By Golly (5/2) also has early speed and drops in class. She chased the leader last out and stopped, so getting to the front is important for her. #1 Love is Strong (8/1) cuts back around one turn and has demonstrated a good closing kick in the past.
RACE 4: CLAIMING $10,000 (N/W2L), 4-YEAR-OLDS AND UP, FILLIES AND MARES, 6 FURLONGS
6-4-1-8
#6 Rapidamente (6/1) drops to this level from the $16,000 condition after finishing a fast-closing fourth last out. She's one of the lighter-raced horses in the field, having lost "only" three times against winners. #4 One Night Stand (9/5) ships up from Gulfstream Park and races for the Brittany Russell for the first time. She had a lot of traffic last out and was not persevered with late, with depressed her figures. Usually she runs in the 70s. We'll see if she needs a race to acclimate to the track. #1 Easy On the Sugar (10/1) broke her maiden going away at Charles Town. Arnaldo Bocachica, who often rides for Anthony Farrior at Charles Town, keeps the mount here. It's one of only two rides that the Charles Town star has on the card.
RACE 5: MAIDEN SPECIAL WEIGHT, 3-YEAR-OLDS, 6 FURLONGS
4-10-2-1
No one in the field has been especially impressive in a race, so I'm more inclined than usual to look to a first-time starter. #4 Prince of Fenton (7/2) recently returned to a steady worktab for Brittany Russell, shipping to Pimlico to get a workout in while the Laurel track was closed. It looks as if he's been primed for this particular spot for a while, which is always encouraging. #10 Bliss This (3/1) was well-bet on debut, and showed speed and faded. He adds lasix for the first time in his 3-year-old debut; Dale Capuano is very potent with that angle. #2 Sunday Mischief (5/1) improved very dramatically second time out, chasing the pace before tiring late and hanging on for third. Should at least hang around for a piece.
RACE 6: ALLOWANCE (N/W1X), 4-YEAR-OLDS AND UP, FILLIES AND MARES, 7 FURLONGS
8-6-10-9
#8 American Bastet (9/2) has run at least an 82 in each of her last three starts, and finished second in her last two starts behind rivals better than those she'll see here. #6 Miss Chesapeake (4/1) stormed from behind to beat a Maryland-bred allowance field going away, running far and away a lifetime-top mark with an 88. Jevian Toledo had the mount for Brittany Rusell last out, but jumped off to ride #10 Mending (5/1) for Anthony Farrior. That one has won two in a row at the starter optional claiming level and is one of the main speed threats.
RACE 7: STARTER OPTIONAL CLAIMING $16,000, 4-YEAR-OLDS AND UP, FILLIES AND MARES, 6 FURLONGS
6-2-7-1A
#6 Marvella Nasty (5/2) has bounced all over the class ladder, and won two claiming races in a row very impressively in the fall. She struggled a bit when stepping up to allowance company. Should enjoy the class relief. Her stablemate, #2 Tequila Fog (8/1), was claimed by Anthony Farrior in her last start, where she closed furiously and got up for the win. She's improved in her last two starts and gets Bocachica aboard. #7 Miss Old Bay (7/2) raced first off the layoff and is a threat to take them gate-to-wire.
RACE 8: CLAIMING $12,500, 4-YEAR-OLDS AND UP, 1 MILE
7-3-4-2
#7 Clubman (6/1) hasn't won since October 2019, but has been facing much better rivals in almost all of those races. He hasn't seen a field this easy in a while, and his figures fit right in with these. #3 Solomonic (9/2) was claimed for $5,000 out of his last start by Kieron Magee. He stalked the pace and drew off to an easy win last out. He ran decent figures and hit the board several times in previous starts at this level. #4 Twitty City (6/1) has great late speed and looks for a rebound off a dull try last out.
RACE 9: ALLOWANCE (N/W1X), 4-YEAR-OLDS AND UP, 1 MILE
5-2-8-7
#5 Mohaafeth (6/1) has raced against winners just once, finishing third last out after a wide trip. His two best figures have come in his last two races. #2 Ratify (6/1) was in good form over the summer, but struggled in his first start off the layoff last out. He should improve with a race under his belt. #8 Friendly Fella (3/1) consistently runs in the 80s and hung on for a game third-place finish at Parx last out.
RACE 10: MAIDEN CLAIMING $16,000, 3-YEAR-OLDS, 1 1/16 MILES
8-6-5-2
#8 Majestic Frontier (2/1) stretched out around two turns for the first time last out, and ran a career-best figure of 71 while hanging on to finish second. Will be tough if he keeps it up. #6 Icy Minister (8/1) has been well-beaten in all three of his starts, but his figure has improved every time out and drops to a career-low level. #5 Dahtestes Hero (7/2) makes his first local start after facing better in the midwest, and should enjoy the class relief.
LATEST NEWS