BREEDERS' CUP Saturday: EXPERT PICKS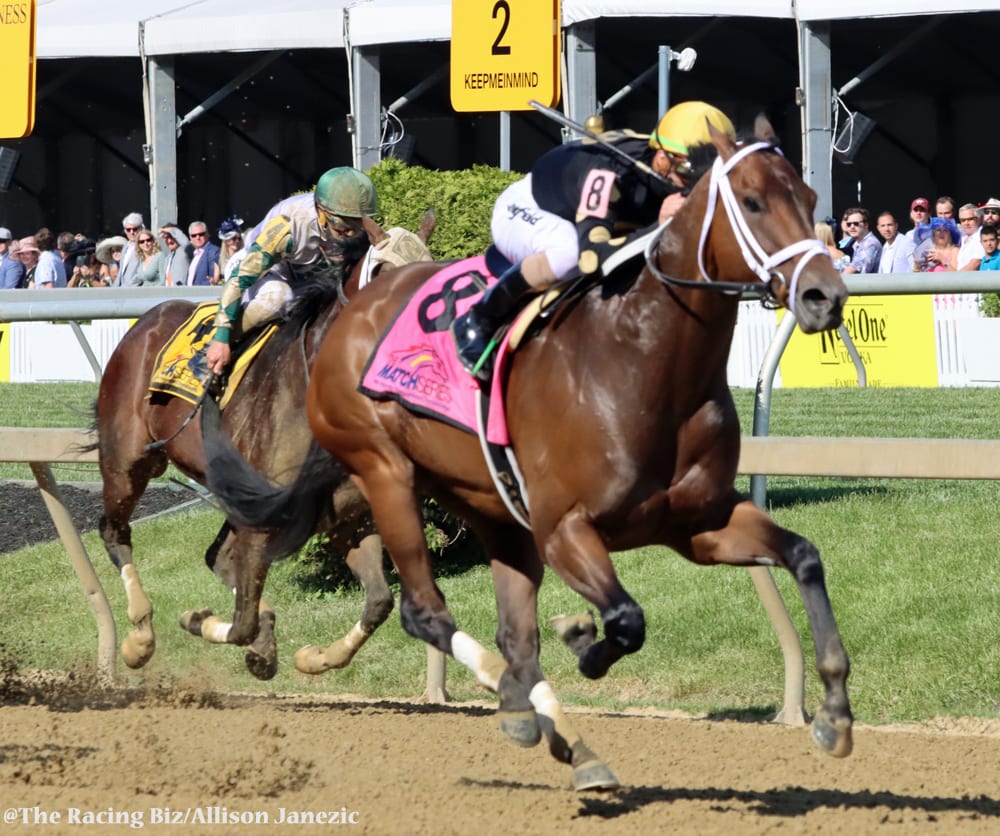 LISTEN UP!
#5 Gamine (3-5) is a strong favorite in the Filly and Mare Sprint, but while Nick and Bill are willing to eat the chalk, Chuck is taking a stand with #6 Bella Sofia (5-2), a horse he describes as "getting better and better."
It's pretty tough to make sense of the Turf Sprint, but Derby Bill is leaning towards #2 Emaraaty Ana (5-1) as heading a box that'll also include #1 Glass Slippers (6-1), #3 Golden Pal (7-2), and #4 Lieutenant Dan (6-1).
Nick for his part lands on #6 A Case of You (8-1) with a little love for #9 Kimari (6-1).
R6 BREEDERS' CUP DIRT MILE
#5 Life Is Good (4-5) is, well, good. The Todd Pletcher trainee is a neck from being undefeated in five career starts, beat Medina Spirit twice, and in his only defeat received the comment line "overconfident handling."
But neither Nick nor Derby Bill is too enthralled. Bill is going to try to beat him with #1 Silver State (7-2). The Steve Asmussen trainee won the G1 Met Mile earlier this year but has not bee his very best in his last couple.
Nick is partial to #3 Ginobili (4-1), the Richard Baltas trainee who won the G2 Pat O'Brien last out and is 3-for-4 at Del Mar.
R7 BREEDERS' CUP FILLY AND MARE TURF
Derby Bill is feeling the love in the Filly and Mare Turf. Literally.
Even though defending champ #12 Audarya (5-1) is back, he looks to #8 Loves Only You (4-1), the Japan-bred runner who has mostly been running against the boys in top company this year; and #6 Love (4-1), the Aidan O'Brien trainee who's mostly seen males this year, as well.
Chuck agrees, calling Loves Only You his "tepid selection. She has been racing against the top of the top," he said.
Nick, on the other hand, is partial to #4 Rougir (6-1), favored #7 War Like Goddess (7-2), and even #1 Going to Vegas (12-1).
"She just seems to be a hot horse," he said of a West Coast runner who's won three straight.
R8 BREEDERS' CUP SPRINT
Since leaving the world of two-turn racing, #2 Jackie's Warrior (6-5) has been nearly invincible, winning four of his last five with just a neck defeat in the Grade 1 Woody Stephens to spoil his ledger.
Chuck, for one, thinks that continues today.
"He's just better than these horses," he said. "He's faster than them."
If Jackie's Warrior, trained by Steve Asmussen, doesn't fire today, he thinks the only one with a chance at the upset is #9 Dr. Schivel (4-1).
Dr. Schivel, a Mark Glatt trainee, has won five straight, including three at Del Mar and four of four at the six-furlong distance.
"He's a horse for the course and a horse for the distance," Nick said of his top selection.
Derby Bill looks elsewhere, to #8 Special Reserve (6-1), who won the Grade 3 Maryland Sprint in May at Pimlico and last out scored in the Grade 2 Phoenix at Keeneland for Mike Maker.
"It's a great price, and he's incredibly consistent," he said.
R9 BREEDERS' CUP MILE
#3 Space Blues (3-1) "should win this race," Chuck said. "He's the best horse. But that doesn't mean he's gonna win."
If you're looking to hang your hat on reasons to beat the Charlie Appleby trainee, a three-time winner this year including in the Group 1 Prix de la Foret, one might be his lack of experience going a mile. All of his starts in the last couple years have come at shorter distances, and his Prix de la Foret win came at seven furlongs.
There's also the question of the going, with European horses typically more accustomed to wetter, heavier ground than they'll see at Del Mar. Notably, though, Space Blues does own a Group 1 win on firm turf.
Still.
Chuck said he'll take a shot with #13 Casa Creed (15-1). The late-running Bill Mott trainee will hope for a zippy early pace to unleash his kick.
Nick lands on #6 Mo Forza (5-1). "What's this horse done wrong?" he asked of a horse who's 6-of-8 at the trip and owns three wins at Del Mar.
And Bill will back up Space Blues with Appleby's other horse in here, #1 Master of The Seas (12-1).
R10 BREEDERS' CUP DISTAFF
The morning line suggests this one goes directly through #6 Letruska (8-5), the Fausto Gutierrez trainee who's won six of seven on the year.
"I'm a Letruska fan," Derby Bill said, and he'll have plenty of company at the windows.
But Chuck and Nick are more inclined to spread out, with Nick saying his strategy will be to "go wide and not use Letruska."
"She's had a long campaign," Chuck said of Letruska. "She's gotten quite a few soft leads, and I don't think she's going to get one this time."
He's going to go deep here and use horses like #2 Royal Flag (8-1), #3 Malathaat (4-1), #5 Clairiere (12-1), and perhaps even #11 Dunbar Road (15-1), the 2020 Delaware Handicap winner.
Nick for his part is especially partial to #8 Shedaresthedevil (4-1), the only horse to beat Letruska this year.
"I like her versatility," he said of a horse who owns wins at three different tracks this year. "When a horse wins at so many different tracks, to me it's a sign of talent."
BREEDERS' CUP TURF
Sisfahan was bred in France, has a German trainer and an Italian jockey, and today is racing in the US. That makes him, as Casablanca suggested (about drunkards), a citizen of the world.
It also makes him Chuck's top pick; in fact, his key for the day. "This horse has gotten better and better," he said.
Two back in a German Group 1, Sisfahan finished second, just a length behind Torquator Tasso. That runner came back to win the G1 Arc de Triomphe, defeating, among others, 9-5 morning line favorite Tarnawa. That suggests real value on the 12-1 Sisfahan.
Neither Nick nor Derby Bill was quite so locked in on this contest.
"I'll believe it if you believe it on many of the horses in this field," Nick said. Among those he believes in: #10 Yibir (12-1), #12 Teona (6-1), a three-year-old filly, and #4 Astronaut (20-1).
Bill was similarly spread out, using horses such as #1 Rockemperor (15-1), #5 Tribhuvan (20-1), #8 Broome (20-1), and #11 Gufo (8-1).
BREEDERS' CUP CLASSIC
The question on many minds: can Maryland-bred #5 Knicks Go (5-2) get the 1 ¼-mile distance? He's won nicely going nine furlongs, including in the Grade 1 Whitney two back, and last year he dominated the Breeders' Cup Dirt Mile. But about the 10 furlongs?
Chuck thinks so.
"I think this race is going to be similar to the Juvenile Fillies," he said. "I think Knicks Go goes to the lead and opens up, and I don't see why he can't get the mile-and-a-quarter."
Nick and Derby Bill aren't so sure.
"I love #4 Essential Quality (3-1)," Nick said. "This is my bet of the day: I'm gonna single this horse."
Both Knicks Go and Essential Quality are trained by Brad Cox, so perhaps it's a Coxzacta kinda day. A big question will be how the early pace develops; if Chuck is right, then Knicks Go and Joel Rosario will get the jump on his rivals and dole out manageable fractions.
But if he's pressed, that might benefit Essential Quality.
There's also some love here for #6 Art Collector (8-1) and even #1 Tripoli (15-1), but Derby Bill has one other prediction: 
"I think #8 Medina Spirit (4-1) runs for purse money only," he joked.
CAST OF CHARACTERS
Chuck Simon. Podcaster Chuck Simon previously worked as a trainer, and he conditioned 2005 Breeders' Cup Sprint entrant Battle Won, who didn't win but did help duel post-time favorite Lost in the Fog to defeat. Chuck's podcast, Going in Circles, can be found here: Going in Circles – Horse Racing podcast hosted by Charles Simon (goingincirclespodcast.com).
Nick Hahn. A familiar voice to our listeners, Nick Hahn is the Virginia correspondent for The Racing Biz and author of the eponymous Nick's Picks tipsheet, the original and best Colonial Downs tipsheet. And, yes, Nick had I'll Have Another in the 2012 Kentucky Derby.
Derby Bill Watson. Man, myth, and legend Derby Bill Watson is an Off to the Races regular and the former on-air handicapper for Colonial Downs.
LATEST NEWS