BREEDERS' CUP FRIDAY: EXPERT PICKS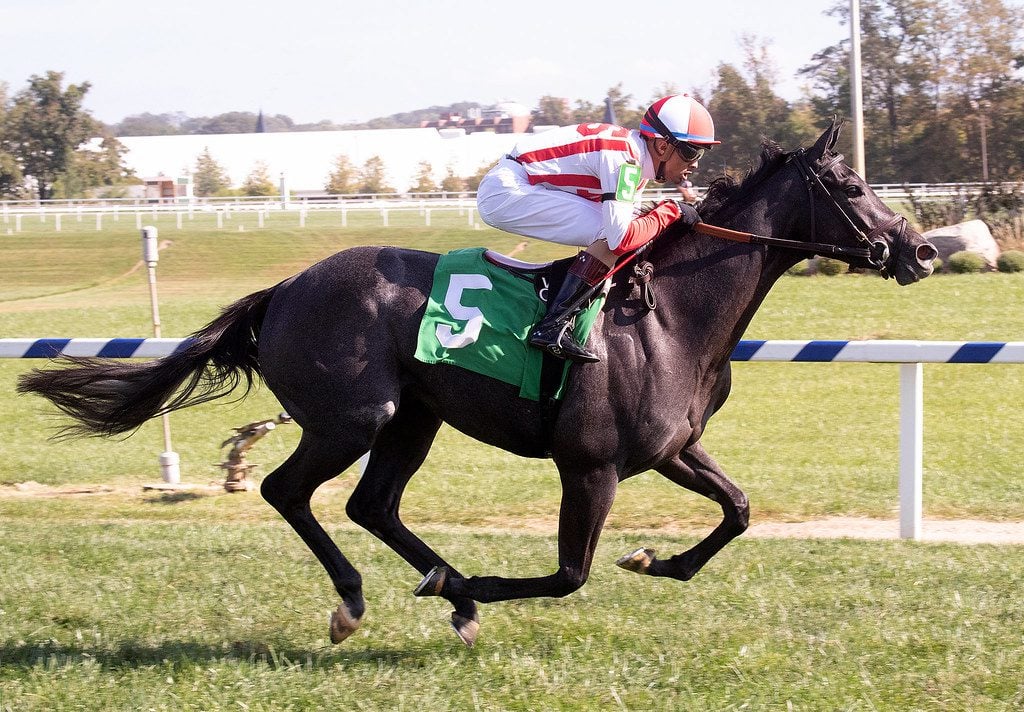 R6 BREEDERS' CUP JUVENILE TURF SPRINT
Everybody agreed the Juvenile Turf Sprint – with a dozen horses, several of whom have only raced in Europe – is a wide-open affair.
"You want to run from favorites here," Nick said. "It's a good opportunity to reach."
But it was Derby Bill with the longest reach: he landed on #12 Run Curtis Run (20-1) as his top selection. The Mike Maker trainee ran second last out in the G3 Futurity going six furlongs and may benefit from the cutback to five-eighths here. He'll get blinkers on and Luis Saez up, too.
Others getting some love from our 'cappers included #6 Twilight Gleaming (4-1), one of three for Wesley Ward, #10 Time to Party (15-1), and #11 Derrynane (12-1).
R7 BREEDERS' CUP JUVENILE FILLIES
A short field –only six – and a strong favorite in the form of #6 Echo Zulu (4-5) make this race likely to be chalky.
Chuck landed on the favorite for a simple reason: "I think she's going to get to the lead," he said. To his eyes, the undefeated Steve Asmussen trainee looks to be the fastest of the fast here, and he's guessing other riders may look to avoid tackling the favorite early.
While not straying too far away, Nick is aiming for a different outcome, a win by #2 Hidden Connection (5-2). Hidden Connection won at first asking at Colonial Downs and then romped in the G3 Pocahontas. The Bret Calhoun trainee has since registered four works, with, most recently, a five-furlong move in 1:00 4/5 following a pair of sub-1:00 works.
"This is almost the classic setup," Nick said, pointing to "a real sharp worked followed by a tuneup work."
R8 BREEDERS' CUP JUVENILE FILLIES TURF
Here's a wide-open, 14-horse affair.
"I think there's like eight horses you could make a case for," Chuck said.
He's particularly enthralled with the Chad Brown-trained #7 Consumer Spending (8-1). The More Than Ready filly won the Selima Stakes last out in impressive fashion. He's also partial to #4 Turnerloose (12-1), figuring if any horse might steal this on the front end, it could be this Brad Cox runner, who led a long way against a big field before settling for a near-miss third in the G2 Jessamine last out.
Both Nick and Bill exhibited some love for #9 Koala Princess (6-1). The Fair Hill-based, Arnaud Delacour-trained daughter of More Than Ready has won two straight and attracts the services of top jock Joel Rosario, who lands here rather than morning line fave #1 Pizza Bianca (5-1).  Bill also liked #5 Bubble Rock (8-1), who rallied to win going six furlongs last out.
But don't get too zeroed in here.
"This one's wide-spanking open," Derby Bill cautioned.
R9 BREEDERS' CUP JUVENILE
This contest may have gotten more intriguing with the scratch of morning line favorite #1 Jack Christopher (9-5).
But our panelists were looking for ways to beat him anyway.
"The horse I'm going to key on is #10 Commandperformance (5-1)," Chuck said, prompting Derby Bill to dub the two of them Simon & Watson, as he landed on the same horse. Chuck maintains that the official chart for Commandperformance's runner-up effort in the G1 Champagne was wrong, that the Todd Pletcher trainee was farther behind than the chart indicates early and that he closed nicely late.
"He was finishing," Chuck said.
All three panelists like Commandperformance, in fact, and speaking of finishing, Derby Bill also had some love for #3 Oviatt Class (20-1). The Virginia-bred Bernardini colt has just one win from four starts, but he's a "monster closer," Bill said, who also has the brother team of Keith (trainer) and Kent (jockey) Desormeaux on his side.
And Nick said he also would be using #7 Giant Game (30-1). The Dale Romans trainee graduated last out in his second career start.
"He might be hitting his stride," Nick said. And, hey, the price is sure to be right.
R10 BREEDERS' CUP JUVENILE TURF
Speaking of prices, Chuck had some choice words for the morning line for this contest, calling it "horrific" and saying it was the worst big-race line he'd ever seen.
The favorite is #14 Dubawi Legend (4-1), but none of our panelists seemed all that enthralled.
Chuck decided to put his eggs in the Charlie Appleby basket. The British-born Godolphin trainer has a pair in here in #1 Modern Games (5-1) and #2 Albahr (6-1). The former is 3-for-5 with a last-out win in the Group 3 Somerville Stakes at Newmarket, while the latter has won four of five and took the Grade 1 Summer at Woodbine last time.
For good measure, Appleby has won six of 14 starts in North America this year, and in two races, his horses ran one-two. That means he's started horses in just 12 races, winning six.
"To me, it's the two Appleby horses, and you guys can have everyone else," Chuck said.
Derby Bill also landed on Albahr, while Nick was looking a bit farther afield.
His top choice is #10 Portfolio Company (6-1). The Chad Brown trainee has been second his last two after winning on debut. He's also partial to #4 Tiz the Bomb (8-1) "a little bit." That runner arrives on a three-race win streak.
Bottom line? They've got their opinions, and chances are you have yours. Your mileage, as the ads caution, may vary.
Or, as Derby Bill put it, "Anything can happen with two-year-olds."
CAST OF CHARACTERS
Chuck Simon. Podcaster Chuck Simon previously worked as a trainer, and he conditioned 2005 Breeders' Cup Sprint entrant Battle Won, who didn't win but did help duel post-time favorite Lost in the Fog to defeat. Chuck's podcast, Going in Circles, can be found here: Going in Circles – Horse Racing podcast hosted by Charles Simon (goingincirclespodcast.com).
Nick Hahn. A familiar voice to our listeners, Nick Hahn is the Virginia correspondent for The Racing Biz and author of the eponymous Nick's Picks tipsheet, the original and best Colonial Downs tipsheet. And, yes, Nick had I'll Have Another in the 2012 Kentucky Derby.
Derby Bill Watson. Man, myth, and legend Derby Bill Watson is an Off to the Races  regular and the former on-air handicapper for Colonial Downs. 
LATEST NEWS