DELAWARE PARK PICKS AND HORSES TO WATCH: JULY 10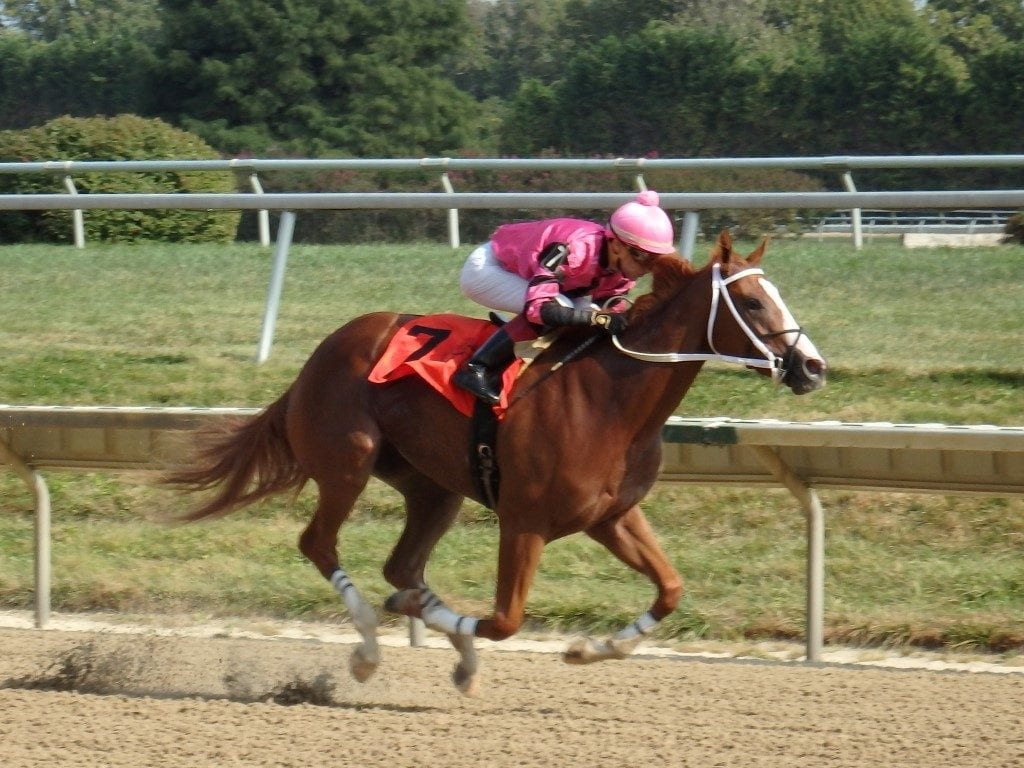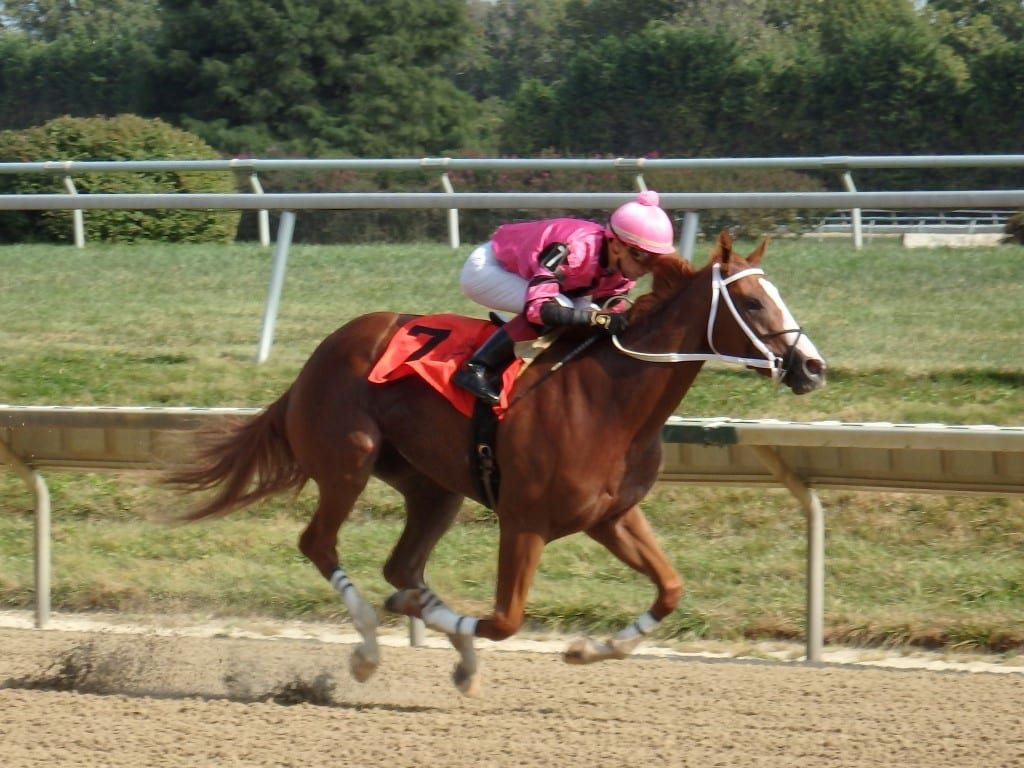 RACE 1
7-3-5-1
DelCap Day at beautiful Delaware Park kicks off with a $40,000 maiden special weight race for fillies and mares at six furlongs.  #7 Mountain Lilly (4-1) showed some early speed in her debut race. In her most recent race she appeared to get spooked when she was between rivals and backed up.  Now she is adding blinkers. She has been working very well and we have her on top today. #3 Bellswillberinging (8-1) got off to a slow start in her debut but passed tiring rivals late. She has been working well and if she gets a better start she will be competitive today. #5 Sneer (2-1) tried the grass last time and is now back on the dirt. If she runs anywhere near her starts at Gulfstream last year she has a chance today. #1 Bobbies (6-1) hit the gate and had a very tough time in her debut, but this trainer-Jockey combo is so red hot this horse has to be respected.
RACE 2
3-4-5-7
In this $16,000 claiming race at six furlongs for non-winners of three races #3 Mobeatyabad (4-1) was running well at Keeneland and Tampa before competing against allowance horses on a muddy track. He didn't like those conditions and the competition was a little too tough. Now he is moving back to the claiming ranks where he should have enough speed to win today. #4 Lamplighter Jack (6-1) has been running against better in routes in Maryland.  He needed the last outing after a break, and is now dropping to a level where he looks very dangerous.   #5 Spotted Bull (3-1) ran a very good race last time after being claimed at Oaklawn. If he can repeat that race he will be very competitive today. #7 Bourbon and Ice (2-1) is an early speed type who will try to take it gate to wire. Lamplighter Jack will also vie for the lead so he won't get free. However, he still has enough speed to get a piece of the pie.
RACE 3
9-8-3-10
In this $12,500 claiming race for fillies and mares at seven and a half furlongs on the turf #9 Dancingwithpaynter (7/2) is the only horse with any recent races on the grass near today's distance. He ran a first and a second in those races at Pimlico. If he can run those races back it's hard to see him getting beat today. #8 Don't Charge It (6-1) ran a closing fourth on May 2 in the race with Dancingwithpaynter at Pimlico. He has shown some ability on the turf and will be closing late. #3 Secret or Not (10-1) has shown some ability on the grass at this distance. It wouldn't be a total shocker if he won today. #10 Lady Magica (5-2) has proven turf ability, but has never run this far. Still, Jamie Ness sometimes wins with horses trying something new, so this one must be respected.
RACE 4 – DASHING BEAUTY STAKES
6-5-4-7
This is the first stakes race of the day with the $100,000 Dashing Beauty Stakes for fillies and mares at six furlongs and it appears to be between two horses. It's hard to go against an undefeated horse and #6 Chub Wagon (4-5) is seven-for-seven lifetime. She showed true grit when she wore down #5 Hello Beautiful (5-1), who got a clear lead in the Shine Again Stakes at Pimlico last month.  We expect these two very fast fillies to again run first and second in today's event. #4 Paisley Singing (15-1) ran a respectable third in the Shine Again Stakes but was no match for the top two. She has enough speed to again get a minor award in today's six-furlong sprint. #7 Ava's Charm (7-2) has not run in a year and is a wild card here. She showed speed last year, but like a box of chocolates we don't know what we're going to get. Since none of the other horses impress, us we are going to use her in the forth position.
RACE 5 – GRADE 3 ROBERT G. DICK MEMORIAL STAKES
4-8-3-9
In the $150,000 Grade 3 Robert G. Dick Memorial Stakes for fillies and mares at a 1 3/8 miles on the turf, #4 Micheline (5-2) has won over $674,000 lifetime and came within three-quarters of a length on winning a Grade 1 stakes race last year. She shined in winning a Grade 2 stakes at Tampa earlier this year. If she runs back to that race instead of her last two tries she has a great shot today. #8 Dalika (Ger) (7-2) is usually right in this mix when she runs in this level stakes race. She was passed by Temple City Terror last out, but that was at a mile and a half which might be a little too far for her. We expect her to cross the finish line with the leaders today.#3 Blame Debbie (9-2) is winner of three of her last four and the distance should suit her well. If the top two don't fire, she has a great chance today. Christophe Clement is bringing #9 La Dragontea (GB) (8-1) from Belmont.  She finished sixth in her last but looked like she had energy to spare and we expect her to improve her effort today.
RACE 6 – BATTERY PARK STAKES
2-6-1-8
In the $50,000 Battery Park Stakes at 1 1/16 miles #2 Galerio (3-1) has run three consecutive speed figures in the mid-nineties at different tracks. That's no fluke and this horse appears to be in top form. We are going to use him on top today. #6 Phat Man (2-1) has several speed figures above 100 in his running line. He has run well in a number of graded stakes races and has to be considered. #1 Magic Michel (6-1) has not run in some of the classier races others have here, but his speed figures say he belongs and Jamie Ness would not put him in over his head. A top contender. #8 Dixie Drawl (4-1) has some speed, but seems a notch below some of the others in here. He may pick up a minor piece of the purse.
RACE 7
9-13-10-3-5
In this $16,000 claiming event for non-winners of two at a mile and 70 yards on the turf, #9 On the Muscle (4-1) was running with better in New York and is dropping to a level where he should be able to beat this group. The one to beat. #13 Dance Pants (3-1) is another horses that is dropping and has a chance to score. If he draws in he should definitely be considered.  #10 Lexatoga (8-1) is starting for Richard Hendriks who is a good grass trainer. If he matches his performances from the fall he will be very competitive with these.  #3 Vicarage (8-1) is back on the turf after one try on the dirt.  He ran some decent races in New York last years and could play a minor part in this race. #5 Dreaming of Carats (6-1) is also dropping in class and should be considered.
RACE 8
2-7-3-4
In this #45,000 first-level allowance for fillies and mares at six furlongs #2 Kashan (4-1) wore blinkers for the first time in her last try and it seemed to make a big difference. We are looking for another big effort from her today and have her on top. #7 Be Sneaky (2-1) ran respectably against some very tough horses in Tampa earlier this year. She fits very well with these horses and has a good shot today. #3 Eloquent Speaker (3-1) has been running well against New York-breds this year for Michael Stidham.  This is her first time running outside of New York, but she has enough speed to be competitive against this group. Once to consider. #4 Be Present (6-1) needed the last after a six-month layoff. and If she gets back to last year's form she will find her way into the exotics.
RACE 9 – GRADE 2 DELAWARE HANDICAP
5-6-3-2
In the 84th renewal of the $400,000 Grade 2 Delaware Handicap for fillies and mares at1 1/4 miles #5 Bonny South (3-2) is a legitimate top graded stakes horse, running second to the monster Letruska by a closing two and three quarter lengths in the Grade 1 Ogden Phipps in last. We are all for trying to beat favorites, but we're not going to try to beat this one! #6 Miss Marissa (6-1) beat a hard charging Bonny South last year in the Black-Eyed Susan, but that was after Bonny South got off to a terrible start and got pinched back. We are looking for a big effort from her today. #3 Dream Marie (4-1) closed from the rear to beat Miss Marissa in the slop in the Obeah Stakes here in June when Miss Marissa had pressure up front from the favorite. She is a contender today. #2 Queen Nekia (3-1) has faced tough graded stakes competition and won the Grade 3 Royal Delta at Gulfstream. This one definitely can't be counted out.
RACE 10
4-2-9-6
In this $40,000 maiden special weight race at 1 1/16 miles on the turf, #4 Entertainment (3-1) was game in his first start on the turf. He may get an easy lead today and if he does he will be hard to catch. Our top choice.   #2 Everett's Song (8-1) had a very strong effort on the dirt in debut. We aren't sure if that will translate to turf, but there aren't many proven turf runners in this field. He has a shot with these.  #9 Urban Myth (15-1) did flash some speed in his only race a couple weeks ago and has been running fast in the morning. A possibility. #6 Search for Truth (2-1) has solid breeding for a turf runner and if he runs true to his bloodline he has a shot today.
LATEST NEWS