PARX PICKS AND ANALYSIS: May 19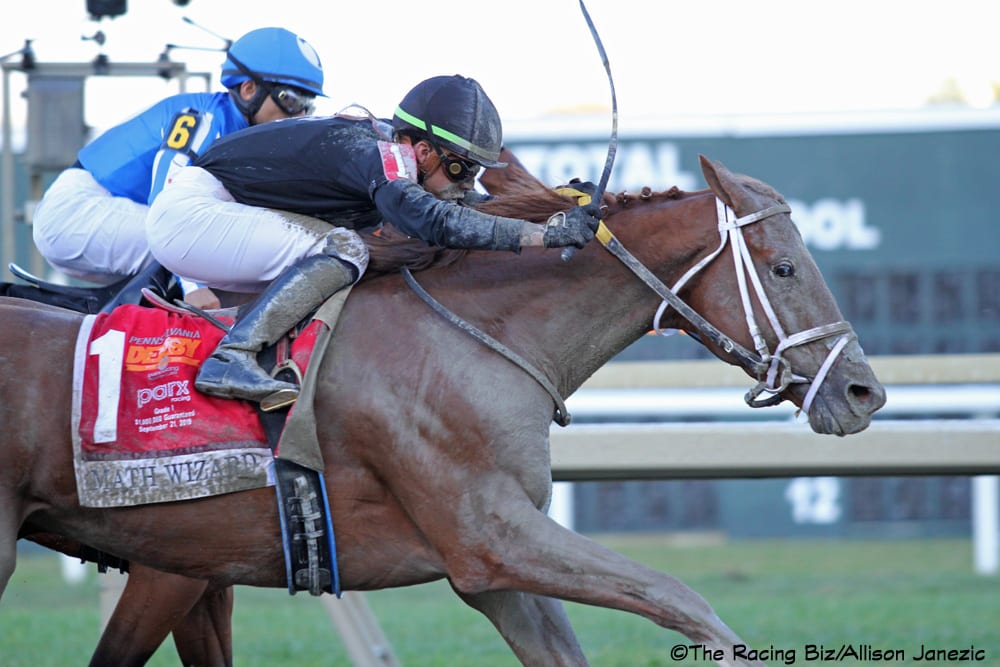 Note: Joe likes multi-race wagers, so horses in these may be considered for doubles and Pick 3s, in particular.
RACE 1
#6 Molly's Game (8-5): Shipper coming to Parx to win. Not much to beat in here to get first win in a long time.
#4 Anissa (5-1): Ran some decent races earlier this year.
#7 True Upgrade (10-1): Does have some early speed which may help her get into the exotics.

PICK 4 WAGER (the following wagers are meant to cover a range of possibilities while putting more money behind those considered most likely):

$2 P4:    6/7/5/6
$1 P4:    4,7/7/5/6    6/2,4/5/6    6/7/3,4/6    6/7/5/2,3
$0.50:    4,7/2,4/5/6    4,7/7/3,4/6    4,7/7/5/2,3    6/2,4/3,4/6    6/2,4/5/2,3    6/7/3,4/2,3
Total Bet: $22.00      
RACE 2
#7 I Saw It All (7-2): Has speed but always seems to run into trouble usually of his own doing. No other speed in this race. Worth a bet with this group.
#4 Miami Steve (3-1): Dropping down. Has not raced since November but Andrew Simoff does well with horses off a layoff.
2X Rising Storm (4-1): Has enough speed to find his way into the exotics.
RACE 3
#5 Sacramento Q  (3-1): Tampa shipper dropping down to a level where he can win.
#3 Owin I Am (5-2): Has the speed figure to be up with the front horses when they cross the line.
#4 Kristi's Copilot (6-1): Good speed figures and dropping down to Clm 5000 where he won in April.
RACE 4
#6 End All Get All (3-1): Aqueduct shipper dropping to a level where he has a good shot in here.
#3 Ohyoudidntknow (6-1): Another New York shipper that has a shot at this class level.
#2 Grandfire (4-1): This speed horse will try to take them gate to wire.
RACE 5
#2 Li'lbito'charm (9-5}: In good form and dropping down. Fits well with these.
#7 Kit Kat Katie (3-1): Ness is good at inning and stepping up to win net time out.
#4 Reigning Fire (20-1): Has run a few respectable races and may get into the exotics.
RACE 6
#6 Nomo Ron (2-1): Always runs a good race and looks like the best in here.
#7 Honorable Service (6-1): Aqueduct shipper looks like he outclasses most of these.
#3 Federal Case (4-1): Have to respect his early speed. He could steal the race.
RACE 7
#1A Mystical Charge (7-2): Only horse in here who has been able to run figures close to par.
#6 Ms Canela (5-1): Dropping and not much else to beat in here.
#10 Visiting Angel (6-1): Ran a couple decent races in her young career; If she gets a good break she could be a threat.
RACE 8
#9 Thorny Tale (7-2): Has been working well and it looks like he's primed to fire.
#2 Big City Ralph (10-1): Has run some good races this year and several trainers want him in their barn.
#5 Govenor Cinch (5-1): Has not run in over a year but if he can run anywhere near last year's form he will handle these.
RACE 9
#2 Bode O (8-5): Improving three-year-old should be able to defeat this field.
#1 Ridin with Biden (3-1): Has shown early speed at Gulfstream and almost won debut at Parx.
#7 Mean Machine (4-1): Has run better figures than most others in here.
RACE 10
#8 Koan (6-1): Very versatile but 5-month layoff is a concern; however he has the talent to win here.
#3 Midnight Act (7-2): Has a case of seconditis and that may continue here.
#6 Colonel Juan (2-1): Has not won in a long time and won't bet him on top until he proves himself.
RACE 11
#2 Star Luck (10-1): Second try at this condition and not many fast horses in this group.
#4 Capitan Fofo (3-1): In good form and may be able to move up to the next condition and score.
#7 Inclunation (10-1): Showed some early speed in recent races.
LATEST NEWS